Youth International Sevens - Huge Success
---
---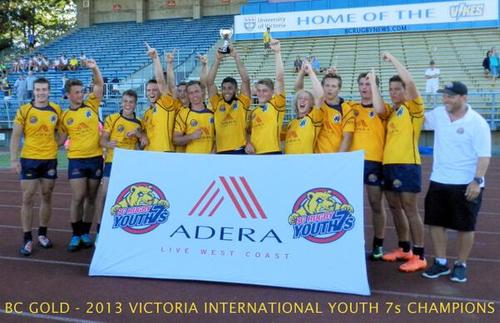 Canada's NSMT has lit up the Sevens world with a very successful winter campaign and if the action on show at UVic yesterday is any indication, the torch has been successfully passed down to our youth. Pictured is the B.C. Mens U18 team, winners in the Final over Ontario and featuring CW's Evan Cambridge. The final was a classic exhibition of the Sevens game, with a scoreline that went to and fro, ad B.C., counter ad Ontario and with less than two minutes left Ontario scored a try to tie the game at 17 with a relative easy convert to go ahead. It was not to be. From the k.o., B.C. managed to get the ball and from a blistering run following some deft interpassing, the winning try was scored and both teams lay on the turf - gutted! B.C. had managed to get to the final only after they defeated the B.C. Blue team in overtime in semi final action. The Blues, with Morgan Tate playing a prominent role, defeated Utah for third place. It was great to see the National coach handing out the silverware, a valid example to the boys of the importance of this competition, now in its second year.
The day's play saw action from U14 to U16 and Girls teams. Ceedub players featured prominently in all finals. Caroline Crossley and Sophie De Goede were two of a number of the girls who were outstanding. Pictured is the boys U14 team, South Island Tide winners, featuring; Jim Newman and Lachlan Kratz from CW. The Boys U16's won the Plate Final with a Tide team that included Jonah Hall, Brayden Tate, Connor King, Brandon Schellinberger and Brennig Prevost. Postscript - the rest of the CW girls - Halayna Roberts, Maeve Maguire, Camillie Irvine, Kaylee Dorval, Sofie Kennedy, Shelby Cochrane, Ally Bos and Miranda Llewelyn......great show, girls.
Again, bouquets to Shane Thompson and Doug Tate for an event that is guaranteed to become a "don't miss" on the calendar. Hats off to all the athletes who really got the feel of what it takes to play so much rugby under stressful heat conditions, not only that but for a wonderful display of skills and undserstanding of the Sevens game. To all the supporters who travelled from Ontario, U.S.A. and Vancouver, your support of your kids is meritorious. Finally, to the coaches and managers who give of their time in a volunteer capacity, keep it up, you're doing a great job. Next "junior" action is this coming Thursday afternoon when three games will take place against visiting West Monmouth club from Wales. Games start at 2:15. The Ruggernut.
---