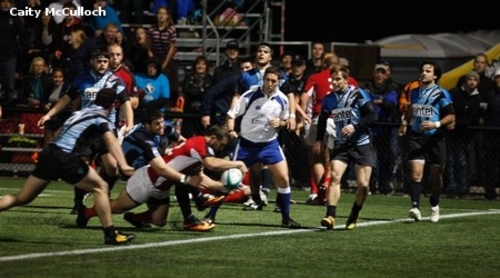 CW's, Mike Scholz crosses for the winning points Vs Uruguay.
Victoria's second hosting of the Americas Rugby Championships opened with a pair of games at Langford's Westhills Stadium last night. Overall impressions...the event has been heavily marketted and a good crowd was present, hopefully as games next week further unfold, numbers will swell. It is an event whose local success lies heavily on Canada's fortunes and the ability of local fans to bring their friends. The half time activity, featuring V.I. clubs' U12 Boys and U17 Girls was impressive, as for the rugby on display, not quite so, although to the casual viewer, there was excitement enough.
To the matches. The opener was between U.S.A. and Argentina. Los Pumas are clearly the team to beat, although on the night they did not show the same firepower they had last year. A four try, 27 - 9 outcome was not a bad night's work. The U.S. again showed good athletic talent but really when they were under the cosh they lost composure and skills broke down. For Argentina, I liked their big unit at lock, #5, Peti; #9 and 10, Imhoff & Poett, provided a good link and change of attack, Camacho and Diaz of the FRF led the forwards and scrum bajada. Captain, Tuculet at #15 was always a threat whenever he "filled" the line. For the U.S.#9 Davies was steady, the grizzled vet, Shawn Pittman labored long and Harriman and Dolan also gave fair value. The backs had pace but really were kept under wraps by a stingy defence.
The "main game" featured hosts, Canada and Los Teros, Uruguay. The visitors impressed much more this time round and they will give their South American neighbours a good game and the U.S. might be lucky if they are to claw out a W against Los Teros. In the opening stanza, Canada frittered away possession with some errant and poorly executed kicking. It appeared as if Trainor was full of running and the wings, Maguire and Dolesau could have used more opportunities. Canada did come away with a try from some clever individual work from #10, Fitzpatrick, to lead 10 - 3 at the interval. The unfortunate part was they lost their Captain, Tiedemann, when he suffered an accidental cheek bone knock, opening up a wound that needed suturing.
Uruguay came out con mucho gusto in the second half and basically hemmed Canada in their own half for most of the period. They were rewarded with a try under the sticks to tie matters and then they had the hosts scarmbling frantically in the "red zone" to defend for a prolonged period of ten minutes. This possibly was the "TSN Turning Point" in that Canada prevented any further scoring, backing their defence in desperation. Whenever Canada did manage some "geddy up" to break clear, they stymied themselves with loss of possession or penalties, to the point of frustration with this young side. With five minutes left, there was glimmer, only to be spoiled once again by yet another knock on. Completely contra to what had been events to date, Canada strung a coule of good line out possessions, pick and drives together and the end result was Scholz's try, pulling off a 17 - 10 W. Both matches were well officiated.
Although the line out set piece was adequate, the host of Canadian coaching staff and scrum specialists need an "Oracle Performance" to correct the set scrum, which, without stating some obvious issues, was generally, "pushed around". Last night's scrum status will present a nightmare against Argentina. Coach Crowley summed up; "We have a lot to work on. Uruguay certainly competed very well, we weren't accurate enough in our skill level but In the last five minutes we woke up and scored a try at the end. We came out with a win. We need to work on ball security to start, the placement of it, the clean up. We certainly need to work on our skill level. We just turned over too many balls, we have to do better." So, all of that and more in the next few days before taking on arch rival, U.S.A.
This viewer liked the work of Woolridge, off the bench, Flagg got through a ton of work, along with Kleeberger who seemed to be in on everything and Morrison and Coughlan deserve mention. I thought Scholz looked "short of a trot", Fitzpatrick earned his pay at #10 and Trainor was almost his "old self", with the defence having to work hard on him. Dolesau, as all B.C. fans predicted, looks as though he has an interesting future somewhere in the NSMT program, VII's or XV's. Next matches are on Tuesday night, same venue @ 6:00 p.m. Belated apologies to UVic's, Jamie MacKenzie, selected as Man of the Match, omitted by accident in these musings but the writer is in agreement with the selection......'onya, Jamie!

FOOTNOTE: This site and Westshore Detachment remind you not to drink and drive.

---