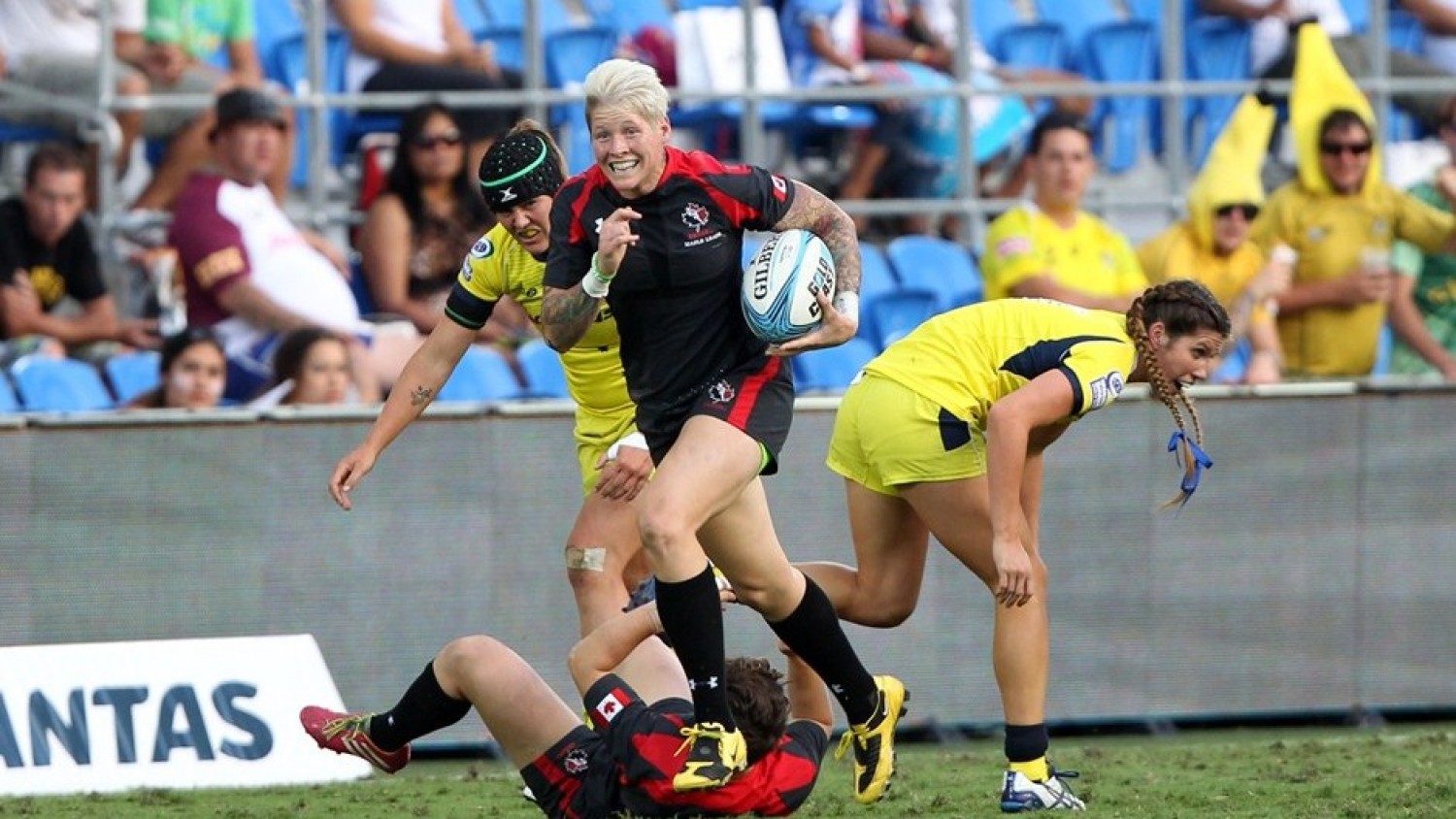 As the weekend nears, the question of the day is; can a "Kish-less" Canadian 7's team conjure up some magic in this weekend's IRB Tournament? It is tough for the ladies to still have Kish and Marchak out with injury, at their first "home-front" Sevens appearance however, Coach Tate has made the tough decisions, relying on his hard data and courage of his convictions and they are just a couple of the characteristics we love about this big man! Ashley Steacy, obviously respected by her peers and the coaching staff, has been given the captaincy and captain of the winning Maple Leafs side from Hong Kong, Sara Kaljuvi, has been added to the list. There is plenty of experience in the group with the likes of Landry, Moleschi, Paquin and Russell who will be relied on heavily for the side to finish, top three. This blogger makes no predictions, as the ladies have come within a couple of points against the Black Ferns on two occasions this season, so no first or second finish would hold surprise. The rest of the squad includes; Darling, Popov, Farella, Benn, Alarie and Watcham-Roy, not household names yet but it won't be long! We at CW, know you will be full on, the very best of luck as Canada takes its place on the International Women's stage. Events will be televised by TSN, on Saturday from 11:00 a.m. to 4:00 p.m. and on Finals Day, from 4:00 p.m. to the Cup Final, kicking off at 5:24p.m. All games can be watched, live-streamed at; http://www.worldrugby.org/womens-sevens-series
Final Training Runs
CWRFC has managed to arrange for Windsor Park as a training ground for final preparations for many of the sides. England take to the pitch at 3:30 today and tomorrow there is a full slate of hit-outs, starting with N.Z. @ 8:00 a.m. ( a typical Kiwi regime…doing the hard yards early!); 11:00 a.m. – Fiji; 12:30 p.m. – Russia; 2:00 p.m. – England. This will be a terrific opportunity for our young players (girls & boys), to take a gander at just what it takes to play at the International level….indeed it would be an eye-opener for any old geezers to get a peek at the modern game of women's sevens!
B.C. GIRLS H.S. SEVENS
Sevens galore! This tournament gets underway at U.Vic's Bob Wallace and Centennial Stadium Fields field tomorrow at 10:00 a.m. Locals, Oak Bay, play at Wallace at 10:20 against Lake City; 11:50 a.m. Vs Abby and 1:40 p.m. Vs Kelowna. Officials have dove-tailed it beautifully with the international event and action for third and fourth will be at Westhills at 1:15 p.m., Saturday with the Final going at 4:15. This will be great opportunity for these young ladies to play in front of a "full house". There will be a sprinkling of Dave Crossley's CW girls on show and of course our bias goes with the Bays – go, you beauties!
---