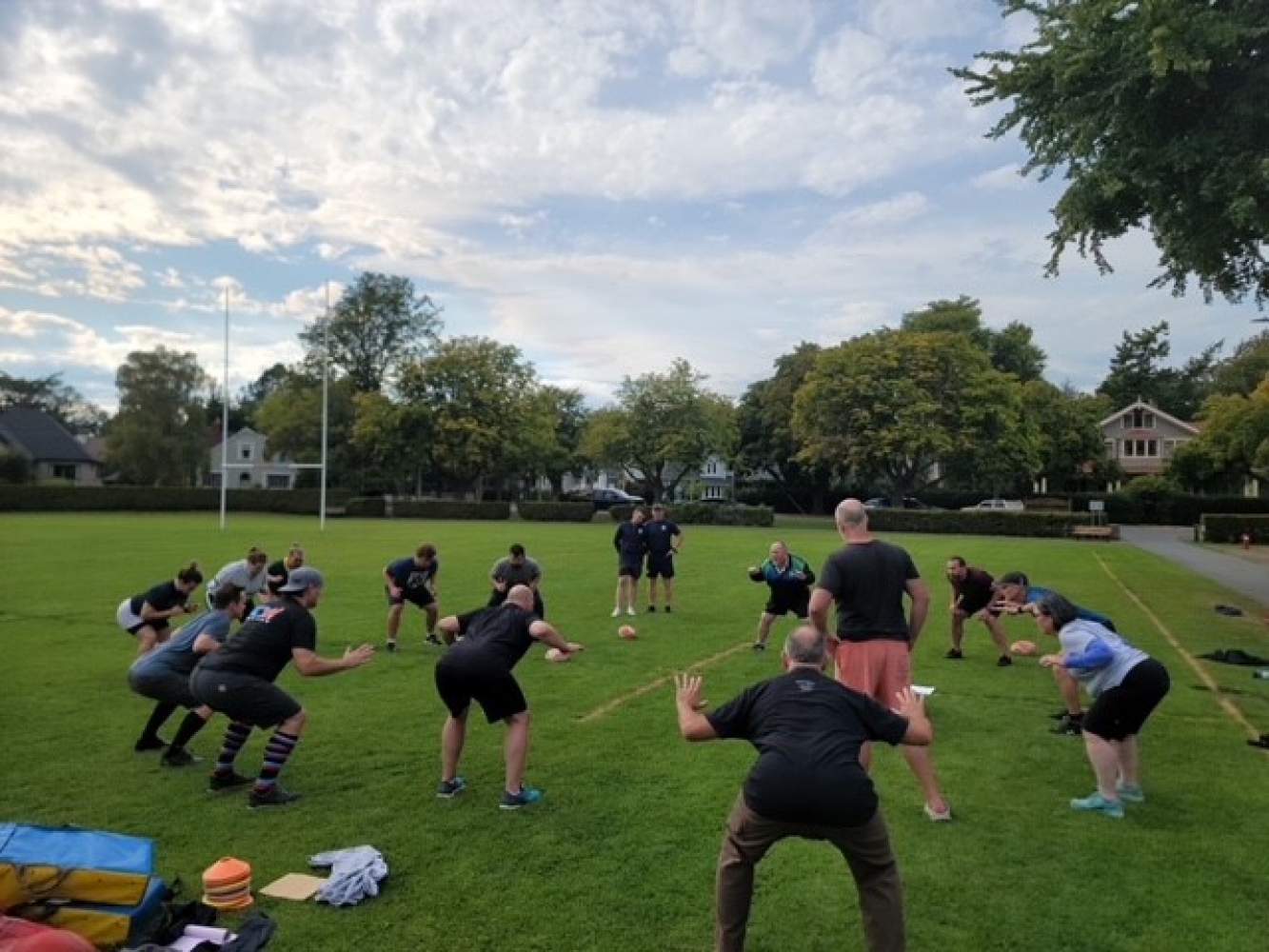 AROUND CEEDUB


COACHING SUMMIT
A very successful weekend saw some twenty plus club coaches work with Dave Hill, through a curriculum of rugby skills and safe sport. The weekend also saw a successful Introduction to Refereeing Clinic. Good 'onya, to all involved.
CLUB VOUNTEER RECOGNITION
Some 45 volunteers from all levels, including many "new" folks attended a social gathering on this same weekend. For the new folks especially, an introduction to club culture and club spirit with brief words from Prez Klash; Dave Hill; Board member and 'Mr. CW', Brent; and a brief history of the club's girl's and women's programs from Dave Crossley, was well received. A special shout out to Communications Director, Merie Beauchamp, who organized a tasty array of goodies.
TRY RUGBY

On a magic Saturday morning last week, in excess of one hundred girls and boys of all ages tested themselves on several rugby, and fitness skills. About sixty returnee registrants and some twenty new registrations were recorded. Lots of smiles from kids, many compliments to the chef for the bangers and mash, and we had a tremendous show of support from the Junior Girls and Boys who showed up to help their club. Finally, a fantastic job by Kara on her organization of club kit. The community club spirit brewing was evident. It was good to see Windsor Park being a comfortable second home for kids and families. What a great way to kick off minis and age grade play the next day.
Also, on display on this morning were four new tents, an almost essential item for the many rainy, winter days. Donors for the tents are; Cody White – The Agency Real Estate (2); Don Swainson - Vital Pharmacy and the Rees Family, with thanks to the club from three generations. Our thanks to these folk.



The club congratulates the following age grade "grads" who made Varsity team selections this past weekend. UBC Thunderbirds – Luca Djurickovic; U. Vic Vikes – Andrew Easson, Brent Hamburg, Muiredach Casey and Gus Porter; finally, with the Pacific Pride – Liam Poulton and Matt Klimchuk

.
Former Premier Men's coach, Ian Hyde-Lay is retiring from an amazing professional and sporting career. Hydes is most widely known as the discoverer of Steve Nash. He coached CW in the 2011 season which was the last time the club won the BCRU Men's Premiership. We ask you to book this date and plan to attend to celebrate his diversified career.
RWC

What a World Cup this is turning out to be! The next big game on the docket is this Saturday @ 12 noon when South Africa plays Ireland. The game can only be viewed on TSN+. A First Divvies game Vs Nanaimo will take place at 2:30, at the House of Windsor. If you wish to watch the game and do not have TSN + to PVR, the Bard and Banker and The Penny will be showing the match live and either would be a great spot to view it with like-minded rugby fans. (n.b. The Penny has limited tv sites, so book a table NOW.)
---