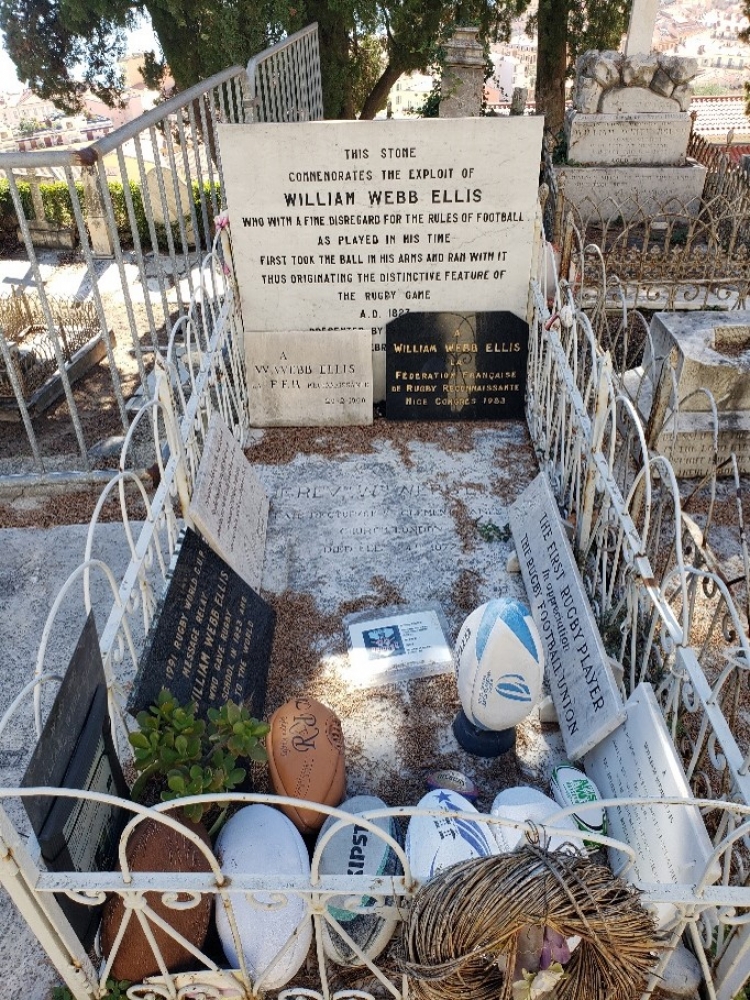 William Webb Ellis Would Turn In His Grave
(Photo - Credit, Julian Paine)

If he was to be informed of the advent of professionalism, the game's global growth, the evolution of women's rugby, he would well roll over! As it has spread, so too has the sophistication of its Laws. All matches of importance (where money is involved), have now incorporated a Television Match Official. Instead of any enhancement, this has arguably become a detriment. In the recent Women's RWC semi-finals this interference occurred three times, occupying copious minutes. One cannot deny the accuracy of outcomes after an event has been viewed from any angle, multiple times, in slow motion and with unlimited debate.
There are two aspects that currently cause this pundit angst. Firstly, the officiating of the maul. It seems that the defensive pack is being allowed "overflow" on the sides of the moving mass of bodies. This becomes a detriment to the team with ball in hand. Often bodies are brought to ground by this action, negating any advantage of forward movement. It is a gamesmanship subtlety, executed very well by the better men's and women's sides. What has become of the former insistence of detaching and returning "through the gate"?


The second aspect is the "belated" interference of the TMO. I am sure having a computer act as "Man-In-The-Middle" was not Bill's intent! The fact that this aide can often review as long as two minutes or more, before a stoppage of play, slows the game for the spectator who has often paid a high entertainment dollar. The question of fairness also raises its head with such a Machiavellian ploy. Correct? Yes. Fair? Up to you! The result is that more often than not the referee will issue some form of a penalty for an action that is almost indubitably proven correct after umpteen replays. Finally, I will watch with interest as to how the tackle is defined and associated penalties for any miscreant.
The above segues nicely into an article from England's coach, Eddie Jones. It has been in the vault for a moment such as this!
"The Rugby Championship and July Tests statistically suggested that 92% of games are won by the team that concedes the least number of cards meaning discipline at Test level is key to success. However, Jones questions just how much human interaction can affect decision-making.
"I'm not sure there is such a thing as discipline. Set piece, a lot of the penalties come from set piece. Set piece is about the strength of your scrum or the strength of your maul. We are prioritizing that, that is an important area. And then there is the controllable penalties, which are the roll away in the tackle. Certainly, we will be reinforcing that. I've had a quick chat to Wayne Barnes. I'll have another chat to him to see where the referees are coming from.
"One of the things that is really coming through, and I think we saw that in the Rugby Championship, is how important social reciprocity is. The referees are under so much pressure now. They've got a failed referee in the grandstand – that's the TMO! They are not usually old, they are usually blokes that have not been able to cut the mustard, and they are telling the one on the field who cuts the mustard what to do.
"They are under pressure the whole time – everyone is listening to it. So it is your ability to have a good conversation and find out how you can help the referee have a good game, because if the referee has a good game, generally it is a good game. That is the reality.
We want to play good rugby and we want the referee to have a good game so it is understanding how can we help the referee have a good game and at the same time have a good game of rugby ourselves. I hope that there is no TMO that takes exception to that!" chuckled Jones.
"I think it's more about social reciprocity. If they didn't have four players chirping at him in the whole game, then I don't think Mathieu Raynal would have done that (the decision against Australia in the first Bledisloe Test). But because they had Nic White at him the whole time then he says, 'You're not being very nice to me, so I'm not going to be nice to you.' It's human nature, isn't it?
"You must have good relationships with him. We need to have one of our leaders establish a good relationship with him. We want the referee to have a good game so then we're going to have a good game of rugby. We all want a good game of rugby. That's important, and we can't have players yelling and screaming at the referee.
"The best players I've seen at dealing with refs were John Eales by a mile – and John Smit. Ability to understand their personality quickly. You've always got to be able to assess the referee on that day and make observations on the ref on that day. As well as have some prior knowledge, but it's important you understand the referee on that day – what does he want from that game, what does he need? Sometimes he might be a bit more edgy than the others."
The domestic game is in turmoil off the pitch, and Jones admits he understands the concerns." ***
The reader may or may not agree with the points of view presented but they provide titillating discussion.




(Photo credit - Women In Rugby)
Whilst Canada's Women were proving their class on the weekend, Canada Men's VII's had a minor breakthrough at the Hong Kong Sevens. Ranked #13, the Men finished #10. Bookended by big losses to Argentina and New Zealand, they lost a close one to Ireland, defeated Kenya, Hong Kong and Great Britain. Relative newcomers, Bowen, Richard, Owaru and Ergas all had a good tourney. CW's Kratz is looking more comfortable and Ngongo and Morra are starters in most matches. Isherwood is proving to be a breakout player and is in the make-up for votes for the All-Star team. Well done, all.



Men's International action turned out some interesting results this past weekend. World #1, Ireland, had a close call against South Africa, at home. Argentina pulled of a massive upset, not done in thirteen years, when they defeated England at home, 30 – 29. The same score line applied when another underdog, Australia, lost 29 – 30 in France. After a recent wake-up call from Japan, New Zealand proved their calibre with a big win over Wales. Other Six Nations teams, Scotland and Italy had good wins over Fiji and Samoa. All this is leading to many speculations about RWC, twelve months out.
FOOTNOTE: (From The Economist). ***
"Rugby players are more known for being covered in blood and sweat than tears. But on October 17th, when Wasps, a 155-year-old club from the English Midlands, went into administration, players were "bawling their eyes out", according to the administrator who gave them the news. It was the second club from the Premiership, England's top division, to go under in less than two weeks. Worcester Warriors, founded in 1871, suffered a similar fate. Both had crippling debts.
Although the details of the clubs' mismanagement might differ, their demise points to a bigger problem in English rugby. Ticket sales, sponsorship deals and television rights are not enough to sustain an ambitious club, and the men in blazers running the sport have poor financial oversight. This has led to wild overspending by teams attempting to gain the upper hand. And it has left the Premiership in disarray, scrambling to salvage the season while players look for new clubs."
---