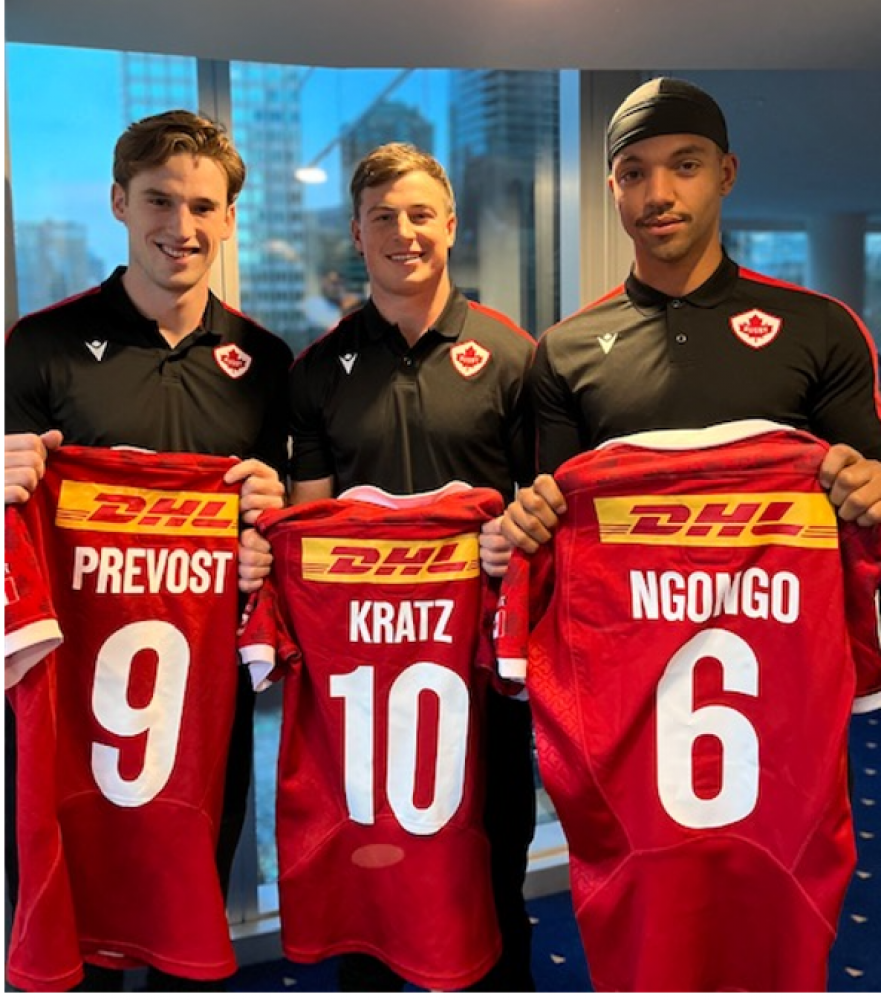 Recognizing Their Roots
Post, Postscript To Sevens

** The pictured threesome all started their club rugby with CW, Prevost and Kratz as Minis, and Ngongo at Age Grade.
** Recently had this fascinating hypothetical. Just who would scoop the purse and win the crown of "7's Fastest Man"? There are some real jets on the circuit as recently witnessed in Vancouver. Let us know your pick via Facebook.

** Going forth, Canada needs to seriously rehearse its lineout play to reduce its turnover toll. Further, the injection of some 'Mercury' Morra for re-starts would be welcomed.
** End of sermon for today!
Further Playoff Updates
It is official. CW Men's Div.3 has forfeited their Playoff match against Abbotsford. The club wishes Abby all the best as they sally forth. Injuries, Covid, and travel will make matters extremely challenging for the Divvies when they travel to Bayside, a team which schooled the Tricolours a couple of weeks back. The Men have put all their eggs into the Premier basket, shorting the Divvies and giving great experience opportunities for some young Islander players.

Our Premier Women will also have their hands full when they face Caps on Saturday. Capilano has added to their roster as the season has progressed and have also picked up their game. Our Women will be heavily reliant on their experienced players and home field advantage which will hopefully include a solid fan base. CW Men will face an always adventurous Vikes team, in a match where the spread will be closer than predicted by those who observed previous encounters between these two teams. The Vikes, havng faced adversity in recent weeks failed to succumb, and the experience gained will stand them in good stead on Saturday. It will be an opportunity for both clubs to make a statement with a victory. Again, for the locals, hopefuly boosted by a solid fan base, constituting the 16TH MAN.
F.P.'s
Last home game saw Former Players, Simon Pacey (above, Fredericton, N.B.) and Andrew Mooney (N.S.), in attendance. Both chaps were members of the inaugural, Pacific Pride, along with our current D-o-R, Kenny Goodland. Pacey was out to check on a couple of his young proteges who joined the club this season. Always good to see Old Boys, both men contributing greatly during their years with the club.
---