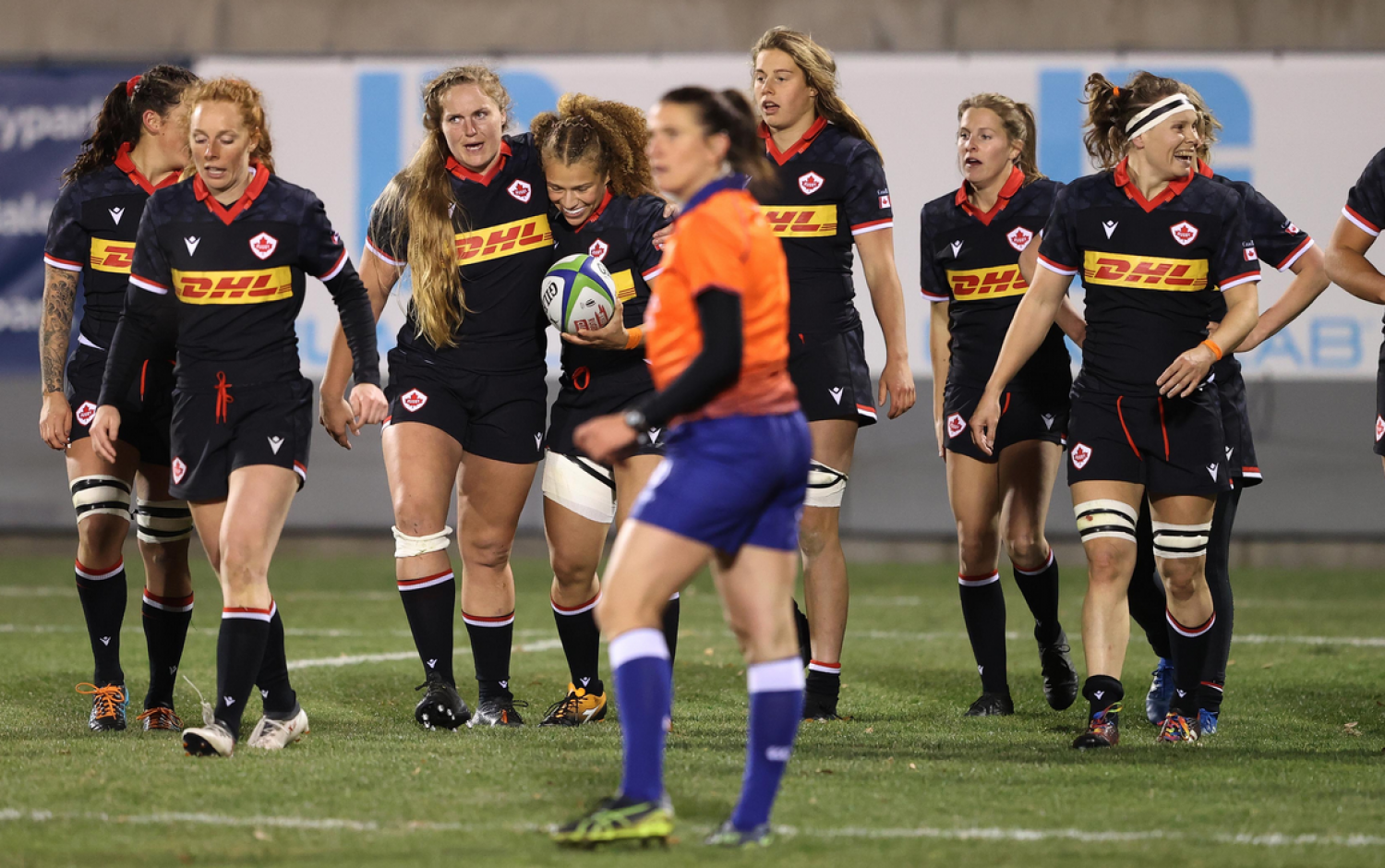 Captain, De Merchant, congratulates try-scorer, Renee Gonzalez.
CONGRATULATIONS to Canada's NSWT XV's on their 15 - 9 win over the U.S. on Monday. The two teams will play a re-match this coming Friday and the game will be televised on TSN. Bouquets to TSN for showing the match and post game interviews with good colour commentary, something our game needs.
CW feels a very strong affiliation with this team in that, there are five ladies who have sported the Tricolor. Captain Olivia De Merchant played for a couple of seasons between her National team calls at tight head prop; Sophie De Goede who was introduced to the game at Windsor and played Age Grade with the club before going off to Queen's Uni after High School at OB High, Gabby Senft has played for a number of seasons and still wears the jersey when she is not on National team duty or playing with her other club, UVic Vikes, Karen Paquin also had two seasons a few years back in her time in Victoria. 'Paquers', a top player at both VII's and XV's is a loosie of extreme merit and starting winger, Sabrina Poulen, had a short stint with the club. To all of you ladies and your team mates, that was a special victory after a long lapse due to Covid times. Must also include, Lady-in-the-Middle with the whistle, Julia Zussman, a key member of the club's 2016 Premiership winning team. Zuss did her usual stellar job.
Karen notched a tally and Sophie scored five points with a penalty and convert. To boot, she was selected as Player-of-the-Match. Senft, Paquin and DeGoede were an "all Ceedub" backrow! Sophie came on early as a replacement and her parents, in the crowd, must have been extremely proud. 'onya, Soph! It was a tough battle with the teams evenly matched. Canada's two tries did show a smidge of superiority. Canada was tested by some very big, hard running units of the U.S. but with some solid set scrummaging and stout, courageous defense, they won the day. Must admit, the dying moments were scarey! Tune in on Friday evening. Best of luck, ladies.
---