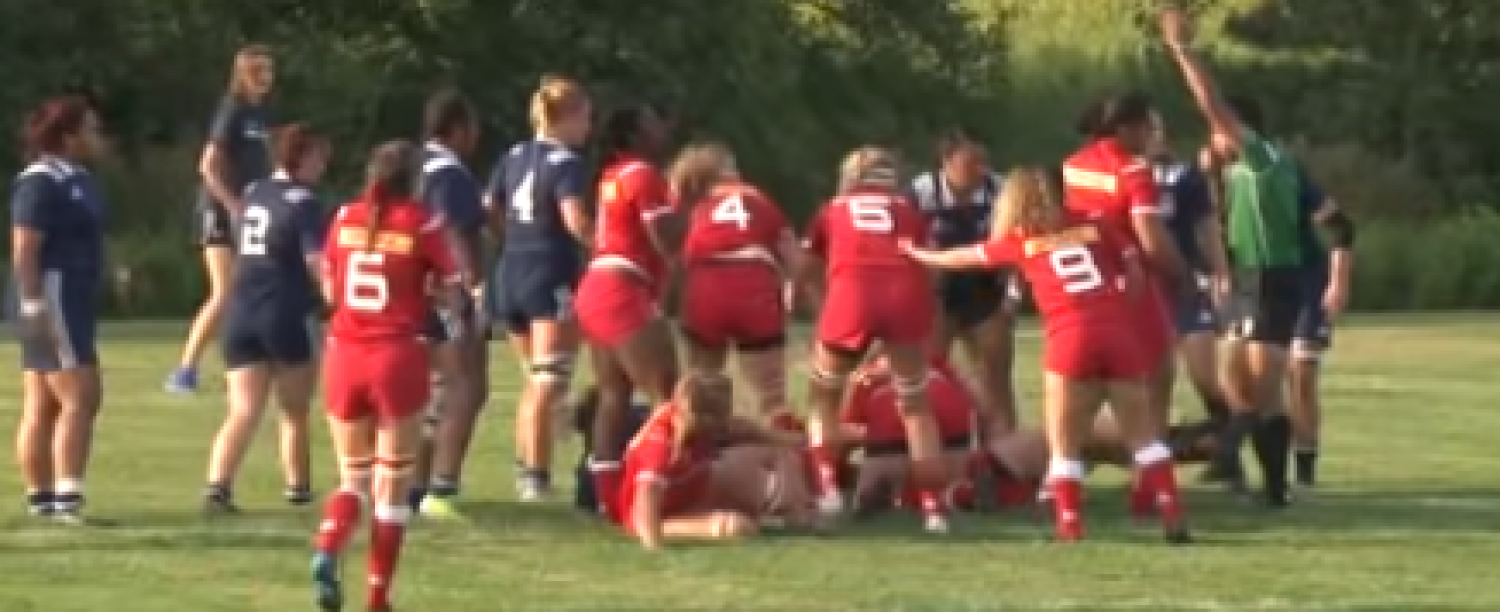 Somewhere in this mass, Sophie De Goede has crossed for her third try!
Canada came through with an opening win in the Women's Tri Nation competition against the U.S. on Monday. The Canadians led 17 – 5 at the half and closed it out at 36 – 12, after opening up a 36 – 5 lead. Snippets of the game (not downloaded live but re-lived on Utube), watched by this pundit, confirmed the value of Captain, Sophie De Goede. Sophie scored four tries! Sophie is a classic example of a "pathway" player, from club mini rugby to National level. 'onya, Soph!
Sophie who is becoming very familiar with being a winner (as noted in the accompanying pic), led the way with four tries as she took the game by the scruff of the neck. As a leader, she visibly organized her troops, a skill, no doubt inherited from parents, Steph and Hans, whose outstanding skills as leaders were always very visible when they were on the field. The true litmus of just how good this age grade crop may be will occur next week when they play England. CW wishes them well – go, Canada!


Sophie as a young gun!
Since last post, comes the news that the Ontario Blues defeated the Atlantic Rock in their re-match, 22 – 9. The Blues with CW starters, Riley Di Nardo at #9 and Josiah Morra on the wing, had a one-point differential lead in the total points scored. Ironically, this was not enough to take the series, for the Rock scored five tries in the first match for the bonus point win. Got it?? This means that B.C. will play the Blues and the Rock will play the Wolfpack with the two winners facing off for the MacTier Cup, symbol of Regional Championships.
Atlantic Rock's, Frank Walsh packs down in his younger days!

Also today, an announcement from Rugby Canada; "Langford, BC (August 8, 2018) – Rugby Canada announced today that the Men's Centralized programs will be evolving to provide a larger pool of centralized players in order to create greater depth and talent for Canada's National Senior Men's Fifteens and Sevens programs." This decision will produce many reactions, both positive and negative. We would prefer to wait to just see how things play out before value judging this one!
---