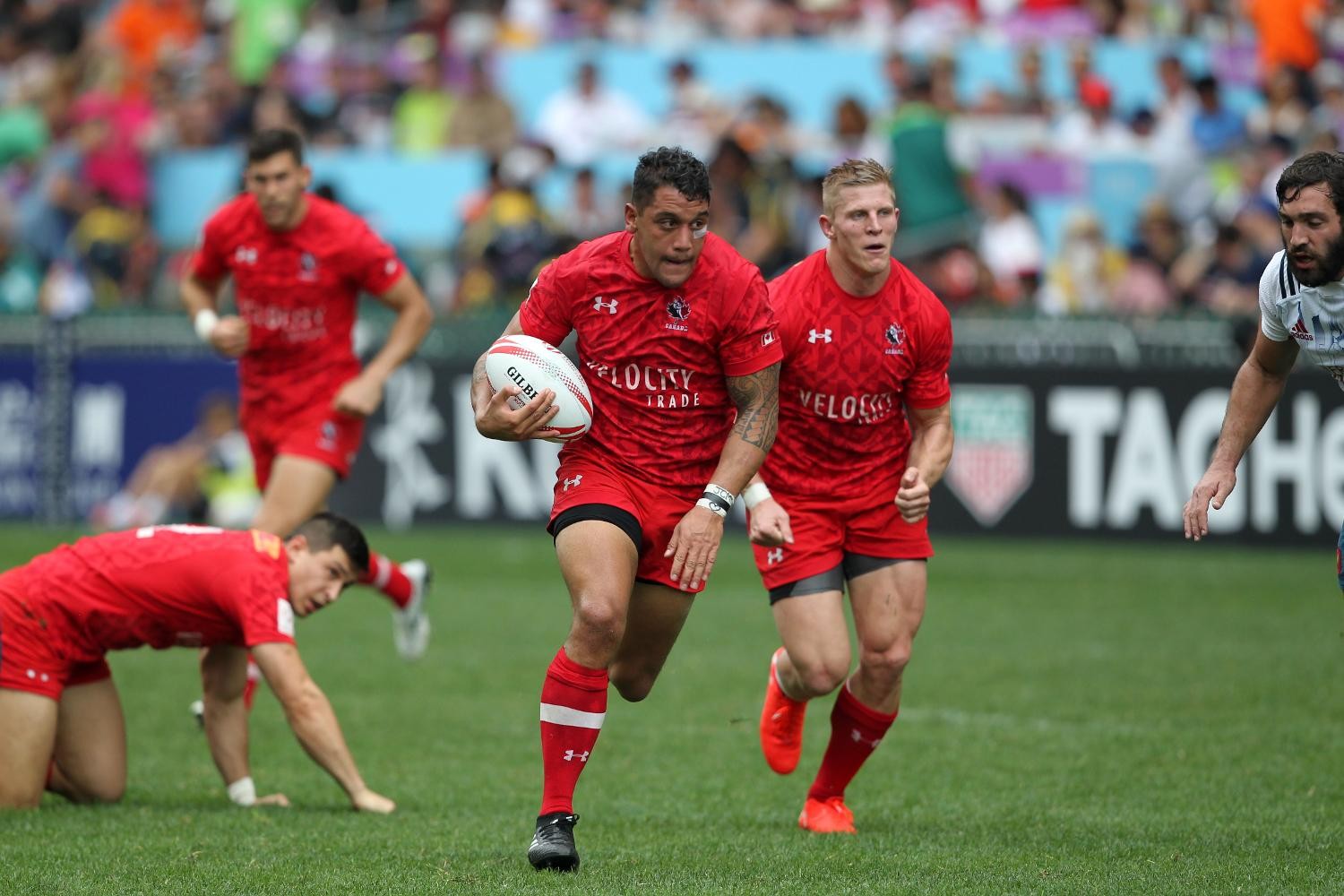 Today's R & M takes a re-visit to last Saturday's Women's Premiership match. If you missed the game or would like to re-visit the action, we have included a forty minute video clip for your enjoyment. Would like to draw the viewer's attention to the place kicking of CW's Jess Neilson, perfect form for perfect results on a rather cruddy afternoon. Jess notched her perfect, two conversions and three penalties, for a total of 13 points. For Westshore – keep an eye on the work of #8, 24 and the 9/10 combo. There were stars aplenty, so look at CW's #7 and 12 as well.
We now cross over to Hong Kong where Canada's NSMT had a good outing, although their final result was 2 – 3, they earned ten more valuable series points, moving to ninth place overall. Their heart-breaking one point loss to Argentina was simply bad luck in a game of two very distinct halves. There were solo achievements aplenty in Hong Kong, - Nate Hiriyama, all-time point's leader and 100 caps, Lucas Hammond scoring his century of points with a cracker of a try vs Argentina. CW's, Luke McCloskey got on the board in HK as well, scoring a brace of good tallies. In all, the team looked like they came out of it fairly healthy and the substituting has become such that there is an air of confidence about the group. Off to Singapore this weekend and in a pool with; Hong Kong, Russia and Fiji. Although one might say the pool looks "good", one never knows with this sevens game! The clip honors Nate Hirayama.
Canada Men U18 – CW's Jim Newman was moved to the wing for today's encounter Vs Belgium, along with other changes to the side that dropped a 43 – 3 decision to Georgia on the weekend. Unfortunately, once again, the Canadians came out on the wrong end of the stick, suffering an 18 – 0 loss. One wonders how a country such as Belgium could produce a strong U 18 team but there you have it.
Canada U19 Men Vs Wales – Today Canada takes on Wales after a heavy, 55 – 11 loss to England on the weekend. CW's Damon Adams gets the start at FRF loose head and ex – Brennig Prevost (UVic) will start in the #10 jersey with Schellie on the pines and ex - Gav Kratz (UVic) also on the pines. It is to be hoped the men fair better in this match. Late-breaking - Wales 50 Canada 14.
…………And when the rugby season is over, the game changes to golf! Two CW types – Paul "Buff" Robert and Paul Shepherd are artists with special talent. These two men have been selected with another entrant as finalists for the trophy design for the upcoming Bear Mountain 2017 Pacific Links Professional Golf Championship. The design has to record your electronic vote. Go HERE to take a look at the entries and cast a vote. Shep and Buff – ah, cerebral rugby types! Well done, men. Whilst throwing out bouquets, let's include Sophie De Goede who has been selected for the Women's Maple Leafs Sevens to play a tournament in Orlnado next weekend. This would represent another step for Soph towards the National team.
The Annual Players Awards Dinner takes place this Friday evening. We will announce recipients on this site. Thanks to all of our men and women for a good season. There is still some banter that the women may have an outside shot at a playoff spot, although the stats don't appear that way. The Firsts should make a spot but we will not know until Saturday week and the Prems are resting for their "home" semi-final. Not a bad year!! Go, Ceedub!
---