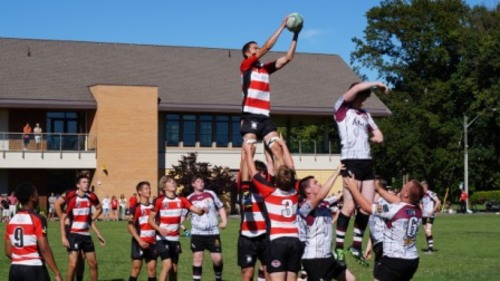 This fan was pretty impressed with the effort of the Junior Tide U16 squad Vs Down H.S. the other day. Spence insisted "ball in hand", otherwise the 12 - 15 scoreline may well have been reversed. Slow to get going but at the quarter, Conor King made great headway and the locals led 7 - 0. They lapsed at the restart and Down, a well organised group, came back all too easily and that was how it remained at the half.
Down scored two "quickies" in the second stanza, one, after the Tide tried to "keep it in hand" out of their own defensive five meters and a missed pass gave up a "softie" but the last quarter was all Tide. Led by strong breaks from Brennig Prevost and a score from Logan Martin-Feek from Velox, the locals were back in the battle. The battle ended with the Tide knocking on the door. Impressive in the contest were; Martin- Feek, Callum Masterton, Prevost and Jonah Hall. The game was indicative of what "exhibition rugby" should be all about......most enjoyable viewing and a credit to both squads and coaches. The outing will stand the Tide in good stead for the upcoming PRC's and Down exhibited what a quality school rugby program is all about. Well done!
The older division belonged to the visitors when they won both the "U18 & U19" exhibitions. In the opener, a number of rather large Irish units ran staright and true, forcing a smaller opposition into desparate defense and territorial disadvantage. The few minutes observed of the U19 match, saw the visitors' superior to a locally cobbled composition to give the visitors "a run". Well done, Down!
In summary, although the two age groups were akin, the size was not. Be it the Irish diet or Academy training, Down players were visibly larger and the good big men ended up beating the good little men. Nevertheless it was all good and as stated earlier the hit out won't heard the Tide squads for the upcoming PRC's. Go, Tide, go!
DON"T FORGET!!
Friday's Fundraiser for the boys to South America...burgers, auction and general good fun. See you at The Temple 4:30 onwards.
---