U16's Play Opener On The Road
---
---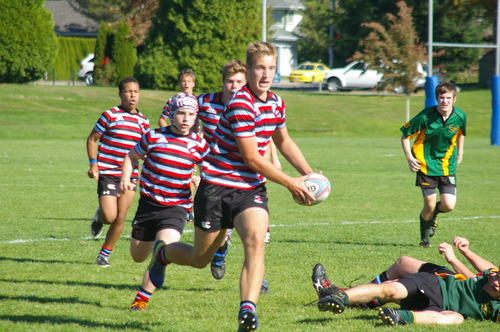 After what can only be described as a bizarre start to the season with a
combination of schedule changes, cancellations and inhospitable weather,
CW's U16 men hit the pitch last Sunday for their first game action. In an
effort to seek competition, a friendly was arranged with Bayside and Langley
Rugby Clubs taking place at Bayside's home field in Surrey.

Against Bayside in the opener, as with most first games, the lads had to
shake a little rust off. No amount of practice can make up for the
experience gained during a game situation. The weather and attitude of the
CW lads meant that it was a day for running rugby. The first half saw some
committed play from both sides. CW maintained the majority of possession
and displayed good skill both in offensive style and commitment to defense .
Unfortunately, the defence was not committed enough as Bayside were first to
cross for a five-pointer. This woke the CW troops up. Our lads responded
with three tries of their own, before the half to give CW a well-earned
lead.

The second half did not result in the same success on the scoreboard;
however there were many positives to take away. Bayside took the few
opportunities presented to them and secured a win on the last play of the
day. The Coaches were particularly impressed with the newcomers to the club
and a couple of the younger players who showed well at this level. This was
an opportunity for them to step out of their shells and their efforts should
be commended.

In game two against Langley U17s, CW seemed to hit its stride and was able
to maintain a steady amount of ball control while on offense and the team
was particularly stifling on defense. CW earned a hard-fought win against
their older opponents. The forwards were focussed on maintaining or fighting
for turnovers at every breakdown and were the benefactors of a number of
penalties called against our opposition; all a result of great pressure.
There were signs that the commitment to fitness work is starting to pay off
for this group, but Coach Robinson advises that there is still much work to
be done for this group to reach its potential. All in all a great day and
first experience for the U16s.

Thank you to our hosts for the opportunity to play quality opposition and
for providing a great post game BBQ. Just enough food to keep the team
happy until the ferry home!

As with all rugby trips, stories will stay on the road - that being said,
there was much energy to be seen especially for a rousing rendition of "We
are Warriors" by Coach Spence! Thanks to CW parents for their support both
with their development and getting them across the pond!

Of note is a rare mid-week tilt against our long time rivals Velox RFC. As
always we look forward to a spirited match. 6:00 pm on Wednesday @ Velox
(Gordon Head) if you're in need of a rugby fix!
---