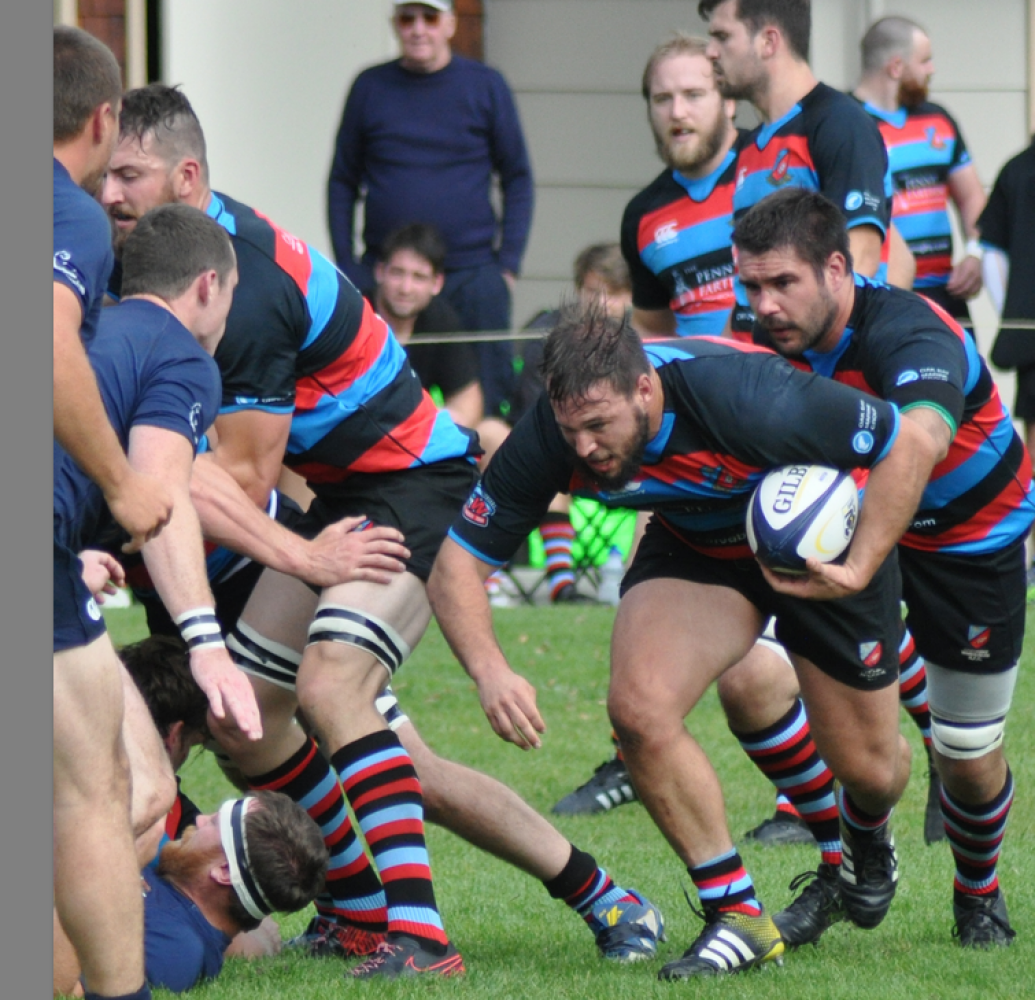 Seattle Women, in second place in the Premiership League proved to be a real hurdle to their hosts on Saturday. Seattle opened strongly, keeping CW under huge pressure and in fact, not scoring created some visible deflation. CW managed to survive the early onslaught and work their way deep into Seattle territory and around ten minutes, ball came wide and Chanelle Edwards crossed on the overlap situation. In the early forays, CW's Maddy Graham was prominent with a series of dangerous breaks and slowly a measure of cohesion and form took place, with some good pick and drives resulting in an "all forwards" try (we'll give it to Keller at #2, who had a lively day!) The 10 – 0 score was good but did not look convincing as new combinations looked rusty. Seattle's Young, tested the defence with some robust rambles and it was from one of these that she reversed the pass inside for fullback, Garrett to finish well for opening points. When CW tossed an errant pass, Seattle's Clarke was the recipient, scooting 45m for a gift tally and tied score. CW's forwards took the bit from the kickoff, driving and retaining and eventually prop, Demarchant, drove her way over for a 15 – 10 half time lead.

The second stanza was only two minutes old when Graham "froze" the defence, took the gap and fed Zussman on a good line and Julianne did what she does best, turning on the afterburners and creating a 22 – 10 gap. Adams came on at #9 and Neilson moved to #10. Jess moved the score along with a penalty, she then added her touch of magic with a clever wide, "miss" pass for Edwards-Challenger to dot down for her brace and 30 – 10 differential. From the k.o. Senft went on a diagonal burst down the blind side. She fed Waters inside and it was "shut the gate", 35 – 10. Tip of the cap to Seattle akin to last year, they did not let up and in fact, scored the next two tries to earn a bonus point in the losing effort. The first came from a hard run from #8, Sveinsson, breaking two tackles and covering 35m. The next came, all too easily from a forceful run from Esonu, trundling powerfully from a tap penalty. Off to the Mac and caught in the rear view mirror, the "capper" on an entertaining affair, a CW try in the corner, 40 – 20.

Based on score lines today it is hard to imagine that this Seattle team beat Cowichan 62 – 10 yet CW succumbed to them last weekend. That's rugby! This was a stronger combination than any fielded pre- Christmas. No matter what happens in the next six games, credit must be given to those players who have "trained on" and many young and inexperienced players who gave of their best during this stage as the club learns the harsh challenges of growing the program. To the day, credit to the FRF who set the basis for the win with some very disruptive set scrummaging. Paquin and Senft were a very active pair of loosies. Neilson was all about control and Maddy Graham in the centers, gets this pundit's W-o-M. Seattle were a better team than we saw last season. Thanks for the match and kudos to the ref (sole arbitrator). Crosstown Westshore flexed their muscles, showing Cowichan where the level is at if you want to be top of the heap. CW travels to Burnaby next week in another key matchup.


CW Ones at The Mac
Missed most of the live action with The Ones but caught snippets on Utube! The Tricolours allowed two first half soft tries to trail 7 – 12 at the half. When The Bays moved it to 17 – 7, it looked like we were just awaiting "the lady to sing". From the ashes arose the Phoenix! CW suddenly found if they could retain possession, they could ask questions and they finished with a flourish, crossing for three well-taken tries and a bonus point, 28 – 17 victory. Tries went to Marcus Hall, Damon Adams, John Moar and Ollie Winser with The Queen adding a trey of converts. I liked what I saw from solid performers in the pack, Adams, McLean and Montgomery, getting through a huge amount of work, my M-o-M. Gallagher at #9 gave an accomplished performance and Winser in the centers was a threat, notching a tally for proof. So, lots to learn from and more to build on. Let's hope The Ones don't crash against the league-leading, "awesome Horsemen" from Uni next week.

It was a Dusty kinda day at McDonald for our Prems. Dobravsky bagged 26 of the 36 points scored! First blood was drawn at three minutes with a Dobravsky penalty. Dalsin made an electrifying reverse to Jo Mo; Ilnicki almost put Sponarski away and it was to be Jo Mo, featuring again, with a 35m intercept "gem", 8 – 0. JB, with downhill advantage, kicked to keep CW penned, although on review they will be disappointed with a general lack of adroitness. That said, a wonderful "show and go" from Cody at #10 put Adams into a gap and Slater under the posts at twenty minutes. Adams put James Bay ahead with a trey, shortly after. When JB went blind, a pass was hugely telegraphed and Dalsin, went 55m. for intercept #2. Next it was Thomas with a burst on a great line for about 20m and a deft slip inside to Dobravsky who outpaced the chasers for a 22 – 10 lead. James Bay had the last say when unforced CW errors opened the door for Slater to get his brace and end the half at 22 – 15.

Almost straight after the break, DD added to his total, 25 – 15. CW maintained some good retention and when a JB scrum splintered, another penalty ensued and we were only five minutes' old, 28 – 15. Despite some obvious frustration with the set piece, JBAA came back with good control and patience and aided by a couple of CW penalties, they drove from their own lineout at seventeen minutes to close the gap with a Ben Johnson tally. 20 – 28. CW responded almost immediately from turnover ball when Dalsin shimmied and broke. Sponarski was the next runner and it was Dobravsky again the beneficiary, over in the corner, 33 – 20. CW was called for obstruction by the AR. James Bay found touch and it was from this facet they scored when Harriman "trailer-ed" and powered over, 25 – 33. The final 8-10 minutes saw CW on the attack, frustration on defence and a few 'fracii' broke out, D.D. adding a final trey, 36 – 25 – a different spread than that predicted by some.

The four tries permitted will be a matter of consternation to a team that is hanging its hat on defence. Long, ground-gaining mauls and basically two tallies via this technique must be solved, for teams like Burnaby and UBC could be even, debatably, better with this technique. This pundit loved the "grinders" – Turner and Thomas – the former, an Unsung Hero, the latter, playing his role with understanding. The technical work of the FRF was creditable. We are used to Burger and Braddock but Sponarski is really starting to come into his own. Behind Turner was Polson, also awesome and Stewart who was a lineout force, along with Skipper Ilnicki, continuing his special sense of calm, leadership and humour to his team mates and opposition. His poise was infectious on this occasion. In the backs, Styles had his best outing witnessed by this writer. It could be debated that Dalsin was M-o-M but Dusty – you were The Man on this day! JoMo, a thrill with every touch and the rest did their job. For The Hosts, I give Slater my nod. A diminutive man with pace and cheek, his brace being a credit. Harriman, Wakefield and Barker slogged hard, along with Whitey in the backs but on this day, the effort was frequently stifled. The Tricolour finally return "home" next Saturday, after three "away" wins, the boys welcome the students back to the House of Windsor. Vikes are a team one can never count out and with a quality win over Rowers will have their backs up to better our boys. A final thanks to Chris Assmus and crew. This M-i-M always calls em as he sees em and keeps an equal eye on all perpetrators! It was interesting to see his calls on the new tackle law. This is just another facet of difficulty for our refs to deal with. A wonderful salve as the table was set with this trifecta of wins for yet another very successful Fundraising Dinner. HUGE THANKS to ALL involved. Go, Ceedub!


N.B. Elsewheres, NSMT went down to Uruguay, world ranked #17 loss to #23 by a score of 17 - 13. We won't rub it in but this is the first loss to this country in fourteen years. Some pundits have pointed to a few players in the BCRU league being likely contenders as the pack obviously needs bulk and mongrel however, the level between Premier play and even Tier #2 International is considerably different!
---