The Roots of the Present Lie Deep in the Past
---
---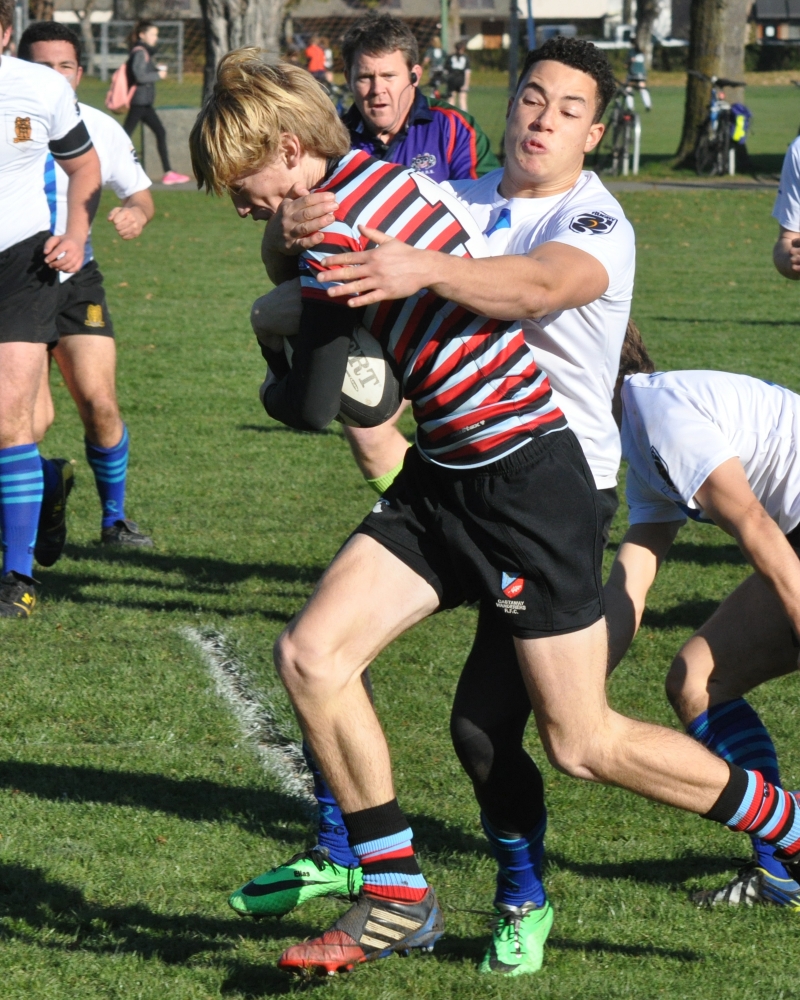 Brennig "faces" an allowable tackle – back in the day!
Saturday, Men's Prems @ the House of Windsor. UVic 3 – 1, CW 1 – 3.
Today's pre-game missive will take some long-time followers back to 2014 when a CW U18 team, featuring this Saturday's Premier players; Gavin Kratz, Nick Carson, Brandon Schellenberger, Brennig Prevost (CW), and Jonas Robinson (UV), defeated Capilanos for the BC crown.
UVic will be playing their first game since a disheartening loss as the #1 ranked side in the pre-Xmas, National University Championships. The hosts had a very shaky pre-Xmas campaign. Further, Grady Bowd, Sawyer Herron and Jordan Tait have all departed. On the other hand, the additions of Denver Fatt (UV), Zech Pilgrim (Pride), Jake Ilnicki (MLR), Dexter Anderson (Townsville, AUS.), Cam Sandison (Oakville, Ontario), Gareth Sandner ( injury), and finally, Brennig Prevost (NSMT's 7's injury), will be most welcome by the Tricolours. The initial card called for three games. Mysteriously, UVic's Saxons have forfeited the game, surely not a case of lack of numbers.
Comparisons are always odious however, this CW side selected is a good one, backed up by strength on the pines that would be the envy of many clubs! A few things to watch for will be, just how much can the CW pack manhandle their far less experienced counterparts, establishing a platform for an enterprising backline, headed up by a first-ever combination at #9/10 with Schelly and Sandner. Prevost will back-stop at #15, a position where he will choose his spots to be a difference-maker and test his mended injury. Brennig's hopes will be that he comes through unscathed and earns a spot back on the NSMT team for the Vancouver Sevens. At time of this post, we have not seen the Vikes selection so cannot make too much of a comparison as to how it might shake down. The CW bench with the likes of Ilnicki, Kratz, Sandison and Pilgrim will provide much energy as players compete for spots. This could be the start of an unheralded drive for a playoff spot. We wish Captain Finnie and the boys the best.


The Divvies (Men's Premier Reserves) 1 – 4, will face the Norsemen, 2 – 2. No longer the cellar-dwellers, and fresh from their first victory of the season, a healthy victory last week over James Bay, the Divvies should be hot to trot for this contest. With club depth greater than ever, Kyler Hohert will lead a quality XV. A FRF of Hayward, Clark and Sponarski, akin to their Premier counterparts, should be capable of setting a strong platform for Antipodeans, Anderson and Hickman to allow the outside men to strut their stuff! Newcomer Jack Wallace, a loosie from back east, was a standout last week, so keep an eye there and Gerhardt, revelling in his return, will pick up from last week with some good carries. So, there you have it, sports fans – the docket at the House of Windsor. Weather forecast for inclemency, should be a great help for the students, but the mudders and less pacey forwards on the day will also be licking their chops!
CW's day will be rounded out with our Div.1 Women travelling to Bayside RFC. The women have bolstered their selection a little with the inclusion of Loise Eriksson, and last year's assistant coach, Catie McNally working her way to match fitness. Frelen Gorst laces them up again for the Ones. So, it's basically a developmental squad, with a full contingent of twenty-five across the pond. Go, you good ones. One club, go Ceedub.



Between Whistles.....
**Also, on Saturday the pavilion at the House of Windsor will be hosting a luncheon for our club sponsors and 20 Club Supporters. We say, "Welcome and thank you", to these men and women.
**Seeing Jake back in the fold reminds us to give a shout out to him and Olly Winser (Assistant Senior Men's Coach). Jake has been announced as an Assistant Coach for the B.C. Senior Men's Bears and Olly, as Head Coach for the B.C. U19 Women's team for the upcoming, representative season. 'onyas, both.
**A reminder to get your tickets HERE for our returning and upcoming Fun(d)raiser Dinner and Auction on February, 25th, 6:00 p.m. @ the Union Club.
**Finally, an omission from Wednesday's blog was recognition of the photos included, taken by the late Ron Willems – sorely missed.
---