South Africa Takes Home Prize As Sun Sets On Edo
---
---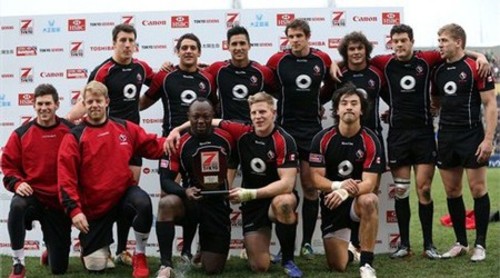 Despite winning the Shield at Tokyo, Canada Mens Sevens squad dropped two places on the overall table, with both Australia and England vaulting back into the top ten.
Day#2 saw the boys lose to Kenya, 5 -17 and drop to the Shield Competition. After a 35 - 0 drubbing of Spain, they defeated the hosts (after an earlier loss to them), 27-14, for the prize. One very encouraging result was a win over fifth place (in the standings), France. The intensity and parity of this competition is very noticeable and a team has to be at its very best to maintain its placing.
Canada now finds our southern neighbours breathing hotly on our necks as the U.S. picked up a whopping 13 points in this one. Sean Duke sits tied for second with overall tallies and from all reports, along with Hiriyama, O'Toole, Moonlight & Paris, was the pick of the Canucks. With two tournaments remaining, Scotland and Twickers, it will be essential that Canada stays in the top echelon to maintain critical OTP funding for Rio's Olympics.
Meanwhile, Canada's Women placed third in the China Tournament, dropping a semi final decision to ultimate winners, England and defeating U.S.A. for their placing. Well done, ladies!
---