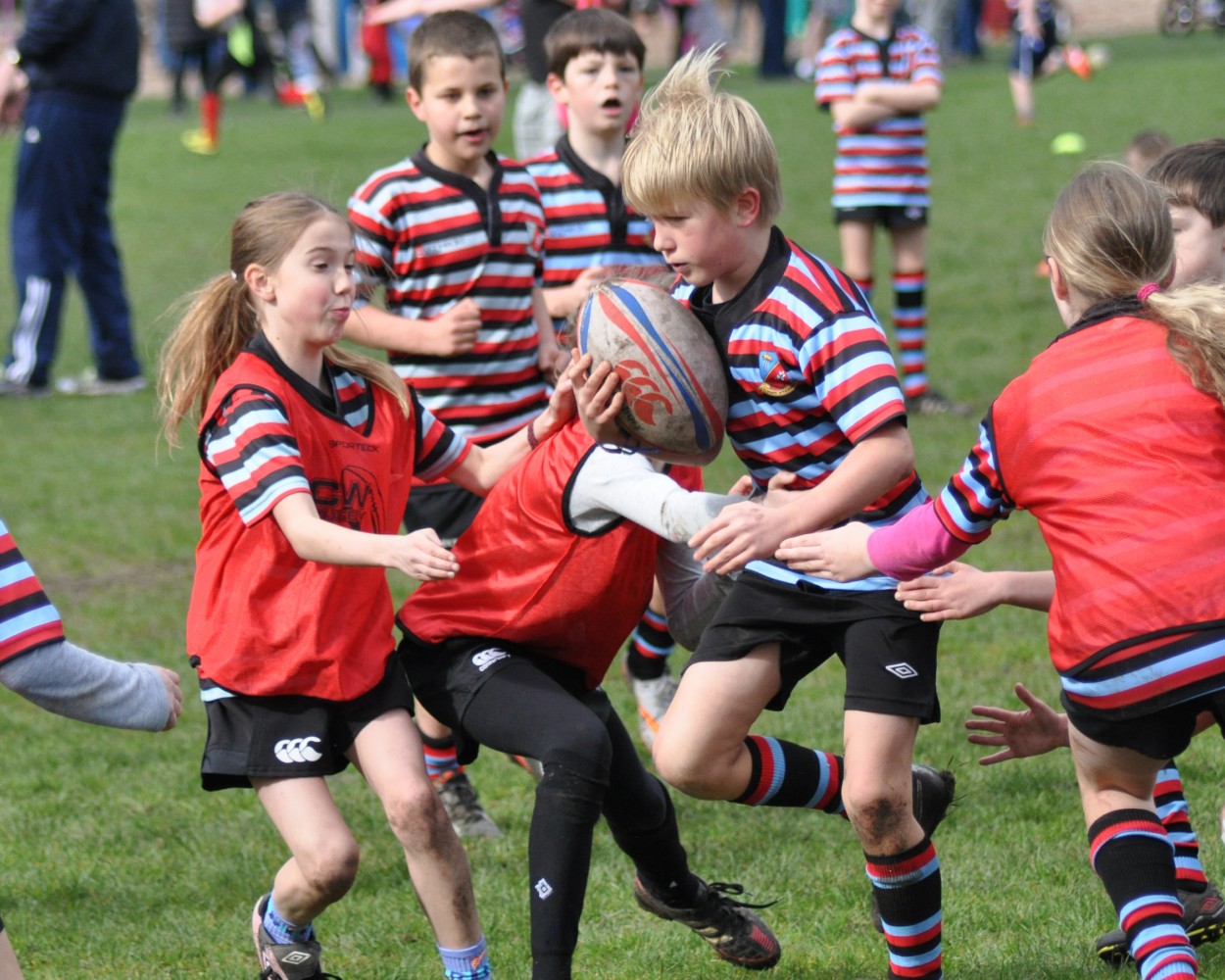 It is the time of season when the rugby focus reverts to our youth. Friday 13th will see the 44TH Annual GVSD Mini Rugby Jamboree. Over the years, this tournament has produced players who have continued to the highest echelons, most notable being Gareth Rees and more recently, Caroline Crossley. Next Fridays' tournament for girls and boys in grades 4 & 5 takes place at Gordon Head Middle School, starting at 11:00 a.m. Referees are needed. Phone 250 721 1527 if you can help out.
CW's undefeated B.C. Championship U18 side is now interspersed amongst local high schools. Already we have seen Oak Bay Barbs (#2 AA ranked) win the Rees Boot over SMUS. Not to be daunted, SMUS returned the favour on Homecoming weekend, surprising the talented Barbs, 26 – 22. Oak Bay have a host of CW players, led by Brayden Tate, Brandon Schellenberger and Gavin Kratz, to mention a few. Whilst SMUS (#2 ranked AA), are led by Jonas Robinson, Sam Kahn and Aiden Cole with a supporting cast of other Ceedub lads. Still in the Oak Bay region, Glenlyon (ranked #5 AA) are led by Brennig Prevost, pictured (CW U18 MVP). Yesterday there was a plethora of matches taking place on the Island between seeded schools. We don't have all the results but #3 ranked, St. George's defeated Oak Bay in a close one, 24 – 22. It looks like Shawnigan will once again be setting the bar in AAA action but the competition might be far closer than it looks.
The Bigs.
The NSMT 7's to play in Paris has been announced and although numerous rumours hinted at certain players being close to fit, the selections don't confirm that and we still do not see Dala, Duke or Mack in the squad. Add to these names, Harry Jones, it is probably not the best dressed. This being said it is good to see Cejvanovic, Zaruba and Berna back. Hirayama is in peak form, leading all scorers in the series to date and the captaincy of Moonlight will be two key factors, leading "the futures" – Hammond, Fuli (CW), Douglas, Bradley, McClosky (CW) and Mullins all of whom will need to be at their best when called upon. Trainor and Whitey round out the group and they have certainly proved their worth on recent occasions. It looks like there might be fractures at times with this group and staff not being on the same page but speaking with players, they are firm with one goal in mind – to make Rio. CW wishes Canada ALL THE BEST – go, you good things!
Meanwhile on the Home Front
Today at Nanaimo's Mae Bennett Park, a 'first' takes place, or at least a first for many yonks, when the North Island Tsunami vs South Island Tide. The Tide is predominantly made up of CW guys with a sprinkling of JBAA, UVic and Westshore. This match will lead to selection of a V.I. Selects and subsequently to the B.C. Bears and CRC competition. This pathway to national Team selection has now become firmly etched and is the only means to that lofty goal, so the 'first step' will be interesting as the Black Sheep, Hornets, Piggies and Kickers will be motivated to do just that to their southern counterparts!
Having described the pathway. It is most interesting to see that the only selection that could be filled in the FRF is the "timeless" 'Lunk' Wirachowski. He will join CW's 'Burger' Thornber, a player who has had a very strong season. His skills as a hooker are now amongst the best having received tutelage from the likes of Barkwill and Buydens, not to mention the value he adds with almost a try-a-game, using his pace and strength to fend off would be tacklers. This writer is high on further honours for Clay. Joining him from CW in the pack will be Nate Thomas who finished the season with some quality play, Kelliher at #8 perhaps a little on the lighter side but a quality player who plays above his weight, game in and game out and is thoroughly deserving of this "look". Captain Ilnicki who never disappoints with his effort and newcomer Taylor round out the Tricolour selections in the forwards. In the backs, Morris, Fraser and Ngongo have received the nod. Jon has had one of his better campaigns, perhaps motivated by a youthful and exciting Fraser. Anton has improved with each outing adding a visible toughness that was missing early in the season. This is a man who could well fit into a Sevens pathway, given his speed.
So, it will be interesting to see how this contest unfolds and just who impresses. Regardless, all will be pleasantly hosted in the "log house" post-game. Good job, Hornets and good luck to all players.
---