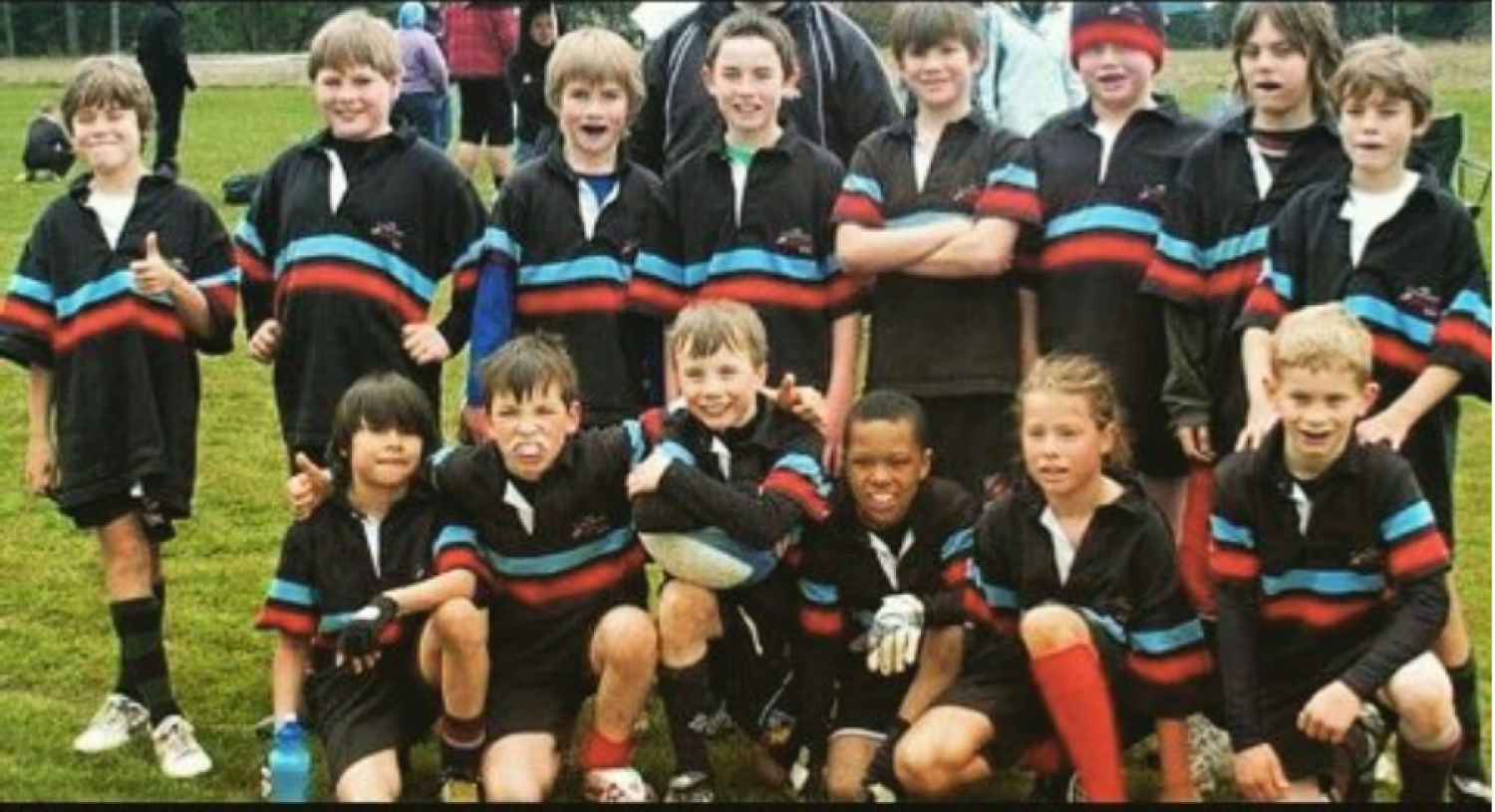 PATHWAY PLAYERS
Today's photo includes a wonderful group of players who have stayed with the game from a young age. Sophie de Goede, NSWT Captain, led her ladies to a 31 – 3 victory over Wales today in their final game of preparation prior to the RWC; Jack Carson – NSMT 7's and UBC Varsity; Jonas Robinson – UVic Vikes Captain; Gavin Kratz – CW Premier; and not pictured but worthy of mention as he was representing NSMT 7's today is Lockie Kratz.
These players are all examples of "bottom-up" sport development. This blogger recently ran across an interesting paper espousing the importance of grass root development in sport and why "trickle-down" sport does not work. "The only kid who can't improve, is the kid who isn't there"! CW's D-o-R espoused a similar position in Monday's Musings. Maybe, with new competition directions for senior players there will be some changes however, there needs to be major attention to the development of the game at the grassroots level. Several clubs in BC have seen the light, so to speak and are working hard to do something about growth. Let us hope that this movement continues, and the game's survival is never in doubt.
Today's blog concludes with continued club examples of this notion. Both our U16 Girls and U18 Boys were winners of the Age Grade Sevens hosted by Westshore RFC, last weekend. A Ruggernut, 'good 'onya" to all involved.
The U16 Girls featured a 'cameo' from former Coach, Shane Muldrew. Shane receives all CW's blessings, best wishes, and thanks, as he moves on to coach UVic Mens Saxons. He has given CW boys and girls years of time and expertise, coaching them to VIRU and BCRU Championships as well as helping them with their personal growth. 'onya, Shaner!


FOOTNOTE TO NSWT mention. The starting XV featured three former CW players – Olivia DeMerchant, Karen Paquin and Sophie whilst current player, Julia Schell came off the bench in the late going. P-o-M was winger, Maddy Grant with a superlative performance, on and off the ball and a wide-ranging work rate. Paige Farries had another strong game, along with #9 Brianna Miller. It was the forwards that set the table with hard work at the graft and very good set pieces. Their work with the maul was a huge difference between the two sides. The women now have another month to prepare ere the start of the big one. Huge sacrifices have been made by many and with rather glum results elsewhere on the Canadian rugby landscape, they carry the torch, and we look forward to watching their play in New Zealand.


Speaking of NZ, the Mens loss to Argentina has once again, proven that "on any given day" in the game of rugby the unthinkable is possible. Viva Los Pumas! And it is no small amount of joy that causes me to raise a glass to my mysterious Wallabies in the case of a good victory.

Final news for this day. Canada NSMT VII's lost all three matches in Los Angeles today. Vs NZ, one sided, good showing against RSA and USA with just one try in each match being the difference. Flick around your tv dial tomorrow at 1:00 p.m. to see highlights.
---