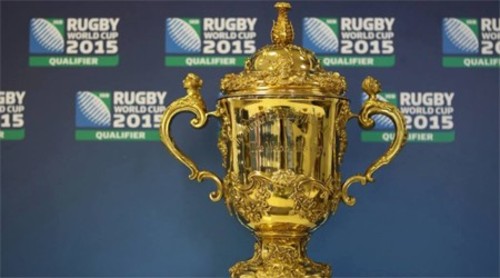 Joy at home with tweets of support from Simon Pacey in the east to Kenny Goodland in the west, former NSMT players supporting and congratulating the current crop on yesterday's win! It was a tough start to the day for this writer as his beloved Wallabies received yet another "clinic" from the All Blex and then Hubert's, Manawatu was shellacked 18 - 45 by Bay of Plenty. But the most important and the best came last when Canada's Senior Men took a rousing result from the U.S., 27 - 9 in the first of this away and home, double-header qualifying series for placement in 2015 RWC.
This contest was only 37 seconds old when Phil Mack had the presence of mind and speed of reaction to view what was (or wasn't) ahead, throw a "dummy" and sidestep to space. His next automatic reaction was to turn the last remaing defender around with a perfect chip kick and win the race for the touch down. What a dream! To rub some salt to the wound, Pritch converted from touch. Pritchard added a trey at 14 minutes capitalizing on some U.S. penalties. With Jones cleverly dictating matters at #10 for the Visitors, it looked like the contest might have been iced at the 23 minute mark when he cleverly slipped inside ball to Evans who made a huge break and fed off to Mack, to go over untouched. The referee deemed that Blevins had "obstructed". The viewer would have made his own call but it was ever so marginal if you supported it. The adjudicator in the middle also warned both Sinclair and Cudmore for a "high tackle" and intentional lineout interference both calls when replayed, again were very subjective, Cudmore particularly being hard done. However, 13 - 0 at the interval was not to be sneezed at! In fact, there had been some very good patterns occur and good efforts from many soldiers.
The Home team opened their account at 42 seconds after re-commencement, after an ugly set from Canada. Two tight five changes had occured and the scrum splintered. The new scrummaging rules gave the referee all he could handle, even calling the "old instructions" on the first set! About 23 minutes in Canada showed the importance of solid scrummaging with good ball getting smartly to Blevins who sliced throught the defence on a sharp line and fed DTH - money!!...... and welcome back to the Maple Leaf. As the game progressed and subs came on, whatever continuity there had been somewhat fell apart with skills from the Americans noticeably deteriorating. The exclamation point came when Harry Jones was duly rewarded with a loose forward cameo, bursting through two tackles after a number of well taken thrusts at the line from the pack. Pritch had a perfect day with the conversion and 27 - 9 scoreline and an eighteen point lead in the total points outcome for the series.
Philly Mack was correctly given MoM honors after yet another inspirational display. In fact, the halves combo of Mack and Jones looked very competent, with excellent decision making, bravery (neither man shirking from pulling down big, Todd Clever and his pals) and good skills. In the pack, Moonlight, Sinclair and Marshall stood out for me with a lot of work from Dala in the last twenty minutes. All forwards who played, contributed and those given minutes in the second half did not create any real noticeable differences. Carpenter and Ardron have been more noticeable but they did a ton of tackling on big opposition and Hamilton and Barkwill get tougher with each outing. Blevins in the backs was a handful, reading the play well and the pace of DTH, Evans and McKenzie was such that it is pretty clear these boys need to get more ball. This will come as the overall handling of the backs under pressure has much improved. Hearn and Pritch did whatever was called for to round out a very good result. Congratulations to all the players and staff on this victory and it is obvious from reports that it is being kept in perspective as there is more work to be done next Saturday in Toronto.
---