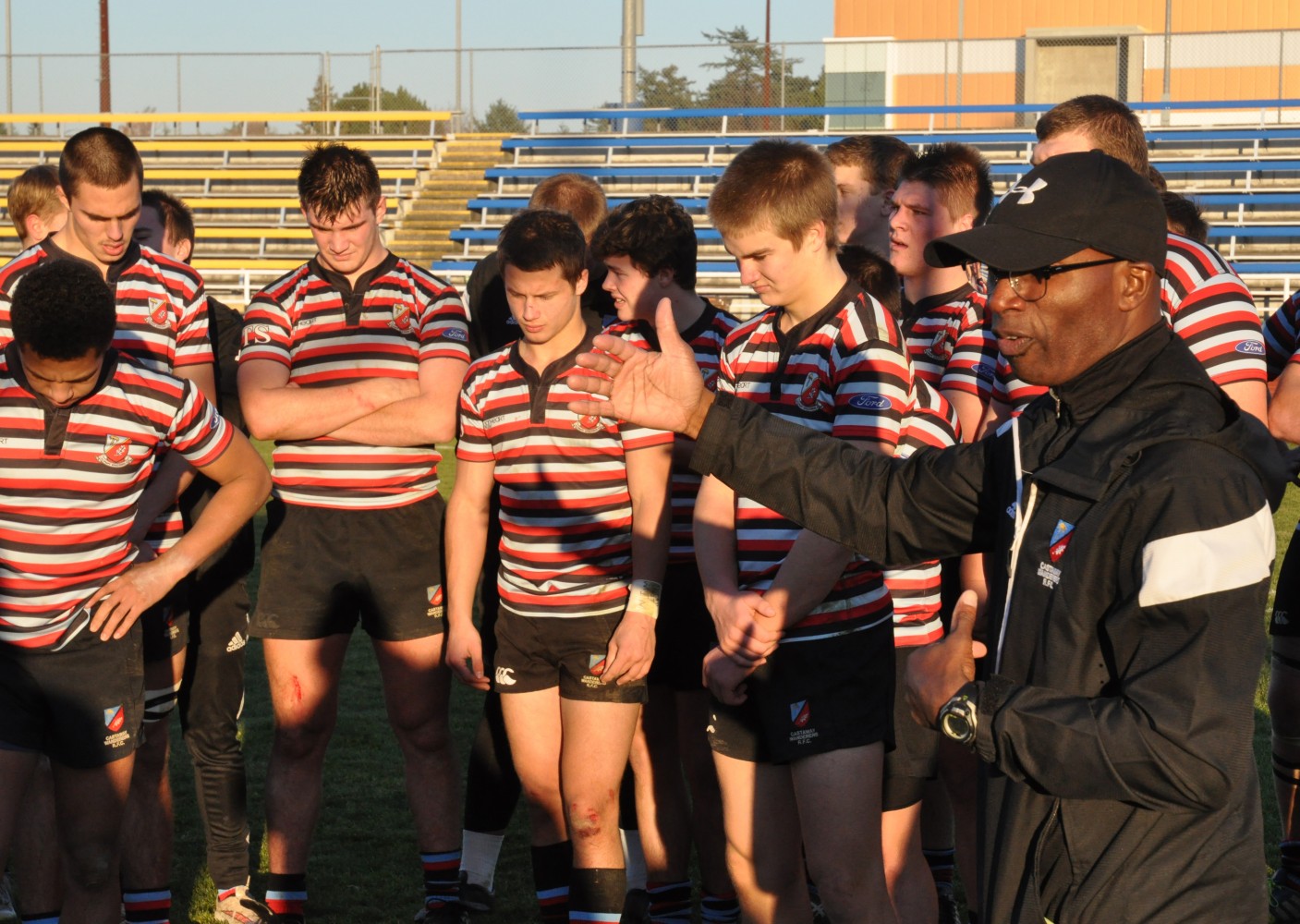 Team mates at club; arch rivals at school; friends for life!
Howard Russell Cup. Congratulations to SMUS on their comprehensive 25 – 0 victory over the Oak Bay Barbs on Thursday. In the early going, the teams tested each other with physicality and unfortunately, for Oak Bay, by game's end they had lost five starters to injury whereas, a smaller SMUS side seemed to thrive on the confrontation. In these latter days of the H.S. campaign, it is not time for the injury bug to strike. SMUS has come as long way since their 31 – 10 Rees Boot loss. In this pundit's view, I think Jonas Robinson led the Jags in one of his best played matches. Aiden Cole, Lucas De Vries, Bernardo Villegas and John Cook also stood out. In a losing cause, Mike Makaroff and Callum Masterton never stopped. Brayden Tate, forced to change slots, tried hard but was over shadowed on this night and no matter what inroads Brendie Schellenberger made, he was ultimately scythed. As the Barbs had to adjust due to injuries, their tactics did not fully compliment their combinations and when they found the wall impenetrable, they often kicked without aim, to a side who relished their retention and hounding at the breakdown on this evening. This report does not include the leadership and masterful performance from Brennig Prevost, leading his Glenlyon Gryphons to a 51 – 12 win over Claremont.
In a very special graduating year for so many special 'CW Youth' – some fifteen at OBHS, this pundit offers; "thanks for the memories and good luck henceforth".
NB – BCRU Age Grade ID Sessions; http://www.bcrugby.com/
NSMT's SEVENS. It is with regret we once again, read about this team "regrouping" after a 41 – 5 spanking by the hosts on Day #1 at the Paris Sevens. Next up, Argentina who wailed in the U.S., 36 – 0. Also of interest was a comprehensive Samoan victory over Wales by a score of 52 – 10.
Well Day # 2 has come and gone over in Europe with miserable results for the boys in red. First up loss to Argentina, 28 – 7 and a day's finish with a loss to neighbours, U.S., 33 – 12. It has been a long time between drinks since a victory over the Eagles in 7's.
Overall, it will be interesting to read Coach Middleton's spin on things. The boys now move onto Bowl play, opening against Russia to avoid another bagel. Tonight's games can be viewed at; http://www.worldrugby.org/sevens-series
44 Years of Elementary School Rugby. A dip of the cap to Mick Eckardt and Crew on this monumental feat, Mick being involved since day #1. This year's Jamboree had some 36 mixed gender teams from 16 schools playing in four weight divisions, a total of over 400 players! Impressive! Hats off to CW types involved in coaching, Matt Taylor, Chris May, Ed Knaggs and Pierre Iachetti. Players came in all shapes and sizes and were catered for with rule modifications. Who knows what the rugby pathway may be of these youngsters, but there was no doubt about their efforts and enjoyment level on Friday at Gordon Head School.
The Second Coming of Dodds. This is a call out to all former team mates of CW's 2005/06/07 campaigns. Next month, Graeme Dodds and family will be visiting the capital from his native Melrose. Doddsy, a former Scottish Sevens player hung his hat with Ceedub during the 05/06 season and he retired this season from Melrose after fifteen years of service at the top level in the Scottish Premier League. There will be a gathering of the clan at The Temple on Sunday 12th June, 1:00 – 4:00 p.m. It will be a family affair, so bring the kids to the barbie. If you can make this joyous happening, please confirm with Macca, so we can have sufficient nosh for all on board.
TODAY @ 12:15 – Westshore. VIRU Women Vs VRU Women for Ruth Hellerud-Brown Cup.
---