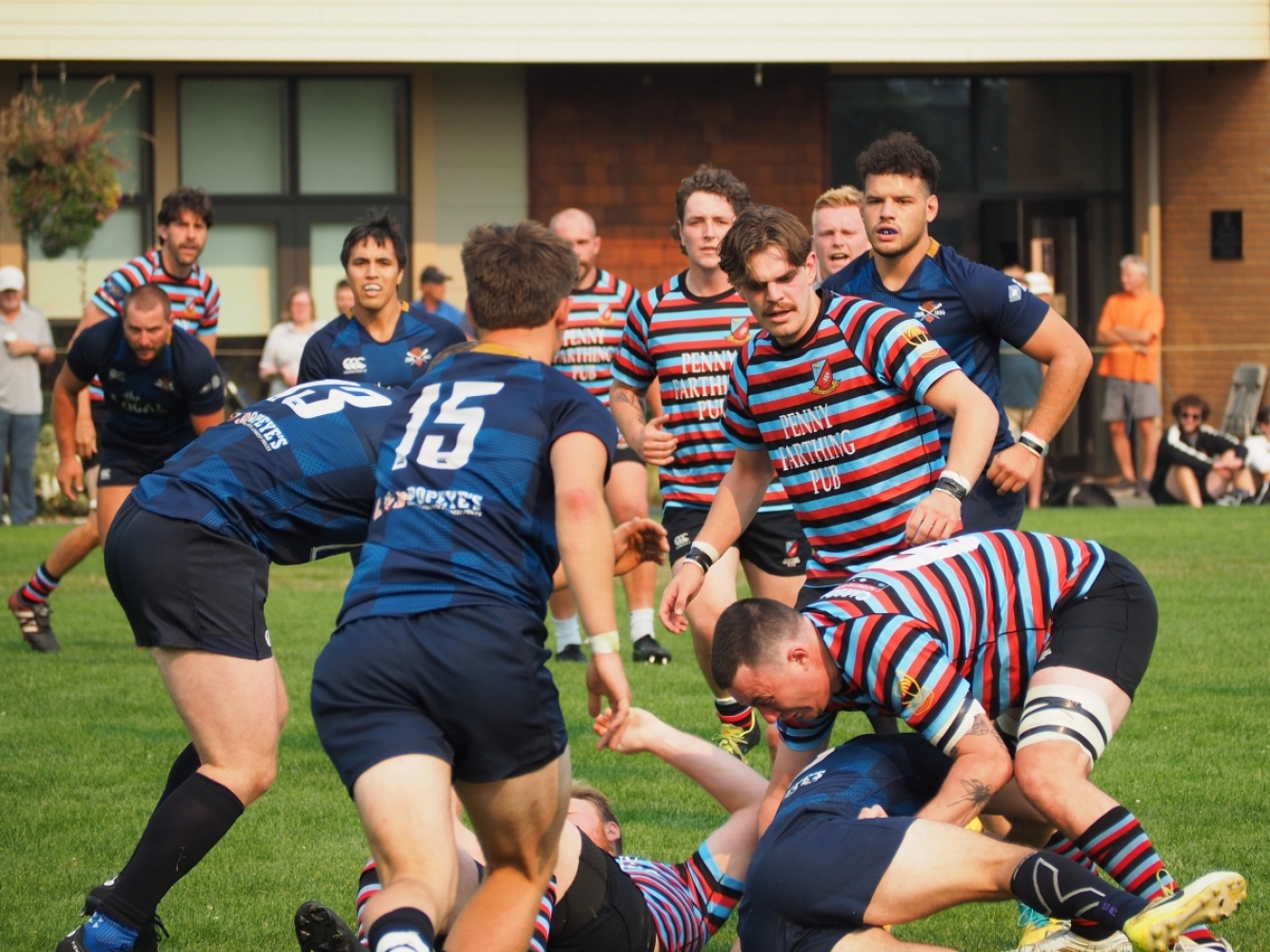 Famine to Feast. A BIG weekend upcoming with hosts, France and co-favorites, Vs NZ All Blacks at RWC Opener in Paris. On Vancouver Island, the opener for the BCRU Premier League with CW visiting James Bay.

Let's start with the BIG SHOW where the bookies have France and NZ at 3/1; South Africa 7/2; Ireland 9/2; Australia 12/1; England 16/1 and the remainder at long odds. I call upon Barns to put a few Euros on Ireland for the Ruggernut! NZ press has downplayed what a loss in the opener might do to the cause, with Retallick, Frizell and Jodie Barrett out of selection options, a loss could well be forthcoming. Like-minded fans are gathering at local watering spots; The Penny, The Bard and The Times, despite TSN's telecasts. Other matches of quality could be Australia Vs Georgia (9:00 a.m., Saturday); England Vs Argentina (noon, Saturday); South Africa Vs Scotland (8:45 a.m., Sunday), and Wales Vs Fiji (noon, Sunday).

On the local scene, an uncustomary early start to the season will see perennial adversaries, Tricolors and Bays doing battle at the Mac at 2:30 p.m., Saturday. The two clubs have agreed to play just the Premier contest, as they beat the bushes to fill two teams. Spectators cannot expect to see the same quality of rugby that took place at this venue last Saturday when the Pride handed UBC a loss, in a high intensity and skilled encounter. This writer can make no predictions as to the outcome with both teams containing several "new" players. CW will open with a regular FRF – Braddock, Peters and Fatt and plenty of experience in the rest of the pack with Ilnicki, Dring, Kehoe, Pyke and Captain Finnemore. The backs with halves Pilgrim and Sandner, will be better for their work together last season, Suddsy joins Nott in the centers as another familiar pairing with Gabe Smith, back, bigger and better, and Silvestros on the wings, and a new experiment at fullback where the talented Sion Griffiths slots in. It is on the bench where we see newcomers, with a spotlight on Kiwi, Conner Mc Kenzie, Hayhurst, Maher and Gray being other unknowns for this pundit.



To add to all of this, CWRFC will be hosting a Coaching Summit weekend highlighted by a Volunteer's Recognition Night, starting at 6:30 p.m. on Saturday at the Windsor Park Pavilion.
On Sunday there will be a
Refereeing Certification
course offered. The cost is
$0 for CW members,
and will run from 9:00 a.m. until 5:00 p.m.
All info including registration link is
HERE
HERE's A SUGGESTED MENU!

Breakfast ($9 before 9:00 a.m.) at The Penny. Australia VS Georgia (9:00) …. England Vs Argentina (noon)

Crosstown to The Mac. CW Vs JBAA (2:30 k.o.)


FOOTNOTE

CW is seeking an amateur photographer who enjoys shooting sports action. We are seeking this service for men's and women's Premier home games. Please respond HERE.
And a second search is for anyone who would be able to either board or rent property to responsible rugby players. If you are able or know of someone who may be a possibility, please contact HERE.



RUGBY – BRING IT ON!
---