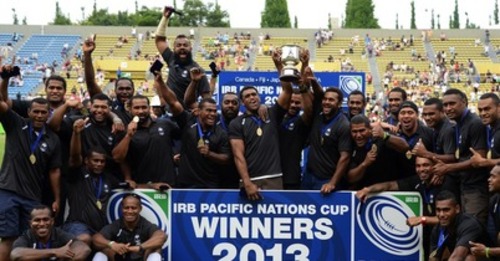 Hats off to the inaugural winner of the Pacific Nations Cup, Fiji. Fiji routed Tonga in Japan on the weekend, 31 - 21, the differential being reduced by a last minute Tongan try. Throughout the game Fiji brought greater poise and structure and an edge in pace. Bula!
Japan toppled U.S.A. by a score line of 38 - 20. In the early stages, U.S. showed some stuff, looking much improved frrom their last couple of outings, on one occasion scoring a 17 - phase tally but it was not sustained for long. Their defensive patterns fell apart when Japan distributed quick ball wide out, skills went wayside next and finally frustration and lack of effort put the capper on their performance. In the second half after a number of Japanese scrum advantages, a yellow card was issued and thence a penalty try - deservedly so. Captain Clever was spotted by this observer, once again, with a pretty chippy cheap shot, although missed by the on field adjuticators. This man is pretty fair footballer but he seems to have lost the plot so far as his leadership is concerned, at this point in time. The Cherry Blossom's #9 was MoM for me and all tries were well taken with pace at the recycle, good support and timely passes.
These comments aside, the U.S. will still be a very challenging opponent, as Canada seeks to earn the right to a RWC berth in an upcoming brace of away and home matches. The Canadian coaching staff would have learned plenty from this match. If Canada can call upon speedsters for the games and back its handling and support game to move the big men, we are in with a definite chance.....speaking of pace, Hume seemed to be a threat the twice he handled the pill. There is much to be done with the U.S. scrum as a visibly smaller Japanese pack manhandled the Americans.........and so the representative scene in North America takes a break. This first PNC was a success and it will be interesting to see what happens from a Canadian perspective next year, with the addition of Samoa and the fact that Canada plays it games a gainst the Pacific Islanders on their shores!
---