Permutations Drop Canucks to Bowl
---
---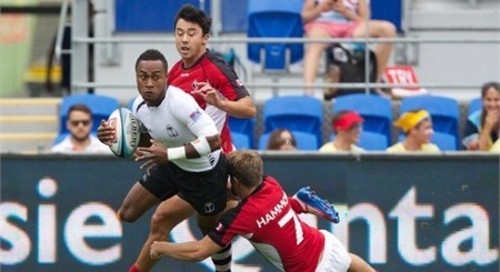 Canada suffered two dismal spells of luck during the past 24 hours, losing both its Sevens Captain and XV's Captain to injury. At the Gold Coast in Oz, Canada opened against the always tough, Fiji. Our boys respect but are no longer in awe of the opposition on the circuit and held the Fijians close at the break. Midway through the second half, Hirayama was assisted from the field with an ankle issue after falling awkwardly in a tackle. Final score, Fiji 20 - Canada 10.
Game #2 Vs Wales was a revelation of the team's resilience and spirit when they took their first victory from Wales since 2011. The boys, playing this one for Nate, were led by a brace from John Moonlight and the speedy Justin Douglas rouding it out to put them up 19 -0 with about five minutes to play. Wales were not to be discounted and came back with a pair of tallies, final score Canada 19 - Wales 14.
The final match of the day was against Portugal. Again, Moonlight opened the scoring and he was to add a second later in the game, Hearn and Douglas rounded out a 24 -17 scoreline in Canada's favor. Most unfortunately, elsewheres, Wales came up with the goods with a W over Fiji and the score differential, snuck them into the Championship Round.
Canada play today at 4:30 p.m. PST and the action can be picked up at this link, or directly from IRB Sevens site irbsevens.com website.
---