Pane Cracked But Not Shattered
---
---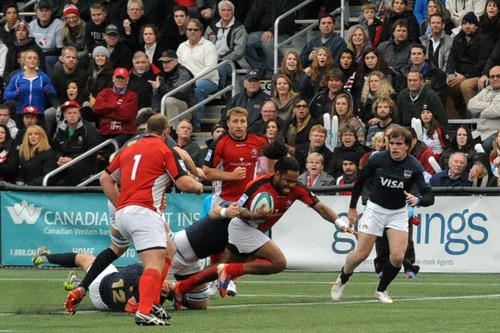 Led by the Captain, Kleeberger, Canada put up a far better showing in last night's final ARC encounter than their midweek performance against the U.S. The set scrum was much improved with tight head scrum wins "book-ending" the encounter, far better tackling at the defensive line and for the most part, better ball movement was also noted. The crowd was a healthy estimate of 3500, hopefully, sufficient for the IRB to deem continuance of the event, the officiating was "ok", accented with two dubious, "cynical" yellow cards. On the debit side was incredibly poor kicking, for goal, from hand and strategically. With many noted kickers from days of yore available - Ross, Rees, Stanley......it is hard to comprehend why this cannot be a Canadian strength. The lineout play was average, featuring a number of late match brain eructions, losing critical field position and possession.
Other pluses included yet another demonstration from Delasou as to his danger as a ball carrier, Wilson-Ross, always looks for work and keeps his feet in the tackle, Scholtz was much improved as a runner, notching another five-pointer although handling and passing detracted somewhat from his more positive performance. MacKenzie again, gave a solid display for his 75% of the match before replacement, at #9. In the pack, Woolridge got through a lot of work, Ilnicki held up for eighty and Barkwill was his enthusiastic self, marred somewhat by throwins. I liked Morrison's performance and the loosies also "manned up" with Kleeberger being, arguably the MoM in this writer's opinion.
One could argue that this side may have taken the Americans, placing Canada second, (U.S. d. Uruguay, 20 - 8 for this honor), however, the tournament is a fine balance between show piece and exposure (of the Canadian game) and "blooding" new players to the much more intense pace of play at this level, something which has to be managed somehow and errors will occur and some will pass and some will fail. The final scoreline of 23 - 14 to Argentina was probably an accurate reflection, Canada missing three "kickable" penalties and permitting two tries during a short-handed spell whilst failing to score when the Jaguars were similarly short-handed and that was the difference....experience. For the Visitors, their two big locks were money, featuring rampaging runs all tournament, #9 was precise and got his backs going on the front foot, not to mention his accurate strategic kicks when warranted. All of their FRF positioned the team well in all phases of play. Argentina had no noticeable weak links but were put to the test on this night - well done, Canada.
---