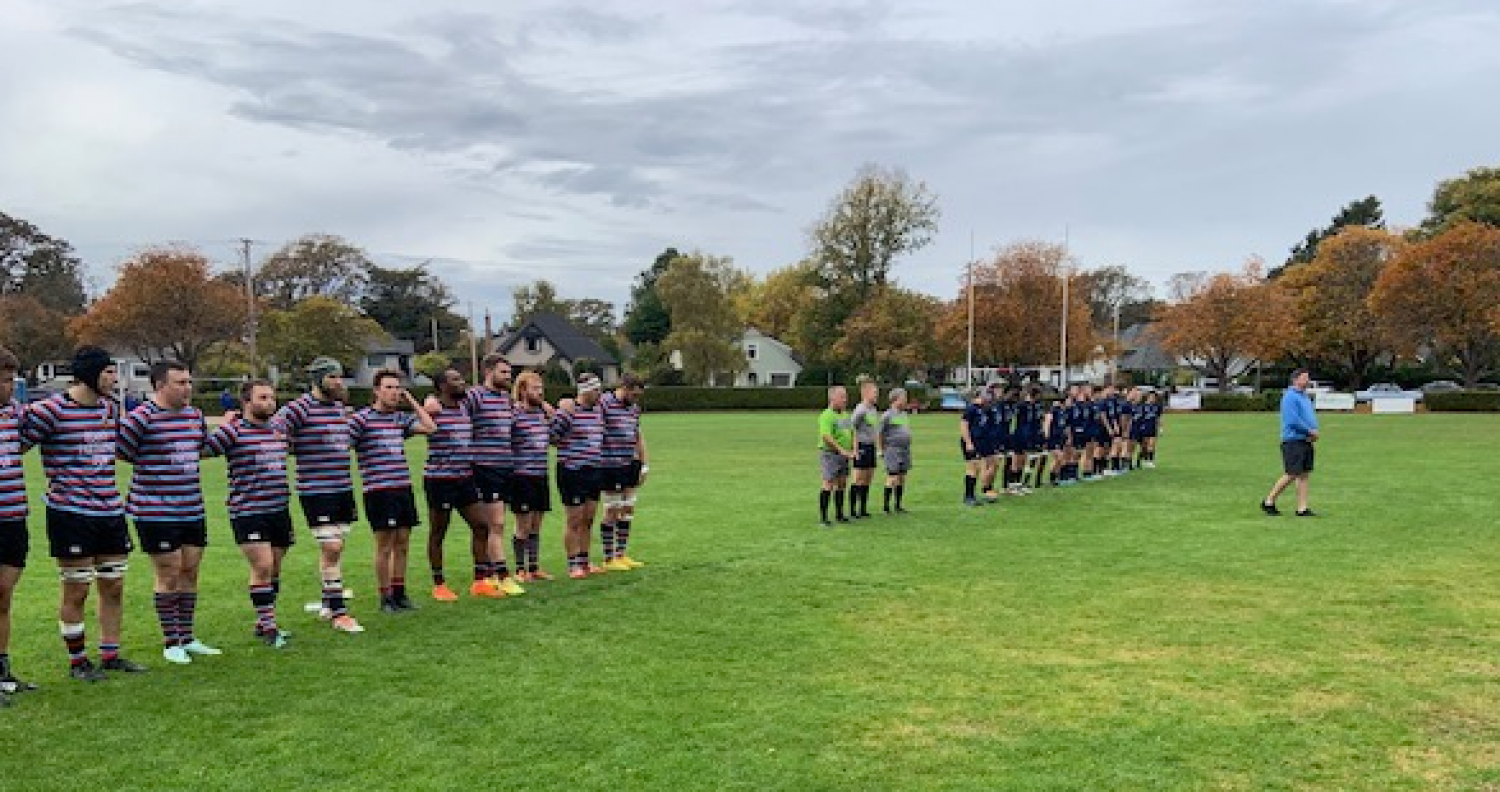 A moment's silence for 'Lunk' Wirachowski - R.I.P.
What a weekend of rugby! The RWC ¼'s produced everything expected and then some more! A brief opinion point will be offered today. At the House of Windsor – four games – WOW! CW women went down in both of their matches, the Divvies losing to an experienced James Bay side and the Premier team lost in a battle to Seattle. This later game resulted in a more competitive outcome. CW found themselves in big-time catchup mode at the half, chasing some thirty points. The second stanza was almost the reverse of this scoreline, with the CW ladies offering stiffer defense and crossing for a couple of tallies themselves, notched by Temitope Ogunjimi, Renee Cook, and Emily Samek with a brace, for a final line of 24 – 43. The men's Divvies dropped their match to the Bays, 13 – 22. This game was restricted to 13-aside. Captain Kyle Hohert led a young side into the fray and the Bays simply moved the ball better, scoring three tries to one.
New Pitch Christened
The main game was a re-match of an earlier contest about a month back when James Bay showed clean heels with a 38 – 28 victory.
Matters were preceded by a moment of silence for the late, Kevin 'Lunk' Wirachowski.
The scoring opened early with a diagonal kick from Bowd to Gabe Smith. Had RWC come to Windsor or was it just the return of that Master of the Diagonal, Grady Bowd? Superior scrummaging earned CW a penalty, wide ball to Bowd, on to Fuailefau, a "miss", and gift pass for Sion Griffith to finish in the corner, and a 10 – 0 lead. Play lingered around centre field before another penalty was awarded. From the scrum, Captain Finnie controlled it at his feet and the pack drove for about 10m. and a 17 – 0 lead. Stewart at #9 for James Bay and a speedy winger, looking for work (#11), caused some defensive haste and with limited ball, the Boys in Blue made efforts at positive play. However, it was a bruising run from Fuli that started quick ball to Bowd and Pilgrim, looping to Griffiths again, only to be gallantly stopped by desperate defense. The Tricolor kept at it and Bowd broke, turned it inside to Finnie and then on to Keogh to score at the half, 24 – 0. Keogh's steady rehab and improvement, back to his form of seasons ago, has been a tribute to the man and his dedication to physical fitness, not to mention his love of the game and matters CW. The first forty saw Bowd, in on every try, fullback, Jack Shaw with flashy efforts, popping up in many spots after cleverly reading the play, Denver Fatt, Nik Carson, Pilgrim and Fuailefau, all very visible.
The second stanza offered a slower start and an opportunity to make some replacements. Nott made a good, long break which came to nought and Stewart reciprocated for the visitors, only to be tagged by his mate, Bowd. It was fun to watch these two throughout the game, giving nothing and putting their individual stamp on the proceedings. #11 for JB showed heels again, after his sole error on the day, that of a rather crucial knock-on. Never-the-less, James Bay's territorial dominance was significant for a fair period of play. Pressure from the hosts saw Nott scoop a loose ball, and feed Pilgrim, who showed 45m of pace to outlast a desperate defense, 31 – 0 about midway through. Another dominant set piece saw Suddsy 'out-the-back' to Bowd and a speedy finish from Shaw for 38 – 0.
Then came a spot of individual brilliance when the Bay's fullback grabbed an inadvertent chip kick at his own 40m. He dummied and was through the gap, fended the last desperate attempt at a tackle and was over for first blood and sixty meters of brilliance. At this point, with the CW bench cleared, James Bay showed further resistance and Stewart had his turn to smile with a well-deserved fifty-meter tally, out-legging a clutching defense and 38 -10 differential. As the game wound down with CW forwards exercising dominance, a wide diagonal to Shaw saw the final points posted 45 – 10 and the RWC had indeed come to Windsor Park! Not only that, but this man also had a hand in every try. We will see Grady in action on one or two more occasions before he returns to MLR to complete his contract obligations and rhetorically question, just how is that Kingsley does not see what we see? Denver Fatt showed clean heels for a thirty-meter scamper only for a team mate to obstruct, spoiling a good effort from a FRF member after eighty minutes. Referee Pendrick called no side, and the teams called it a day.
Hats off to James Bay, a young side who stuck to their guns all afternoon despite being outclassed, pretty much in all aspects. This viewer did not have a team list, but the two players mentioned were the pick of the Blues. Stewart is a very skilled, hard-working scrum half, and gets my M-o-M, far ahead of any teammate. For CW, this was a lively return to the form of a side that fans are more used to. I spot Denver Fatt, in the forwards and Jack Shaw at #15 as M-o-M. Denver is a solid scrummager and tireless man, around the park, not lacking in handling skills either! Heard a rumor that easterner, Shaw is also off to MLR, and it will be interesting to keep an eye on his future. Enough said about Bowd for I could wax lyrical at length. I must add to mentions, Captain Finnie and Gord Kehoe and off the pines, Gavin Kratz, as difference-makers in the forwards and Zec Pilgrim's accurate passing and sniping being the lynchpin for much of Bowd's brilliance.
Next weekend, CW vs Pacific Pride is the docket. With the return of yet more "late-comers", CW is slowly starting to hit its straps and the Pride will be just the test needed in these early days.
As mentioned earlier…to RWC. An earlier blog regarding use of/by the TMO was somewhat critical of its overuse. On the weekend, maybe reality struck a chord whilst viewing the IRE/AB game with other rugby fans. Amongst the group at The Penny were CW U16 Boy's coaches and some parents – a group that was thrilled about 35 registered players for their coming season. I pondered that just maybe, these were 35 boys registered to play, specifically because of the transparency of actual/possible dangerous play and subsequent injury detected by TMO intervention at this level.*** Head Injury Assessment for potential concussion has become a detailed aspect of contact sports, and arguably, no one does it better than rugby. Kids want to play rugby; parents are concerned and when they see this very specific attention at all levels to concussion protocol and rule specificity just maybe they feel more comfortable with giving their kids the okay? To conclude, I offer plaudits to the match referees who have overall done a good job, enabling fans to see the game at its absolute best, particularly in this weekend's quarterfinals.
I would be remiss if I did not register my personal disagreement with the TMO NOT BEING USED for what seemed like a deliberate, glaring knock on by RSA's, Etzebeth at a critical stage early, with France looking very likely to score, only for this play to create a South African movement away from their line and ending in the equalizing try for a possible, fourteen point "swing". As I saw it, it appeared as a knock on and thus "cynical" play, which should have resulted in a penalty and yellow card and I believe that 9/10 times this would have been the outcome, could it have been reviewed as "knock forward". Partisan but knowledgeable French spectators certainly let their ire be known as to the TMO not taking a "second look". This was doubly mystifying for the day before; NZ's Aaron Smith received a yellow and penalty for the merest touch of the ball off the finger! The only mitigating factor here is that I did not have the view that the referee did, claiming, "backwards, play on"!!
***FOOTNOTE: Speaking of registrations, CW has a current total of 540 registered players from minis to senior men and women.
---