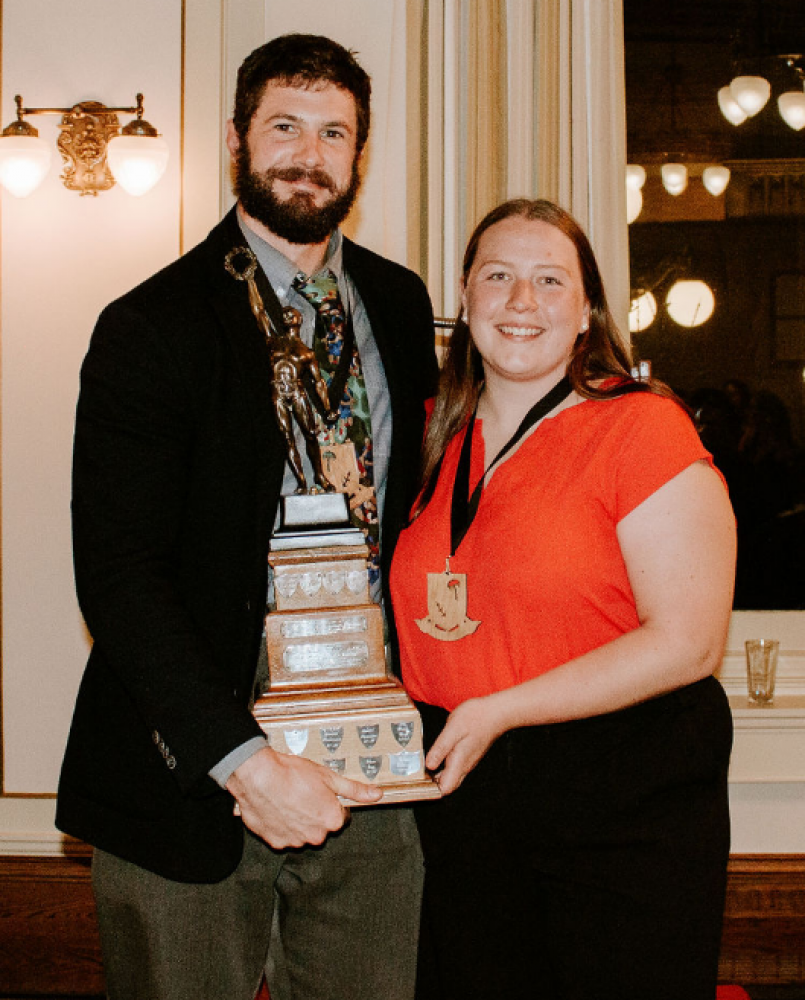 ANNUAL CLUB AWARDS
At the recent Dinner, several men and women were recognised for their efforts this season. The club's most prestigious award – the Johnny Shepherd Award, representative of that player who "best serves the club in sportsmanship, duty and honour", and voted on by solely his/her teammates is always the highlight of the evening, honouring a young man who gave his life in 1940 when he was killed in France. Shepherd was just one of a Wanderers team, who completed a practise session and went to sign up for service. Pictured are this year's winners, Emily Samek and Johnny Humphries.
OTHER MAJOR AWARD WINNERS
Women's Premier MVP – Emily Samek.
Men's Premier MVP – FRF – Jake Ilnicki, Gavin Kratz, Denver Fatt, Jace Peters, John Braddock and Jack Sponarski.
Women's 1st Div MVP – Francesca Fraser.
Men's Prem Reserves MVP – Kyle Hohert.
Women's Prems Most Improved – Annalise Branter.
Men's Prem Reserves Most Improved – Ray Robinson.
Women's 1st Div Most Improved - Madea Solberg.
Women's Rookie-of-the- Year – Delaney Kitchen.
Men's Rookie-of-the-Year – Ollie Nott.
Chris Shepherd Award – for Women's Outstanding Dedication – Catie Mc Nally.
We've only just begin….. (with thanks to The Carpenters)! Touch Rugby will be all the rage this summer, with locally hosted tournaments and even rumour of road trips! CW has a leg up in this department with the recent hat-hanging with our club by Colin Veitch (a player on England's National Touch Team)! The Veitch family are full-on rugby with Colin's wife, Linda, stepping to the plate to take on the role of Club Treasurer. Sarries loss is CW's gain, as is CW's gift to Sarries, Sophie de Goede!
Final thought-for-the-day is more good news with the recent announcements about CW-types, Albert Michaux and Jake Ilnicki. Albert has been announced as BC Blues Women's Coach for the upcoming selection announcements for Canada's Women's Rugby Team and Canada's Women's U23 Team. Rugby Canada will use a series of regional competitions taking place across Canada from April to June as selection tool to form the roster for both squads.

"The regional competitions for the provincial senior women's programming, organized by the provincial unions, is set to begin on April 23. On the west coast, two BC regional teams - BC Gold and BC Blue - will battle in a two-game series. In Alberta, two squads will be formed between players in the north and south regions of the province for a pair of games on May 20th at UVic." (Rugby Canada)
Jake has been announced as an Assistant Coach for the BC Bears, under Head Coach, Curry Hitchborn. The Bears will compete at the 2023 Coast-to-Coast Cup Competition in Halifax this June. CW is very proud to have our club name connected with you, gents. Best of luck.
The curtain falls! Cheers, in the tight and the loose. The Ruggernut.
---