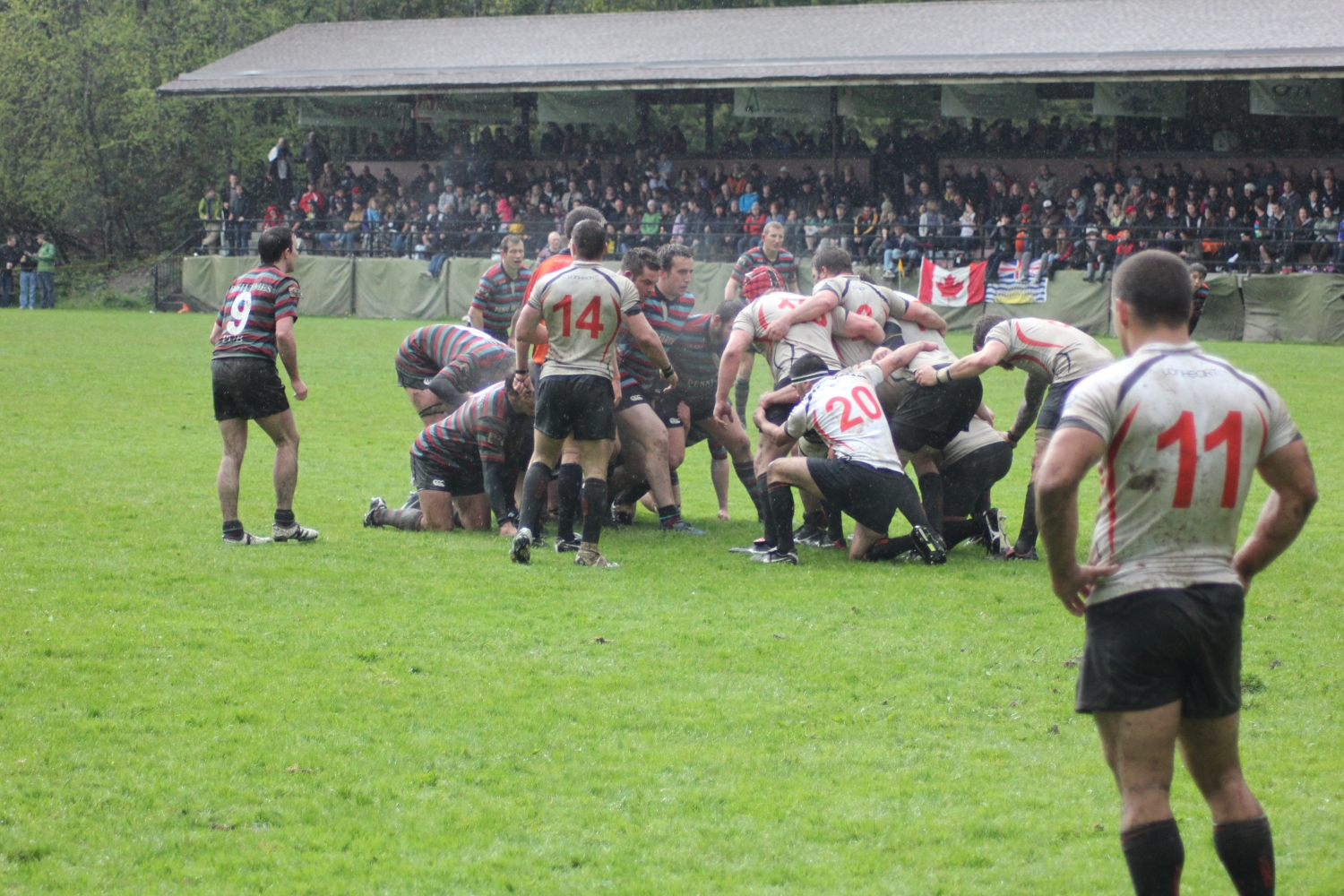 Klahanie Park. 2011. BC Final. Identical weather!
CW 20 MERALOMAS 3
2023 BC Quarter Final. MERALOMAS 43 CW 13.
(Aplogies for lack of a match photo.)
Not Quite The Hoped For Results!
It was a tough finish to the season for the Tricolours on Saturday.
CW PREMIER MEN
There will be many post-mortems about Saturday but truth being, CW was schooled by a noticeably better team on the day. Lomas proved they are the real deal and were good value for their victory. They were switched on from go to whoa and had two tries on the board before CW knew what hit them! The first being from the opening kickoff and in line for fastest BC try in the annals. Not only was this a 'jacked-up' side, but their execution was also near perfect under very inclement conditions.
Lomas early attack featured some deft ball to space via the grubber, skew-kick, or to touch via the boot of #10, Weatherall and one diagonal almost saw winger, Williams over the line. CW did not help their cause with penalties conceded. One such, found touch and the resultant Loma lineout drive proved unstoppable. CW's, Sandner popped over a trey to interrupt the parade. At the quarter, Lomas found themselves with a comfortable 19 – 3 cushion. Whenever CW did find some continuity, often the ball was turned over at the breakdown, a little uncustomary to this supporter.
The ultimate embarrassment occurred after yet another infraction and an alert hooker, Ludick, tapped and notched a tally for his FRF, always cause for celebration. At 26 – 3, things were not pretty – no lucky bounces and an obvious lack of CW energy. A 26-point deficit was faced at the interval. I thought Lomas #7, Williams, the halves, Jones and Weatherall dictated, particularly with the boot and fullback, Whalen, had been standouts.
A stern stripping-down at the half was to result in a more equitable second stanza however, the damage had been done. It started well with CW retention and drives to the red zone. Alas, turnover ball saw Lomas inter-pass to midfield, just like that! CW was first on the board after seven minutes when Jace Peters burst over after a line out drive. Lomas backs and their clever use of the blind side were the response. CW steadied and looked okay for some phases, only for an umpteenth turnover. Nott was off for an HIA (all clear) and there was a major CW reshuffle, but I spare the details. Thence came a champagne tally from the Loma when #9 looped #10 for a dummy pass, thus dragging the defence and when the inside reverse came to blind side winger, Williams, with a gap as wide as the Lion's Gate, it was icing on the cake. The teams traded tries to finish, CW, matching the Loma FRF marker when Fatt, Anderson, Braddock, and Peters worked an alert, quick throw in. 43 – 13, blowing away all hopes and predictions.
Lomas was perceived to be a different team than that of the Fall with a plethora of accents on the field, taking advantage of the lifting of the import rule in this, their Centennial year. There were plenty of good 'uns for the Lomas, Bourke, Mulvany, Williams T and Farris in the pack, stood out in my book. The backline starting with the halves, is one which will challenge any club that remains. For CW, I am going to focus on Jake Ilnicki, who gave his opposite loose head heaps and unfortunately his advantage was not deemed convertible to more penalties than the two he earned. There was not sufficient commitment at the breakdown and often long ball in the lineouts did not assure possession. In the backs, Mitchell was feisty and went looking for work. Congratulations to Lomas – enjoy your celebrations for they are historic. Thanks to referee, Assmus and her AR's. Brickbats to Vancouver Parks Board in Lomas Centennial year and a massive thanks to Caps RFC, although I am sure your bar take repaid your rugby spirit! CW wishes the remaining teams, good luck in their quest.


For Lomas Old-Timers, name the player!!



PREMER WOMEN

The good news for the ladies was that they reduced the deficit they incurred last time out against UBC by almost forty points, no minor achievement. UBC Women's program, akin to their male counterpart, is a very talented side. Scholarship athletes, training facilities, individual training and weight programs, and ability to train more frequently, are factors that club teams must face, no beefs, merely the reality. On the day, CW did have some who shone despite UBC's dominance - Caitie McNally and Sara Einarson led the charge in the backs, making tackle after tackle in some stunning cross field action, with Chanelle Challenger and Lucy Beauchamin being incredibly powerful in the forwards. To boot, six players from the Divvies were able to get Premier time and that was a credit to them – Frankie Fraser, Analise Branter, Rowan Benning, Frelen Gorst, Delaney Kitchen. Final was UBC 58 CW 0. So, to Captain Emily Samek, and her cohorts, you have had a good season, showing spirit and improvement. Thanks to management and coaching staff as well.

FOOTNOTE – Blogger opinion, solely. The BCRU needs to closely examine what is happening with Women's Premier rugby for next season, there are systemic problems very apparent to my eyes.


PREMIER RESERVE MEN

CW men were in Abby to face another juggernaut. CW 'Divvies' has been a club for two seasons in this league. Pre-Xmas - winless; Post-Xmas - undefeated. Today was a tough challenge beginning with selection, venue and being the underdog. I add, a rabidly partisan audience. Undaunted, the boys came to play, a day when youngsters became rugby men. CW opened the scoring with a Ray Robinson penalty, and he was to add two more to go up against two Abbotsford tries and a 9 - 10 deficit at the half.

Following the interval, Abby got rolling, much to the joy of the locals, adding another try and a penalty for a 22 - 9 lead. At this stage captain, Old King Kyle, gathered his band of merry men, calling on them to just "let's go for it". Led by veterans, Kehoe, Gerhardt, and the King himself, along with newcomer, Wallace, that is exactly what they did, fashioning two quality converted tries from Hayhurst and Hickman, and a 23 - 22 lead. Abby slotted yet another penalty to see-saw in front, 25 - 23. With Robinson's fourth penalty and sixteenth point and mere ticks remaining, a 26 - 25 CW lead, looking like the miracle at Ex Park may come to fruition.

It was not to be after a penalty was awarded to the home team, CW going off their feet ahead of the ball, in a frantic finish. This was converted and the chance for the miracle was no more - a 26 - 28 loss. With seven penalty goals, it might seem that this was an error-filled contest, although players from CW did not feel that way. There was pressure and often the officials were disparaged by the home fans. Conditions made it difficult for both sides with handling and attempts to keep errors to a minimum. Regardless, the outcome was according to Hoyle, a four try to two, Abby win, and progress to the semi. A CW thanks goes out to the officials and congratulations to Abbotsford. There was good camaraderie amongst the players, post game, thanks for hosting. A great effort boys! And so, the curtain closes on the 2022 -23 season.






---