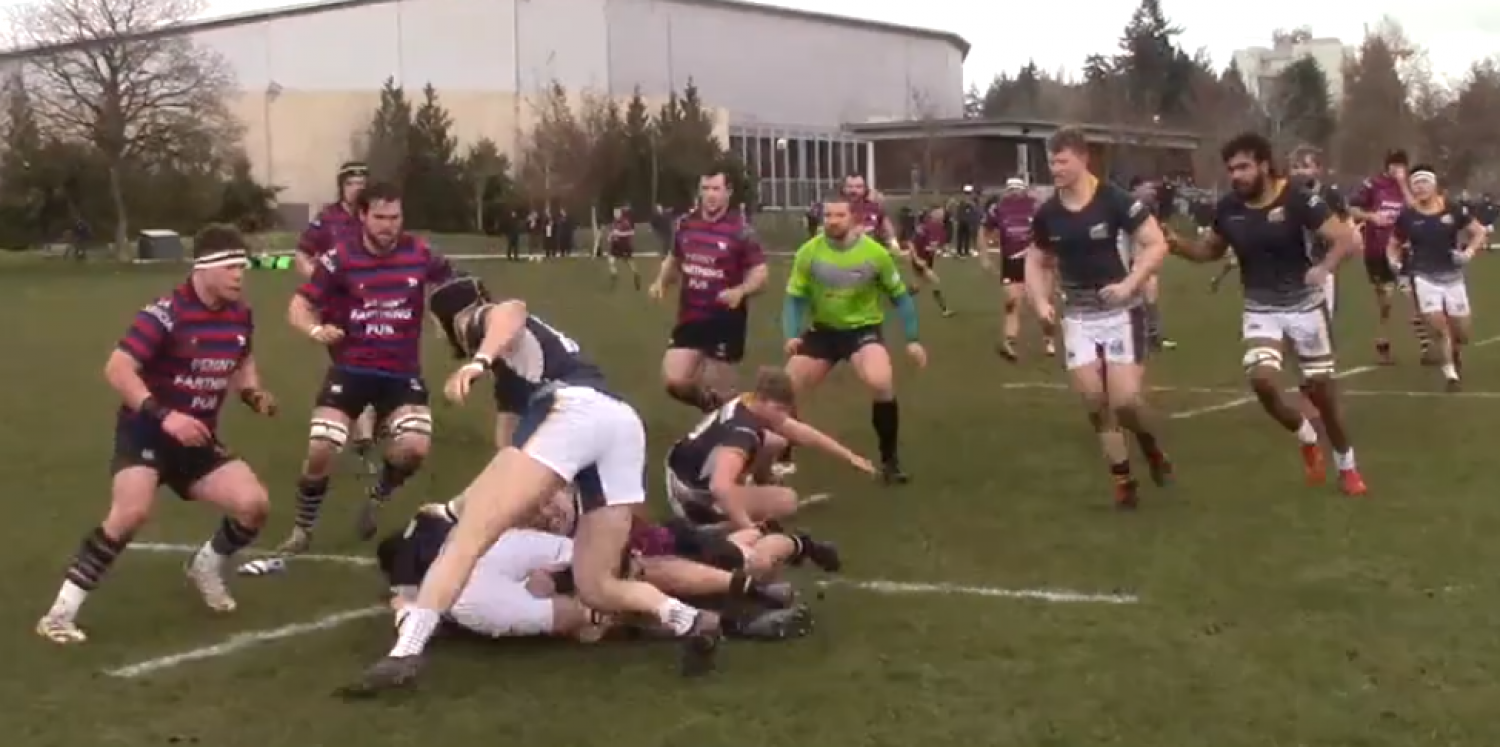 Divvies Get It Done
BIG DAY, BIG SCORES @ UBC
Men's Premier Reserves
Fifteen minutes of ferry legs occurred before Stove hit a deep penalty for touch for Ceedub. Further penalties ensued from set scrum dominance and CW's Hickman was over for first blood, 7 – 0. CW came alive and although they looked promising, self-destructing errors prevented further scores before the break.
Shortly after resumption, Mitchell ran an unstoppable line, broke three tackles and it was 14 – 0. Tricolour tactical errors slowed the parade however, at fifteen minutes, Corbin, who had been very visible scored from a lineout drive, 21 – 0, (Robinson, perfect on converts). At mid-stanza, UBC substituted fresh bodies and was rewarded with a try scored by former CW Mini and Age Grade standout, Luca Djurickvic. Next it was Stove again who found touch, earned from pressure. A good lineout drive on Hohert earned a deserved tally by Haywood. As the end neared, UBC escaped territorial pressure to offer a couple of recycles and stretched the defence for a 26 – 10 bonus point, final score.
With no program available, credits are not offered to UBC players, apart from a 'thank you' for the contest. Apart from a few flashes and some early gusto, the Hosts were under the cosh. The Visitors had many who raised their hands. For this pundit, Haywood, Wallace, Corbin, and Hohert in the pack and Hickman, Mitchell and Massyn stood out. Congrats to the 'subbies' whose appearance kept matters almost seamless. Thanks to an excellent refereeing performance.
I will do my best to convey to the reader the excitement that kept spectators on the edge of their seats in the main game. What to say?
A rare BCRU 'classic' with the Hosts nutting CW on a penalty try in the 81st minute, 43 – 39. It was a match of very high calibre rugby, attested to by all, after its conclusion.
UBC opened with a penalty, countered by CW's, Sandner. The came the UBC firepower. With CW pressuring, a turnover occurred and a deft grubber from #10 to the M-o-M, left winger, saw his clean heels grow the score to 10 – 3. UBC's backs continued to hint their electricity but further scoring was restricted and CW's efforts were rewarded at 25 minutes with another Sandner penalty, 10 – 6. It was CW's turn to make the crowd gasp when Jordan Ng scooted 60m, outpacing most of his chasers and it was only when his hamstring was stretched to its limit that he was nabbed twenty metres short of go-ahead points, on a bootlace tackle. CW did transgress at this breakdown, but not to be deterred, they persisted with a series of sure recycles and patient build-up. Nott ran an unstoppable line, broke a tackle and the lead was taken, 13 – 10. A very threatening UBC break was halted by Smith, on debut, and later selected by the players as M-o-M. The Birds were not to be thwarted and their pace created a missed tackle and lead change, 17 – 13 with some seven minutes remaining. The Thunderbird calibre resurfaced when from a set piece the centre man blasted some 50m, chipped ahead and regained for a great solo tally and 24 – 13 lead. Almost immediately, the Hosts repeated with what the coach deemed a "soft" try and a 16 point deficit at the half. One which the boys must have rued unacceptable.
A mere two minutes after the interval, CW moved good possession crisply, and Gabe Smith crossed with referee,Turner, adjudging a penalty try and the gap closed to 29 – 20. UBC stiffened, sensing they were really in a game as no quarter was given or asked. Around mid-half, from a well-earned lineout drive, veteran, Riley Ilnicki was over and with Sandner extras it was 29 – 27. CW appeared buoyed by this and with some minute forward ascendancy, they plugged away. After a lengthy fifty-meter build-up from excellent retention under pressure, various pods set up a situation under penalty advantage for Nott to crash over for his brace and a 34 – 29 lead.
With about ten minutes left, the pack's hard work concluded with a Nick Carson (who was pure money on the day), breakout with Pyke receiving the credit and a 39 – 29 lead. Credit to Peters, Finnie, Schellie, and Mitchell for more good work and pressure in the UBC 'twenty-five' which sadly, bore no fruit. UBC capitalised again with pace, moving the ball across and down field as the minutes ticked down. Desperate wide passes stretched the defense, and the line was crossed, 39 – 36. CW hung tough in the dying stages, but one had a sense that this lead would not hold, as the ever-dangerous Thunderbird moved the ball, courtesy of three CW penalties. A final UBC lineout drive was halted only to be deemed to be illegal prevention of the try and a penalty try sealed the deal, 39 – 43. (Two penalty tries in one game is a rarity.)
Again, this observer could not follow the good deeds and standouts for UBC without a program. Suffice to say, all played well and their efforts respected by their opponents at match end. For the Tricolour, there was mutual agreement amongst those in the know that this was an even better game than last season's final. Michael Smith made his presence felt against his Alma Mater and Nick Carson outshone his cousin. All six of the FRF who made an appearance were good value, with particular credit to Sponarski and Braddock who did double duty. In my book, Peters was the standout. Finnie played a cracker of a 'skipper's game'. The backs may have been marginally, the lesser of the two sets. Pilgrim and Nott were the most visible. Schellie, Gabe Smith and Mitchell in relief, deserve mention.
Although disappointed, the boys seemed excited by the fact, that with diligence and application, they may just get another crack at this opponent. In the interim there is much that needs to be achieved, as they tentatively hang on to a playoff spot, starting with Caps at Klahanie next weekend. Thanks to the officials on the day – two competitive games and a job well done.
CW men were also in action on the Div. 3 front, playing a return match against the Hornets in Cowichan. Seventeen players fronted for the fray with three no-shows, arguably, hampering a more competitive result. Final score, 71 – 17 to the Hornets.
WOMEN'S REPORT (With thanks to Frankie Fraser).
The CW Div. 1 Women took on the UBC Thunderbirds this past Saturday. The team displayed strong defense with the game going scoreless for the first twenty minutes. Both teams felt the pressure, as lots of mistakes led to play ebbing and flowing in each other's halves. CW kept their scrums strong, winning their own possession against UBC. UBC was determined to show their speed, and with a deep kick into CW's 22, they opened the game with the first try at the twenty-minute mark. UBC kicked up the intensity and challenged CW in a game of pace, as they ran in a couple more tries before the half.
In the second half, CW fought back and scored their first try from a scrum in UBC's 22. A quick ball from #9 McKenzie Eackart led to #10 Caitie McNally running through multiple UBC players to score under the posts. UBC pushed back and touched down a few more tries and gained a comfortable advantage. The small mistakes from both sides continued which led to CW putting pressure on UBC, and with quick hands between backs and forwards, #5 Sadie Schiender scored her first senior women's try. 'onya, Sadie! The final score was UBC 50 - CW 12. Next Saturday, CW Div. 1 will head to Abbotsford's Exhibition Park to take on the Kamloops Rugby Club.

Premier Rugby
The Premier women faced a very strong UBC premier team at the Gerald McGavin pitch. UBC was eager to show why they are ready to defend their title and did not let up for eighty minutes. The CW women repelled UBC very early in the game, but UBC was quick with other attempts and opened the game with the first try at the six-minute mark. Quick hands, strong running lines, and a full UBC line-up proved to be a challenge for the Premier ladies, as they fought hard but couldn't gain any advantage against the Thunderbirds. The only CW try was scored in the second half by Danica Pedrick, who was playing #9 at this time in the game. UBC left a gap open at a ruck and they were unable to catch Pedrick as she touched down next to the posts. Credit to CW as they did make UBC earn their scores. Eventually UBC came out on top 93-5. Next weekend, the Premier Women take on Capilano RFC at Klahanie Field.
Thought for the week; "You are what you value".
---