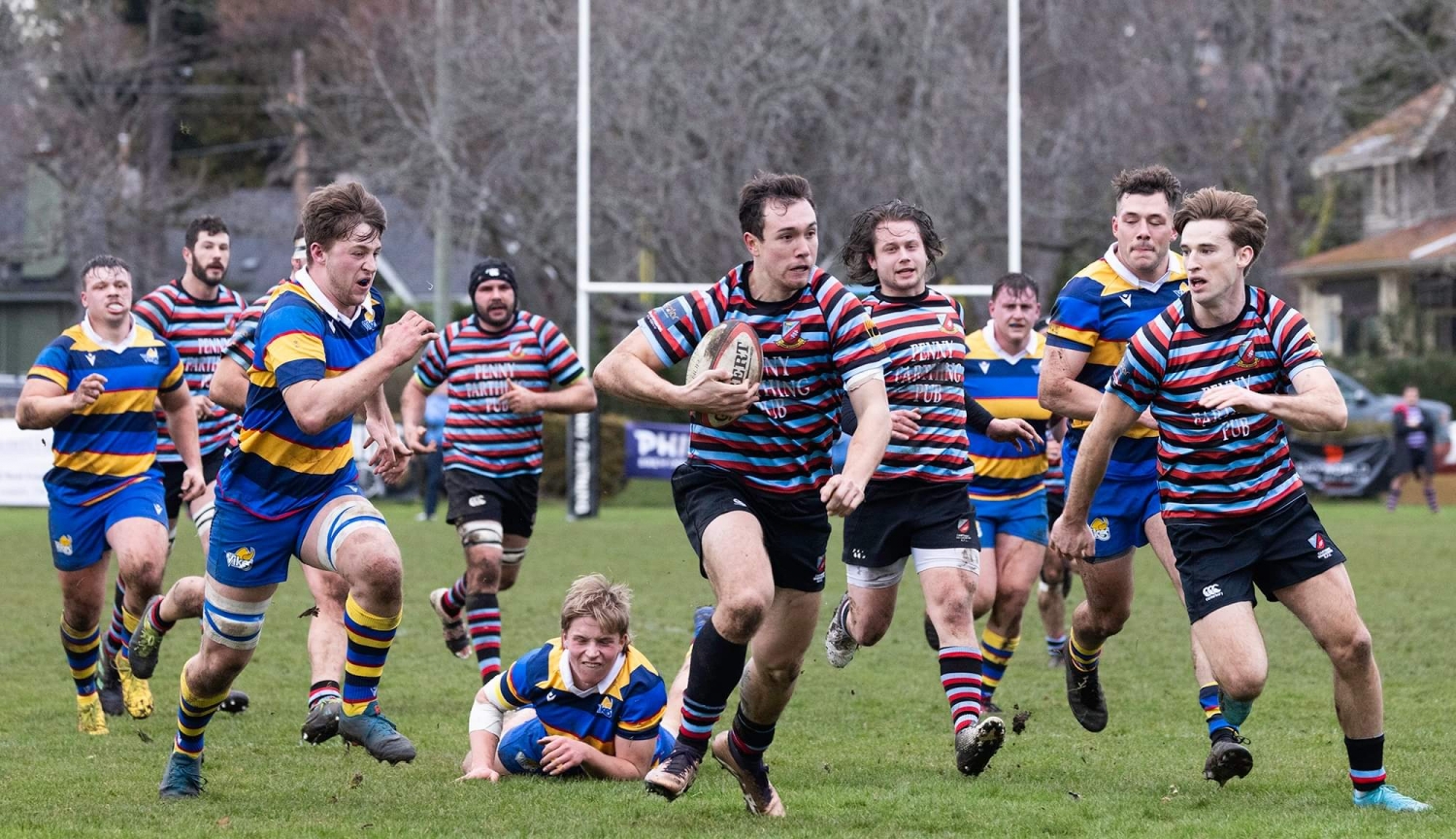 Ceedub Takes a Double
Photo credit - John Richardsom Images

A good crowd assembled at the House to view the always entertaining action between these two clubs on Saturday. Predicted inclement weather did not eventuate and temperatures were balmy. CW Divvies opened on the front foot. Some inaccuracies and stout defense caused disruption by the Norse. A turnover, compliments of Corbin, a couple of strong Sponarski carries and a Mitchell breakout preceded the opening try. It came from good ball transfer at ten minutes and Smith breaking two tackles. UVic replied with a break from Poulton (C.), wide ball and some good fortune. CW held up. The tide changed and the hosts maintained threatening field position. After a series of hit-ups and good ball transfer, Robinson from fullback found the hole and it was 12 – 0 at thirty minutes. Just on half time, Anderson shimmied and found the gap for Hickman untouched, 19 – 0. CW found time for one more flurry, to no avail.
The second half opened with first score at 12 mins. It was CW pressure after a penalty and lineout drive. An alert Clarke, spotted a hole from the drive for a well-worked try, 24 – 0. UVic finally opened their account after persistent thrusts, the gap came, 26 – 5. Next came another Sponarski rampage, CW retention and Wallace was credited with the tally, 31 – 5. The Norse appeared to be in all kinds of strife as CW looked after the ball and added another, compliments of De Vries off the bench. It all ended in a bit of a shambles and a home-team victory, 38 – 5. There were many who raised their hand in the "Pick Me Dept." but full credit to the Divvies, it was a solid team effort. I must draw attention to Sponarski and Corbin in the forwards, and Anderson, Stove, and Massyn in the backs. For the Norse – McCallum and CW-ex, Poulton.
Tidy job by the officials. Great to see Johnny 'Skins' Graf in the House, keeping an eye on his son, the Norse fullback. It will be a good challenge next Saturday when Cowichan comes to Carnarvon.
There was an air of expectancy as the main game opened with CW forward dominance. Errors prevailed in the settling period and UVic won a lineout and quick transfer led to a soft try to Norris at twelve minutes, 5 – 0. The Vikes were buoyed by this and came back only for a careless turnover and shortly after, a penalty to hurt the cause. From 45m out and a couple of willing carriers, a good break was created for winger, Ng who showed clean heels and a CW lead of 7 – 5. CW splintered a scrum, then won a tight head, both for no advantage gained. Vikes high ball found Prevost whose chip and chase saw him on the deck and then off the field at thirty minutes! With a penalty to boot, a Viking advantage went nowhere. CW's Peters, Simpson and Braddock all made thrusts, eventually Carson was over from 8m out, 14 - 5. The remaining minutes resulted in nothing of significance apart from the penalty count at the breakdown, against CW.
The second stanza opened with visible UVic risk-taking and the CW penalty parade continuing. In fact, it was a scrambled clearance by CW that held the scoreline. My notes comment, " Vikes protecting possession, hustling, executing, quick hands extending defences and aggressive defence". This initiation visibly shocked CW, who appeared to be at sixes and sevens. UVic looked dangerous after a tap penalty and a couple of recycles, only to be held up. From the ensuing, hasty (why?) re-start, UVic gracefully accepted ball with numbers and no pressure, retaining with pick and drives and thence quick ball wide to winger Lott at 17 min, 14 – 10 and a lesson to be learned. UVic came a-knocking again with sloppy CW transfer and offside play and eventually a gap was opened for another UVic, well-earned try. A minor brouhaha broke out, demonstrating CW frustration. Unfortunately a yellow card was awarded to UVic who did not start the fracas however their lead was 15 – 14.
At the quarter, UVic continued to ask big questions, running good lines with the ball safely doing the work. Tactical kicks kept the hosts pinned and compounding errors began to look ominous. Loose ball, against the flow, saw two quick passes and Ng break a tackle and 75m later, the lead had been regained, 19 – 15 @ 30 minutes.. Not to be daunted, play with urgency saw UVic ball transferred on an overlap. A good turn of pace and a missed tackle saw UVic regain the lead with their bonus point try with time on the clock. CW did get to the red zone with a renewed forwards' effort only to hear the whistle go against them again. A UVic error occurred with a missed touch finder. Finally, CW reverted to tactics that should have been employed earlier. Grinding it out with sure possession, the ball came blindside to Sandison to feed Ng for his hat trick and the bonus point 26 – 22 win.
It has been said pre-Christmas, "plenty of takeaways from this one". There were some flashes marred by hectic play and far too many penalties incurred. For the Vikes, an arguably unlucky side on the day, Casey, Ogunlade and Kim caught my eye in the pack and Alex Gamage (the rookie #10), and Lott in the backs, the later with about five clean catches of restarts under the cosh and a tally for good measure. For the CW boys, Carson was the pick of the pack and Ng with a hat trick, in the backs, stood out. Next week it will be another opposition of 'run and gunners' when the Pride visits The House. Thanks to today's officiating crew and a shoutout to Chris and her Premier ladies whose burger sales were a pleasant adjunct to the day's proceedings.
In South Surrey, the Div 1 women played a hard game against the Bayside Sharks. Bayside came out on top 43-10, but the game that the CW women played was a focused, team approach. The team, to their credit did not let up.
CW capitalized on Bayside's slowing down in the second half. Quality defensive lines being run up, shut down offloads, and on attack, the backs found gaps for long-gainers! Using this to their advantage, CW was able to retain possession for a strong attack with consistent offloads, eventually leading to a good team try being scored. Worthy of mention on the day was junior player, now turned-senior player, Annalise Branter showing her speedy line defense skills, making tackle after tackle and the more experienced back, Rowan Benning scoring a 40 meter try after quick hands to take advantage of the overlap that had been created. So it was a noticeable improvement after the challenge of ferry travel.
Next week, the Div 1 women will continue to work on improvement as they go up against Cowichan. The Premier women start their season next Saturday, taking on Burnaby Lake at home. (Credit – Francesca Fraser for this game report.)
---