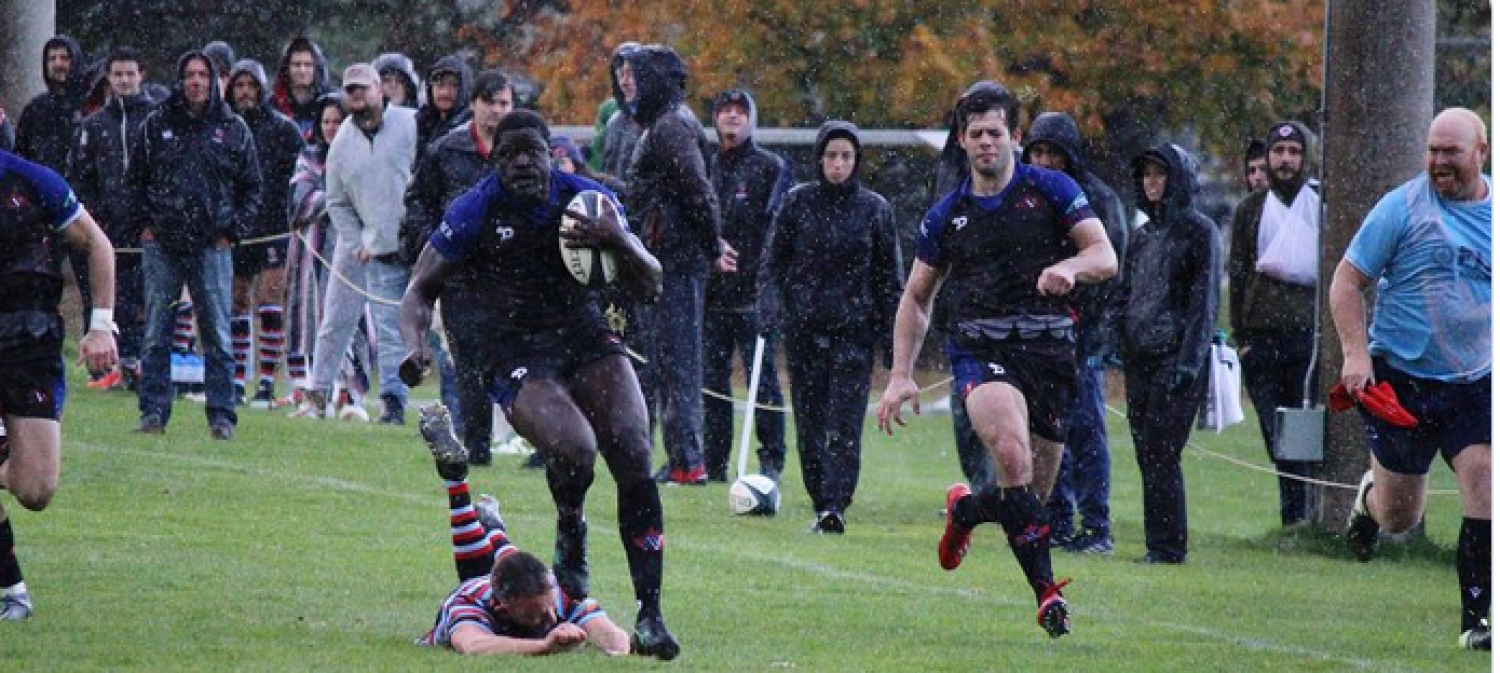 The Beginning of the End!
(Photo credit BCRN Twitter feed.)


Westshore's Otieno beats the last defender as he makes his way to the line for the winning try.
"Oh – for" a win! CW Men's Prems went "oh-for" four at Juan de Fuca on Saturday. The Prem Reserves also went down heavily for a second time to Westshore, 7 – 48. The Reserves opened with three soft early tries; showed some mid-game resolve, then dropped twenty in the last twenty with some very ineffective defense. Enough said.
The Main match was more encouraging. This one did not start well with Finnie off for a H.I.A. on the first exchange and Nick Carson's appearance came much earlier than I am sure he intended! Never-the-less, he did not disappoint, perhaps short of a trot, he appeared to enjoy himself, pairing shoulder to shoulder with Age Grade mates, Gav Kratz and Schelly. The Tricolours set scrum, except for one second half blimp, generally had its way and Westshore's tallies came mostly against the run however smart handling and continuity ensured their forays counted. It was 10 – 5 for the Home team at the half and when the rain came, and temperature dropped, it became positively uncomfortable, and this scribe put away the notebook!
The second stanza saw the scoreboard tick, 10 – 8; 13 – 8; 13 – 13 and finally, 13 – 15. The winning try was notched quite late in the proceedings after CW had hammered away with territorial advantage. Schelly crossed for one in his season's debut and Nick Carson, also on debut, added the other. It was a hard game to write anything exciting about, as Westshore players cannot be identified by number, a guise sometimes used by UBC as well, and it's about time the Union called these clubs on this matter. It must be difficult for referees to identify players as well. For CW, Gavin Kratz and Jace Peters got through a great deal of work and Schelly, aka 'The Director', tried to get things going in the backs. To this pundit hangin in the end zone, it looked like the tackling bag needed more work for the Visitors, also handling and transfer at pace was not up to snuff.
CW travels to Lomas with two teams next Saturday and the Scribes are slated to play the Islanders at Windsor. It might just take a magic wand to muster the fifty plus players necessary. Like the Canuck organisation there is some listlessness purveying on the surface although reports from the training pitch, indicate that the spirit has not been broken. It is under such circumstances as this that character is born and players can really unify. One recalls some seven seasons back; the club was on the verge of relegation and the Phoenix arose. One would suggest that the club is not in such dire straits but sacrifice and hard work are needed as the League gets underway next weekend. Go, you good things.
On other fronts, it is interesting to note the absolute demise of Worcester and Wasps in the English Premier League. Wouldn't it be nice to have a young man in their Academy program ponder some overseas options in Canada? Then there was the result from Chile for our Senior Men's 'A' team with a 25 – 36 loss and boasting close to 200 Caps. Developmental?? A couple of observations – no Grady Bowd even on the pines, although did hear he was a belated call-up but no game time. Second one, NINE yellow cards issued! Are referees so insecure that carding is the sole means to maintain shape of the game? As noted on this site, England's Eddie Jones has had much to say in recent days on this topic. As a player, I always enjoyed my rugby best when referees facilitated the playing of the game within its laws. Enough said.





(Credit, Rugby Canada Twitter feed.)
At the end of my day, the champagne was brought out. Congratulations to our National Women's team, led by former CW Mini and Age Grade player, Sophie de Goede, and their tremendous success to date at the RWC. Here is a side that lost its starting #10 before even getting on the field and then losing its #9 after their last game. Clever coaching, faith and tremendous player passion have overcome these setbacks and that is what makes a rugby team. The win over the USA was character-building. Player of the match, in her first start, Corrigan was outstanding. Her vision, pace, change of direction and ball retention in the tackle, not to mention ground gained were all factors in her Player-of-the-Match Award. Tuttosi earned try #6, former CW-er, 'Liv De Merchant, notched one and well known around Windsor Park circles, at age 35, Karen Paquin played the full eighty, highlighted by a nice off-load to set up a critical tally. Coach Rouets' intuition in bringing Tessier to #10, #9 Pelletier, getting her first start with no alternatives and bringing in Corrigan may just be the piece of genius that could drive this team, along with their own innate drive, to a final four position. The combination and spirit look magical from this far away. Congratulations and stick the States with SEVEN next weekend!
(Opinions expressed in this blog are solely those of the blogger.)
---