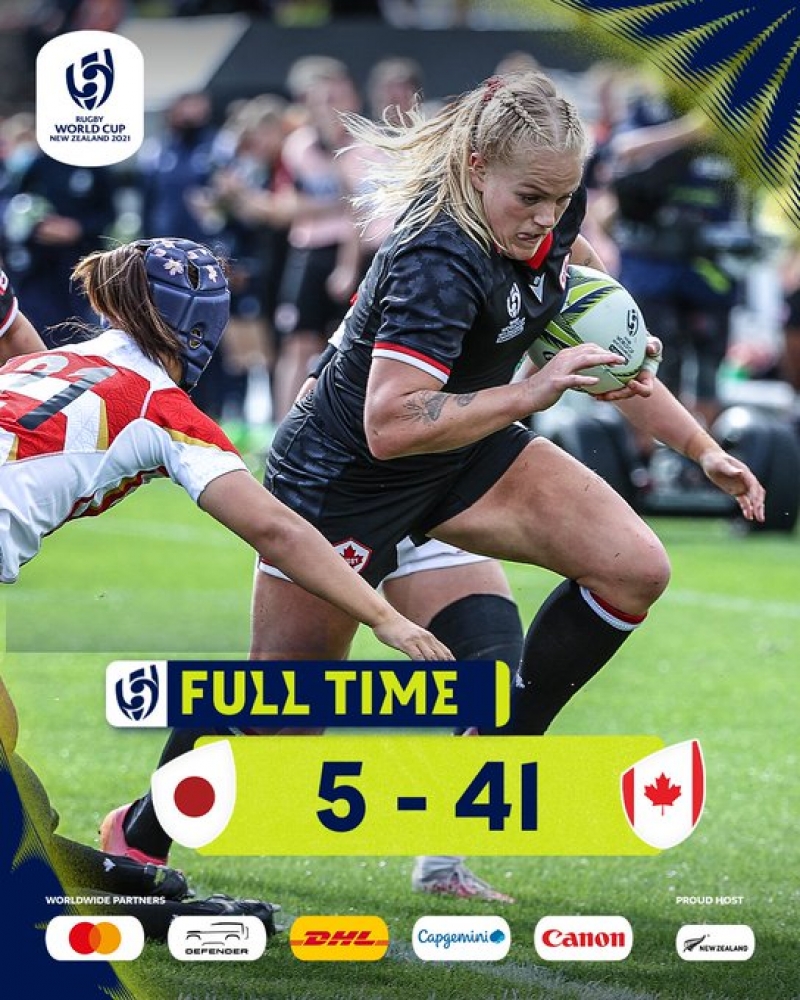 HOPE YOU'RE WATCHING
ONE PERSON'S OPINIONS
The Women's RWC opened with great gusto. England flexed their muscles after a slow start against Fiji, finally posting 84 points and asserting their place as favourites to take the prize. The NZ Vs Australia encounter was an enthralling match until Australia was the recipient of consecutive yellow cards, from the same sequence of play. The spectator asks, surely one infraction occurred before the other and thus only one card warranted. To add insult to injury, the first infraction was called after a TMO intervention. This event reinforces comments made by Eddie Jones with regards to officiating. (https://cwrugby.com/blogs/post/wednesdays-ruck-maul1664383484) NZ would have been probable winners however, this did leave a sour taste. Then there was the victory by Italy over the US, 22 – 10. Italy is a team Canada recently defeated at Westhills however, the return encounter next weekend will be a much different affair. Then came Canada Vs Japan.
It was a dream start for Canada. The kicking game for Canada, apart from this opening score, resulting from hot pursuit, was not as successful for the rest of the game. The Japanese clearance was blocked by Kaljuvee, and a try resulted. Japan, undaunted, came back to tie the game shortly after and this fan was befuddled. The half then enfolded according to Hoyle. 'The Starters' did their job well, led by Tuttosi's hattrick and Miller's brace but 'The Finishers' did little to convince, knocking-on three times on the line, in the final ten minutes.
Both Coach, Rouet and Captain, de Goede were conservative in their post-game comments but did allude to some areas "of improvement" needed, thoughts this pundit had, specifically related to handling and turnovers and the kicking game. Canada kicked away far too much possession which mostly went to hand rather than to space or chase, serving to simply supply ball to the opposition. In many games watched by this pundit the kicking game has not been an effective weapon. Yesterday, of all occasions, should have been a day when the talents of a mostly, a very experienced backline should have been used. Page Farries, always a potential threat, did not touch the ball from set play until mid-half. CW's Schell was given a late start at #10 and looked out of sorts with ball often being kicked by center, Tessier. Hard to follow and certainly a strategy for disaster against the "gunners". This being said, there were plenty of positives in the 41 – 5 win. The forward "Starters" brought the goods and lineout play and driving mauls and set scrummaging were all very good but keep in mind, this was Japan. Not to be a Negative Nellie, for I did enjoy the outcome, but it was not the quality of the aforementioned contests. I do like the format of a week's rest. This gives teams the opportunity to select their best. I look forward to next weekend and comparing the outcome with the Westhills match. It could be a make-or-break result for our ladies. Prepare well, you good things!
---