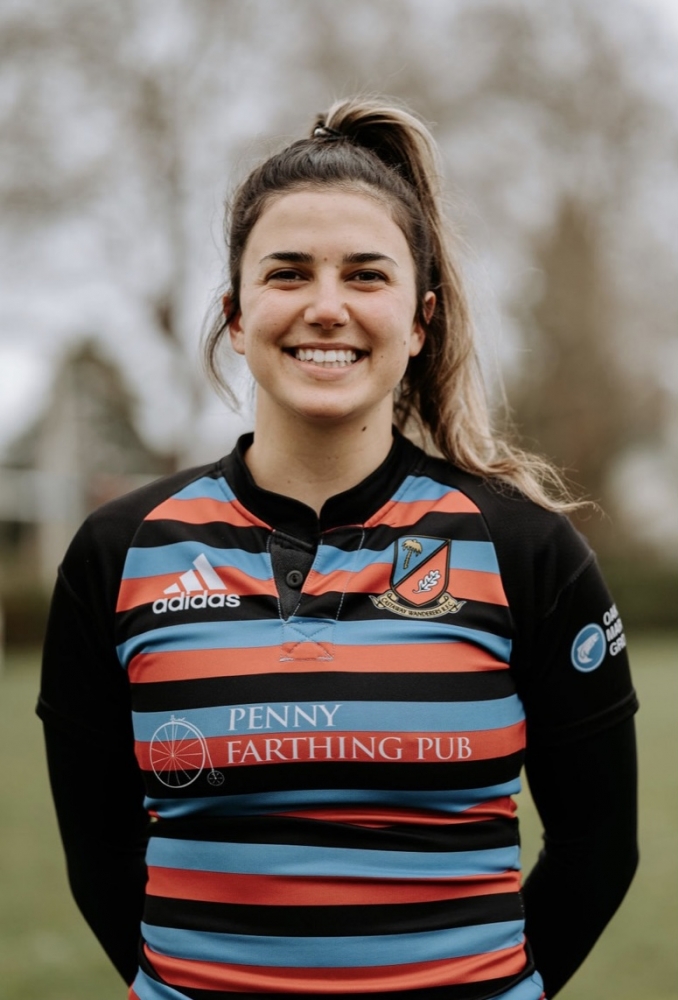 ACHIEVING GOALS - WITH JULIA SCHELL
Julia, It is a privilege to be able to ask you a few questions about your young rugby career. Your recent eighty minutes against Italy raised many eyebrows in only your second test for NSWT. From a diminutive 5'4" player, we at CW have been fortunate to have witnessed several similar dominant performances at Windsor Park this past season. A couple of games saw you almost single-handedly pull the outcome from the fire.
JS: Thank you for reaching out! I appreciate the kind words and am more than happy to chat about my rugby journey.
CW: Can you tell us when you started with the game of rugby? What made you come west and hang your hat with The Tricolours?
JS: I started playing rugby in Grade 9 when my high school hockey coach, Chris McKee, asked me to miss a day of school just to watch and see if I was interested. He was the coach of the girls' rugby teams too. I was probably more interested in missing a day of school at that point, but when I got there, I ended up borrowing a pair of cleats and playing in the game and it's safe to say I was hooked after that!
I came out west from Ontario to play in January of this year because I wanted to be able to play throughout the winter and I have always wanted to experience the west coast life! I'm so lucky to have had the opportunity to play at CW and meet so many amazing people.
CW: Have you always played #10? What other position/s on the field appeal to you? Why?
JS: I started as an inside centre in my first year. I've come back to it here and there when needed, but my home is at #10. I've jumped into the back 3 quite a bit, I started my university career on the wing and fullback, and my first cap at the international level was also at #15. I just started moving back into the #10 role more recently.
The back row (mostly #7) has always appealed to me, usually I have the flanks sprinting at me off the back of the scrum so it would be fun to be on the other side of that for once - but I would be absolutely useless in a line out or scrum so I'm good where I'm at.
CW: CW's Emily Samek, who you played rugby with, in Ontario and Assistant Coach, Caitlin Mc Nally are great friends. Who have been the most influential people in your life and rugby career to date?
JS: The greatest friends. The people I have met through Gryphon rugby have had some of the biggest influences on my rugby career, it's truly such a special program and no matter where I am I feel their support always. When you have coaches like Colette McAuley, Mark Yanchus, Dave Neill, J.A Gibson, Jane Kirby, The Stephs (and so many more) ... it's hard not to emulate their passion for the game. I owe so much to that program, and I can't wait to be able to give back.
CW: It is looking very promising now that you will hopefully be selected for the NSWT for the RWC in September in NZ. Just what are your rugby goals at present? For the future?
JS: My current rugby goals are making the RWC 2021 (playing in 2022) team. We have an insanely talented group of athletes, and the competition is at an all-time high, so nothing is guaranteed. We have a special team and while we are so competitive with each other, they're also the most supportive group of athletes you could ask for.
In the future, I'd love to be able to play professionally overseas somewhere. New Zealand has an amazing rugby culture, and it was so cool to see while being there for the PAC4 tournament in June. I'd also love to eventually get back in the 7s world, but for now I'm just taking things as they come and trying to embrace it all while I can!
FOOTNOTE – Julia has ACHIEVED her goal of selection. 'onya, Julia.
CW: Having experienced a successful club season last year with CW – all the way to the Finals, only to suffer a reasonably close defeat to UBC, how was that for you?
JS: Ah, that was a tough game! UBC came out to play, we knew they were going to be a talented side as they are together most of the year - so I think we just succumbed to that a little bit. They were a little more refined than we were on that day and took advantage of our mistakes, as a good team does. I know we have it in us to lift the trophy, and I'm looking forward to the opportunity to do it next year.
CW: Good #10's have excellent intuition that leads to correct choices for execution. Are there any specific drills you do to enhance decision-making? E.g., show-and-go; grubber, chip, box, diagonal kicks, change of pace sprint drills?
JS: Because we've decided to self-centralize this summer, there's way more opportunity for me to work on my decision-making skills daily. We work on skills that often get overlooked when we head into camp because most of our time is spent on our structure as a whole team - so having this opportunity has been awesome to be able to go back to some of the basics and execute at better rates.
As far as decision-making goes, I operate on a trial-and-error basis. I do my best to read the play before hand and make the right decision last minute, but of course it's not always the best decision. We're lucky to have our analyst here right now filming our practices so I usually just review practice and see where I could have made a different or better decision and try an implement that in the next training.
CW: What do you do to wind down? What are some of your other favourite pursuits?
JS: To wind down, I love going for a coffee with friends or to a beach. We've been on both coasts this summer where there is plenty of both, so I'm super grateful for time off feet and in the sun. I have a three year-old Golden Retriever mix, so I spend a lot of my time exercising and distracting him, and I've also been known to enjoy a cold beer and a dance floor!
CW: Julia, your rugby future appears to be very exciting. As a graduate from Guelph University with a sociology degree what are your career/life goals?
JS: Question of the century. To be honest, I'm not too worried about my post-rugby life. I really try and just live in the now and I'm happy with where I am. I currently work at Lululemon which I love, and I could definitely see myself continuing on a career there down the road - but it's really hard to commit fully to work and rugby. I do hope to one day use my degree for something, and maybe go back to school for a master's degree.
CW: Thank you Julia for taking the time to share some things about you – your rugby career and life interest. We wish you the very best for your future.
CW WOMEN GET SEASON UNDERWAY
Season Starting Jamboree at Cowichan Rugby Club, Saturday, September 10.
11:00am
Comox Valley Rugby Club vs Cowichan RFC
Castaway Wanderers RFC 1 vs Nanaimo RFC
11:20am
James Bay Athletic Association vs Castaway Wanderers RFC 2
Comox Valley Rugby Club vs Westshore RFC
11:40am
Cowichan RFC vs Castaway Wanderers RFC 1
Nanaimo RFC vs James Bay Athletic Association
12:00pm
Castaway Wanderers RFC 2 vs Westshore RFC
Comox Valley Rugby Club vs Nanaimo RFC
12:20pm
Castaway Wanderers RFC 1 vs James Bay Athletic Association
Cowichan RFC vs Castaway Wanderers RFC 2
12:40pm
Castaway Wanderers RFC 1 vs Westshore RFC
Comox Valley Rugby Club vs Castaway Wanderers RFC 2
1:00pm
Cowichan RFC vs Nanaimo RFC
James Bay Athletic Association vs Westshore RFC
We are practicing Tuesday and Thursday evenings 6:30 to 8:00 at Windsor. We are still actively recruiting players of all experience levels.
---