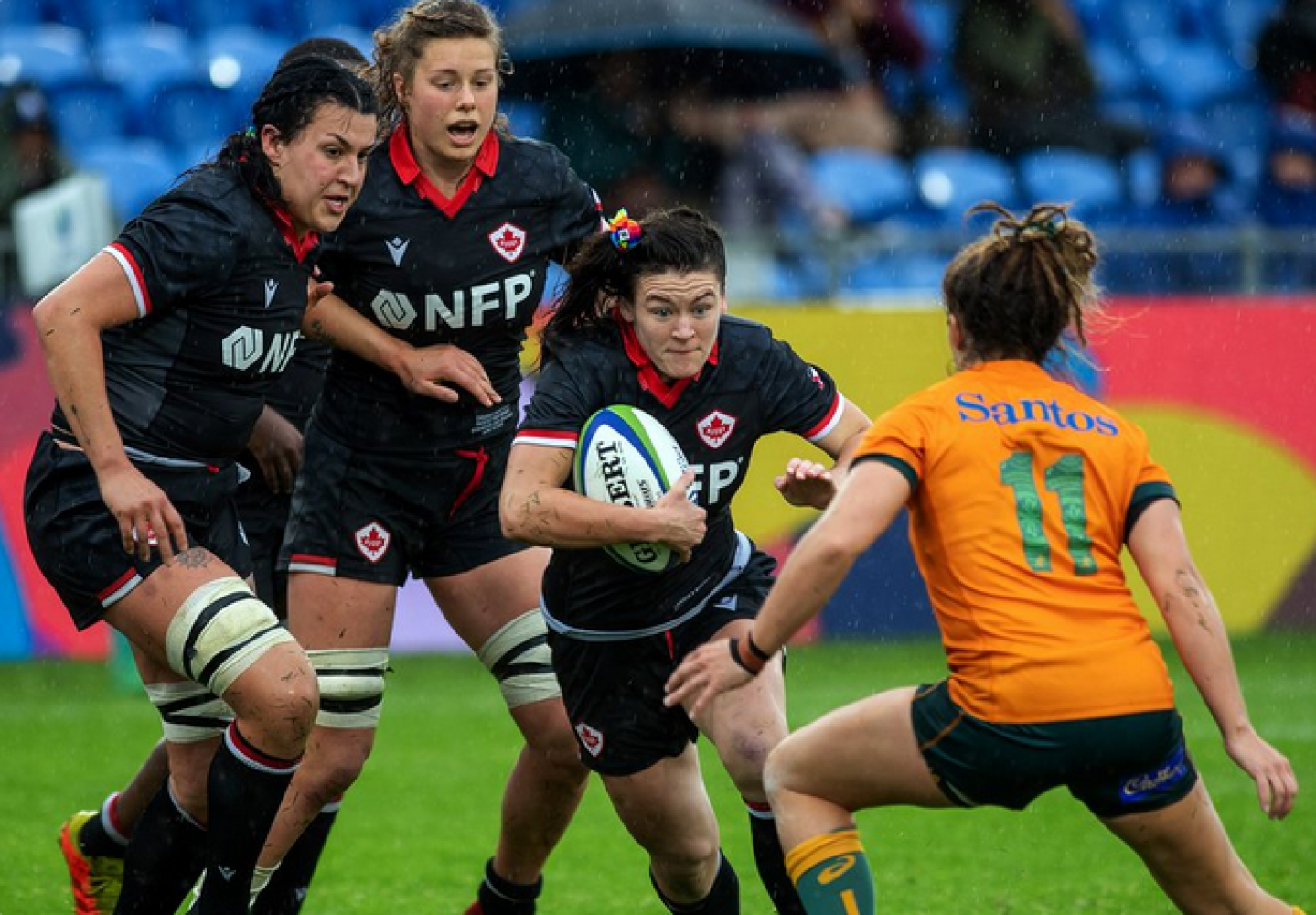 SATURDAY, A RUGBY DAY ALL AROUND THE WORLD
(Photo - Rugby Canada)
SUPER RUGBY finished another campaign in the Antipodes with a clinical Crusaders side defeating a hopeful Auckland Blues team, 21 – 7. It was elsewhere in NZ where Canadian eyes were focussed, with our NSWT VX's taking on the Aussies to determine second spot in the Pacific Four Tournament and affirmation of current world seedings. It was not a great exhibition of rugby on Canada's part, under very wet conditions however, they came from behind at the half to get the job done, 22 – 10, justifying a #4 world ranking. England look to be at short-priced odds for the upcoming RWC, held in NZ in October, with NZ at #2, probably offering a challenge.
Despite territorial advantage in the first half, it was not until very late that Canada opened their account. The women reduced their error count in the second half and with a strong forward effort, based on superiority in the set scrums, lineout drives and pick and drives in the open of 14 – 20 retentions, the Aussies were eventually worn down. The handling was far from stellar from both sides in the conditions. With no one to really run a 'hard' line, the Canadian attack was easily marked towards the sideline. In fact, Canada's three-quarter play in all three games was "iffy". When the ladies resorted to a kicking game to spark the attack, it was not executed with any measure of alacrity.
Captain, Sophie DeGoede deserved her second W-o-M Award, leading a strong forward pack with tactics and execution that won the day. Soph continues to be "something special", truly world class. Again, the FRFraternity was rather dominant, although Australia shunted one or two clutch efforts. Canada's scrummaging was probably worthy of receiving more penalties, frequently splintering the opposition, De Merchant and #2, Tuttosi, especially noticeable and there is good depth on this area. I thought Tyson Buekeboom had a good match, as did Sophie's 'loosie' mates, also CW types, Buisa and Gabby Senft. Of the backs, Alarie was probably the pick. Congrats to the ladies, 2 – 1, and no doubt, lots learned by the coaching staff. CW wishes you well as you prepare for your return to NZ at the RWC.
The second game of interest on Saturday's docket was UBCOB Ravens Vs Argentina Jaguares, a development squad of the Pumas, basically an Argentina 'A' side. Ravens started a number of CW pickup players. When this pundit checked in around the twelve-minute mark, the Jags had already chalked up 19 points. The Birds then dug deep and offered good resistance for about fifteen minutes. This week, I did not catch the complete game however, a runaway, 81 – 10 score said it all regarding the difference in size and talent between the teams. This competition has potential but a better solution for parity needs to be sought. It was impossible to assess but I liked the few minutes work I observed from John Braddock in the sets and Aaron Mc Leland's magic with ball in hand. Grady Bowd started at #10 again, following a good news week for him with the announcement of his inclusion in the Canadian Summer Tests squad. No comment as to how he fared in this match. Noted that Nate Stewart started at #8 and assume that Nate must have returned home permanently and will more than likely, play in Vancouver. You would be welcome anytime to rejoin the Tricolours, Nate!
Final thoughts for our Musings relate to CW's D-o-R, Ken Goodland, working on a few thoughts for our followers about the BCRU Competition changes and we will bring you his comments. Also, today we wish to give notice of a Celebration of the Life of former Castaway member, Chris Pollard.
---