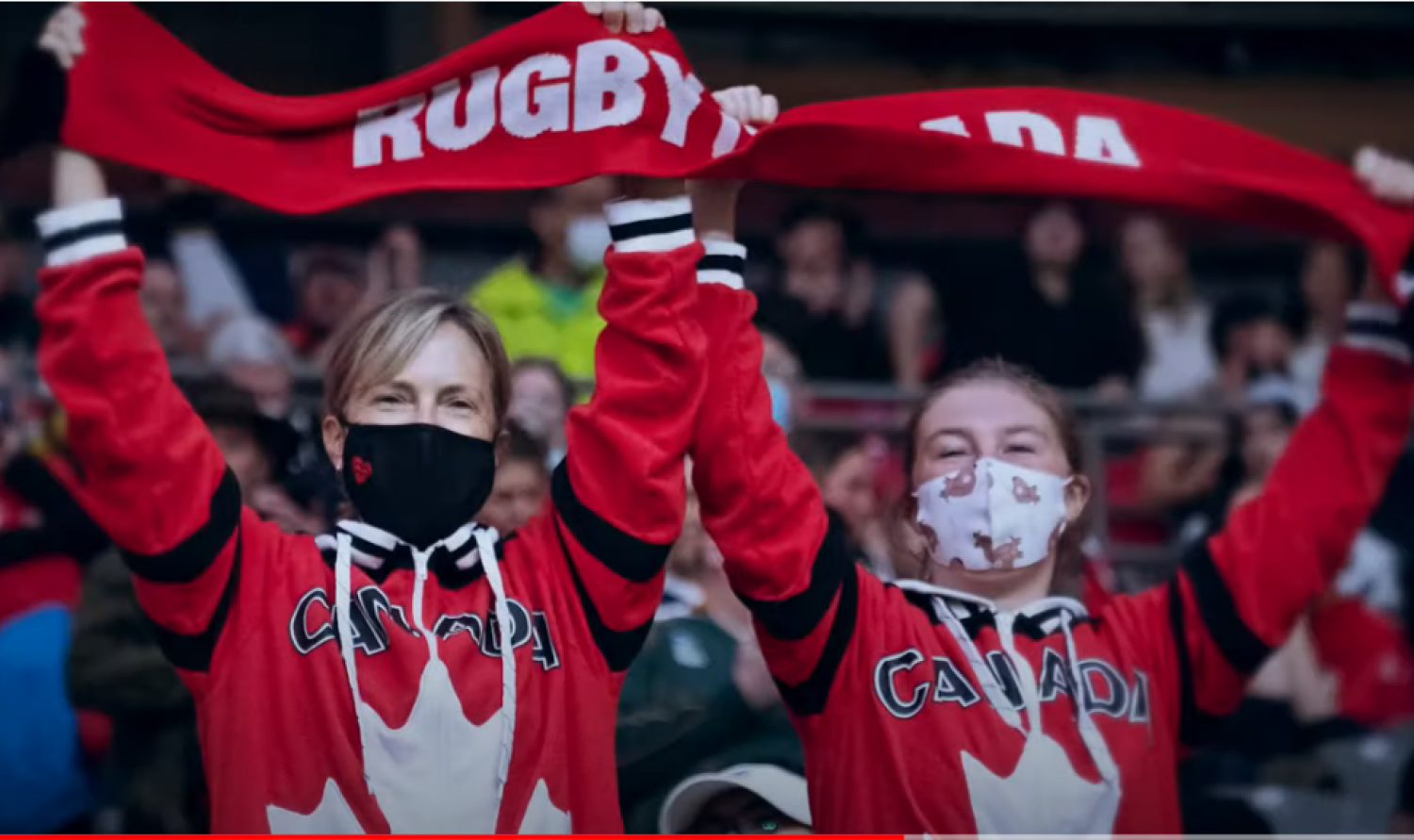 SEEN AT THE SEVENS
CWRFC's VP, Erin and daughter, Emily.

The weekend saw another Vancouver 7's Event. For an event that Rugby Canada relies heavily upon as a revenue source, the attendance must have been very disappointing. Whatever the reason, crowds would have been 50 %, as a conservative estimate, of past attendance records. Maybe it was the date, something I suspect HSBC World Rugby provides, or a waning of interest in the event, or maybe even some "negative" press regarding the sport's International results and governance, it must be yet another source for concern. The on-field outcomes were positive and commendable.
CW's Anton 'The Magician' Ngongo notched a couple of tallies amidst what was a hugely improved effort by the men. Quite frankly, I thought the team was 'stiffed' when they were denied a monumental victory over South Africa. I have often been on my high dudgeon when writing about the officiating at Sevens matches. Once again, in this match in two instances, RSA ran a 'blocker/dummy receiver' ahead of a prospective receiver, momentarily obstructing the tackler, who had the receiver in his sights. Both 'blocking' ploys led to tries and the score line difference! A non-decision which may have been "marginal" but the result favoured the higher ranked team, something which occurs with regularity in this pundit's opinion. It is in no way premeditated but the regularity seems to be almost conscious and this, not just a partisan pov. The referees also placed undue emphasis to "the deliberate knock-on", oftimes far from being a deliberate play, and merely an accidental "touch" when trying to intercept a pass or accidentally deflect a pass, with the result being in almost every game, there was not a full contingent of fourteen players in the action. Penalty at best! This was no doubt, tough for fans who had paid a top dollar to watch the whole deal.
Unfortunately, the viewer who could not be at BC Place, and was denied no more than a clip of the victories over Japan and Scotland and nothing of the Ireland game. Realising that television rights have some measure of universal feed in place and local interests would be deferred to those of the favourites, it was still disappointing not to see more of Canada's action. From what I saw, I have to say the development of Cooper Coates is commendable – well done. Alex Russell and Brock Webster made very visible contributions and Thiel and Berna were money. Ones to watch – D'Shaw Bowen and Matthew Oworu. Canada finds themselves placed overall #10, marginally ahead of Scotland and Wales. Experience will only make this side better as they prepare for Toulouse and London next month and winding up in LA in August.
PLAYOFF POSITIONS


CW's Women's and Men's Premier teams will play Home games in their semi and quarter final matches this coming Saturday. Women will kickoff at 1:00 p.m., against Capilanos RFC and the Men at 3:00 p.m. against UVic. We would ask that patrons note the regular start times have been changed for this week. Both UVic and CW Men will face additional adversity in that they have their First Division teams on the road in Vancouver. CW will face Bayside at 2:30 p.m. This writer notes that the BCRU website shows a Third Division quarter-final between Abbotsford and CW's Islanders as "cancelled". We will clarify this during the week. One might presume that given the fact three teams, two "on the road", need to be filled, given end of season injuries, it may just have been too much for The Tricolors. We wish all of our players well as they prepare for these critical encounters.
As a footnote to this preview, it is interesting to note that It is only Capilanos, Burnaby, UBC and CW that have men's and women's teams in playoffs. This is not in any way to cast aspersion on other clubs, but a shout out to the hard work that these clubs have done to attain this result. Good luck to all contenders as the season winds to its conclusion.


A FURTHER APPEAL


CW has extended the due date for auction items to Wednesday, April 20th. To donate an auction item, service or experience please contact Lindy Van Alstine at

[email protected]

or (250)-889-6899. Thank you for your support!

The CW Online Auction is focussed on creating a community experience! We are accepting donations for the auction, and we would love to see our Club get creative with donations! For example, one of our Junior players is donating 3 homemade baked goods - 1 per month for 3 months. Do you have a particular interest, skill set or service that could comprise a donation? For example - dog walking, pet sitting, lawn cutting, baby sitting, car washing, artwork donation, bike tune-up, tutoring service - the scope is endless! Let's have some fun while supporting this important fundraiser for our club.

We are also looking for donations from businesses - this is a great way to advertise your local business to our amazing CW community.
---