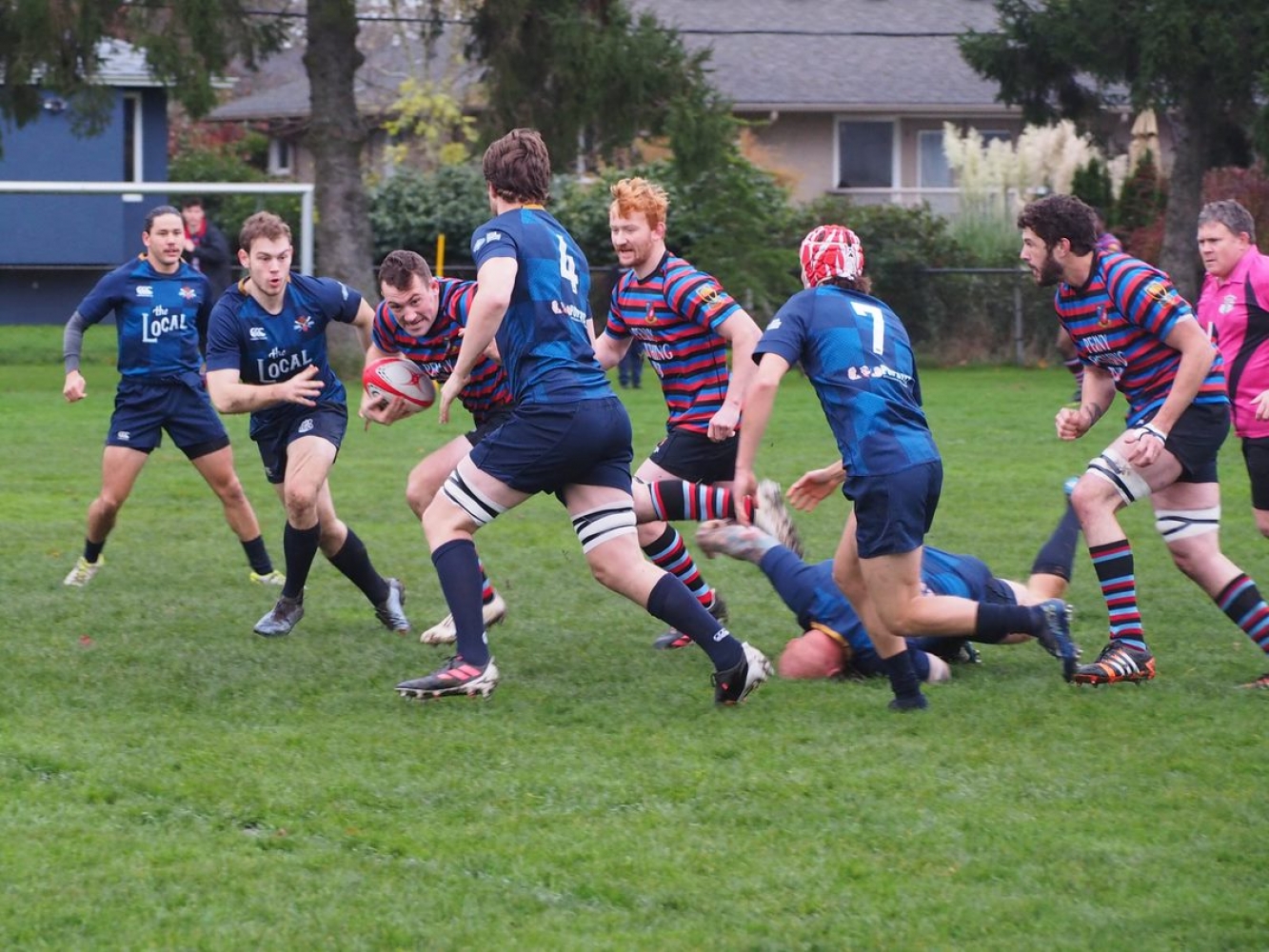 Another Sandison Breakout
CW TAKES A PAIR
With an 11:30 k.o., Comox must have left at dawn! More credit to them and thanks for that contribution. The woes on the pitch compounded the long day as limited numbers and injuries during the contest gutted their efforts. CW Captain, Hohert, becoming a prolific try-scorer from his lock position, dummied and was over to open the parade around fifteen minutes in. It was then Crawford, winger, Rio Apt and DeVries who either scored, or stood out, all orchestrated under the banner of Gerhardt. Comox made efforts at structure from #'s 8 & 9 which were thwarted by set scrummaging issues from a very strong CW FRF and a noticeable inability to keep up with a more active opponent. Next to show out was Crawford, again, Nat Dring and Montgomery. The half ended with a one-sided deficit in favour of the hosts. Big shout out to CW Islanders, former Club Pres, Swainson and Neish who stood up, in the spirit of rugby, to get in a trot and help Comox.
Despite the match being clearly decided by the half, Comox pressured for a long period in the second stanza and was dead-set unlucky not to tally. A speedy #11 and a big center both looked for work. It was fitness that failed them however, a credit to no quit, and CW finished with a hat-trick of tries. The Divvies travel to Cowichan next Saturday to settle who's-who, for the times Colonist Cup. Akin to their brothers who followed, it was a team effort with the ball moving from side to side until the gaps appeared. It was hard to name one player over another on the day. The match was well officiated and post-game frivolities with the Kickers was enjoyed by all present. Unfortunately, several 'benchers' needed to travel to Carnarvon to serve duty if called upon.
P.S. Coach Hepp adds, "Steve Rennick subbed in late for his first match ever and notched a tally." He's now a rugby tragic for sure!
Manager, Brent Johnson's annual pre-season "bewailment" that, "you can never have enough prop forwards," was the plight for James Bay on Saturday. In an unheard of and almost unbelievable position, and probably a first-ever, the game against CW opened with and continued with uncontested scrums due to inexperience and potential injury to an untried player being played in the prop forward position. No doubt this was a source of disappointment for CW, whose experience and calibre in those positions was most keen to test and hope to dominate.
Despite this, James Bay owned early territorial advantage which culminated with quick hands and a well-executed diagonal kick. In the ensuing scramble, it was Blue "downward pressure" and a 7 – 0 lead. The teams battled for supremacy in the loose, with CW's extensive "wide" attack showing hints of positional domination. Around the thirty-minute mark, Irishman, Steve Pyke, celebrated his country's monumental victory over the All Blacks, when he broke a tackle and dragged a couple to score CW's first try under the posts and tie the affair. CW gained ascendancy, sweeping the attack from side to side, stretching the defences with surprising handling accuracy under the rainy and sloppy conditions. Five minutes later, it was Kratz at full steam on a well-taken line – unstoppable. It was all downhill from here on in for the men in blue. The half ended at 14 – 7 for CW.
Early in the second stanza, fullback, Elliott, having by far his best game since joining the club, "filled" a space, jinked and was line-bound. A desperate tackle stopped him; however, quick ball came to Humphries who notched his second in as many weeks. Then it was Elliott again whose roll in the end zone was deemed "no try". A 5m scrum resulted, quick ball from Pilgrim, Elliott in on it again and a crisp feed to White almost resulted in another. At this stage CW throttled JB with punishing defense, restricting them to their own territory. The CW handling, sure under the conditions, threatened a score, almost with every touch. It was Captain Chiz, under the posts after four recycles at twenty minutes (26 – 7). Clark and Sandison impressed with strong carries and Chiz was a determined recipient to cross for his brace. The Skipper is becoming a try-scoring machine!
With such a differential and wholesale substitutions, time passed quickly. As is his custom, Mike Adibe from the pines, made a break which was snuffed in desperation but then he showed his real class, catching a clearing kick, chip, chase, and re-gather. It did not result in a try, but it was sheer artistry under the increasingly slippery conditions. JB appeared frustrated with not being able to break the defense and some minor argie-bargie occurred. Finally, newcomer, #8 Sanderson was duly rewarded for his day's work and 40 – 7 was the final.
In summary, for CW it was a very competent team display. There was a commitment to the style and obvious game plan – running rugby under such conditions was commendable. The handling skills were impressive. Lineout play was owned by the hosts. One could wax at length about individuals, suffice to say, Clarke (#2), best game yet; Kratz, Chiz, Humphries – the old hands, were all over the place, revelling in the ball carrying and loosies, Pyke and Sandison, all caught the eye. I loved the service from Pilgrim once again. This man is going to prove a useful addition. Olly Winser at #10 had a very sound game with great linking and no errors. White and Elliott were the eye-catchers in the backs. How does one choose P-o-M? I'd go for Sandison with close runners-up, Clarke, and Elliott. The team gave it to Harry Elliott. Kevin Smith was the man in the middle and he kept the lid on it. The day ended in the warmth of the club room back at Windsor, sharing pizza and a few bevvies as it should be so, win, lose or draw. There remains one more match, with Westshore before the Barnard Cup Final and you can bet all your marbles that the boys will want to remain undefeated.


ELSEWHERE. Good job Canada NSMT with a convincing victory over Belgium. It was a result that should be so however, they had to overcome adversity with only fourteen men for most of the match and one stage down to 13. There is a lot of work to be done and it will be with interest that we observe the progress of players in the upcoming ALR season.


Our congratulations to the representative, Vancouver Wave on their victory for the inaugural Coastal Cup. The Wave held a good lead over the Pride for most of the match, the latter finishing with a pair, for some respectability. Our local lads lost to UBC, 31 – 20. From the points table, it appears that there is rugby superiority on the mainland this season. Premier play will be a probable challenge, post-Christmas, for Island clubs.


And from Shawnigan Lake……

U19 played yesterday, U15 and U17 no action. U19 vs "Salish Sea", a Brentwood/Shawnigan combined club side. Game played at Shawnigan, torrid weather conditions - however the backup field was in excellent shape. The first twenty minutes - an absolute battle. The ball stayed mostly in the center 40s, many turnovers and knock ons under the weather. After a long stand and a held-up try attempt, the Salish Sea broke through off a scrum play, up the wing. A second try would follow soon after. CW finished the half after some rare first half pressure in the Salish Sea red zone, Liam Poulton scoring under the posts on a show-and-go. HT 12-7.

Unfortunately, Josh Rose had to exit the game with an injury. We wish Josh the best, he is an integral part of this team. Salish opened immediately with a try by their M-o-M #12. The CW forwards went to work, battering their way down the left side, and would respond with a "big man" try. A close game, more hard-fought yards both teams, big collisions across the field! Salish worked in two more tries, via "hands-will-do", and a show-and-go by the #9. CW finished on a high note, scoring off a lineout set play, interchanging the ball between three front rowers and diving into the corner. Marshall Stove converted for a final score, 31-19 to Salish Sea.

Thanks to Coach Gerhardt for an exciting report and well done all, for driving in the torrents to Shawnigan and playing a hard-fought match.



---