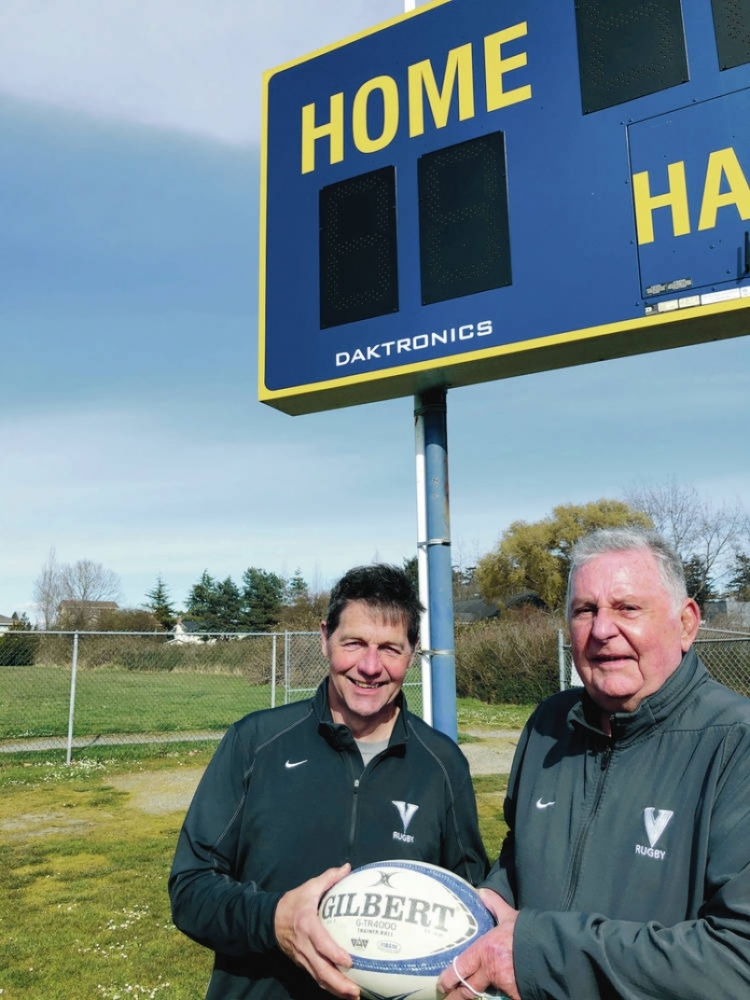 (Credit - Victoria Times Colonist)
Doug Tate and Rick Farally announced their "second" retirement from coaching rugby at UVic last week. They retired at the end of the 2019 season, then came Covid! They agreed to stay on in an interim measure to ensure recruiting would occur and current players would continue training during Covid times. 'onyas, both! This magnanimous decision typifies the character of these two gentlemen. Doug has been Head Coach at UVic for some years and Rick was his right-hand man. Their achievements were many and in particular, Doug's passion for the game from Mini Rugby to National team has been a highlight. CW rugby has had a special relationship with UVic rugby of recent years with the club providing a plethora of talented junior freshmen and the Vikes reciprocating with a wealth of talented graduates. It is an honor to recognise these two men and to congratulate them on a long and successful career. On behalf of our club, this blogger wishes them both all the best in their future ventures – a long, happy and healthy "retirement".
Vs









Following our recent announcement of Lockie Kratz's signing with NOLA Gold in the MLR it was with interest that this pundit took in the LA Glitinis Vs Toronto Arrows match this past weekend. The game was part of a double-header at the Gold's home field. The Arrows, due to Covid, have been based in a 'bubble' in Georgia. Unfortunately, my taping of the game on TSN commenced with the first twenty minutes already played. Severe pixilation occurred and finally a 'hiccup' with Shaw also occurred when my PVR froze!! The break-up of the video was as frequent as the referee's whistle! A last-minute try at the half gave LA a 17 – 9 lead, aided by some rather questionable officiating decisions.

The interval enabled my tv to regain normalcy and the tape resumed with an extremely interesting half-time interview with the MLR League Commissioner, George Killebrew. He referred to the Rugby Network.com site having some 20,000 regular viewers. Further, the fact that both American Airlines and Geicko have come on board as major sponsors, substantiate the League's validity. Thus began the second stanza. LA started with zest and soon had an unassailable lead with Matt Giteau primarily the architect, supported by a strong pack. Apart from Lucas Rumball, once again, there were no Arrows that really stood out. The final score was 43 – 16 to LA who remain undefeated after a very disjointed affair. My notes refer to a "professional player fly hacking a loose ball on his own 2m line into the hands of the attacking team for a try! The rugby was so boring with its stops and starts and copious whistles, that the commentators mentioned the referee's mother being present to watch over his performance!" The game ended short of full time due to a lightning strike! So for all its credibility, the affair as a spectacle did not match up.
Our final snippet brings news of our National Team Women's and Men's Sevens teams stretching their legs in the Emirates Invitational events in Dubai over the past two weekends after a lengthy Covid layoff. Weekend #1 – Women (5 – 1), win the tournament despite a loss to France. Men, (3 – 3) finish fifth. Last weekend the Women lost twice to France again, a team that has not as yet qualified for the Olympics to finish as Runners-up and the Men lost 19 – 26 to Argentina in the finals. Probably not too much to glean from all of this apart from the fact the players needed the matches desperately. Of note, Australia, NZ, Fiji and South Africa were absent as well as USA in the Men's bracket. We will try to get more news for our readers as the path to Tokyo begins.
---