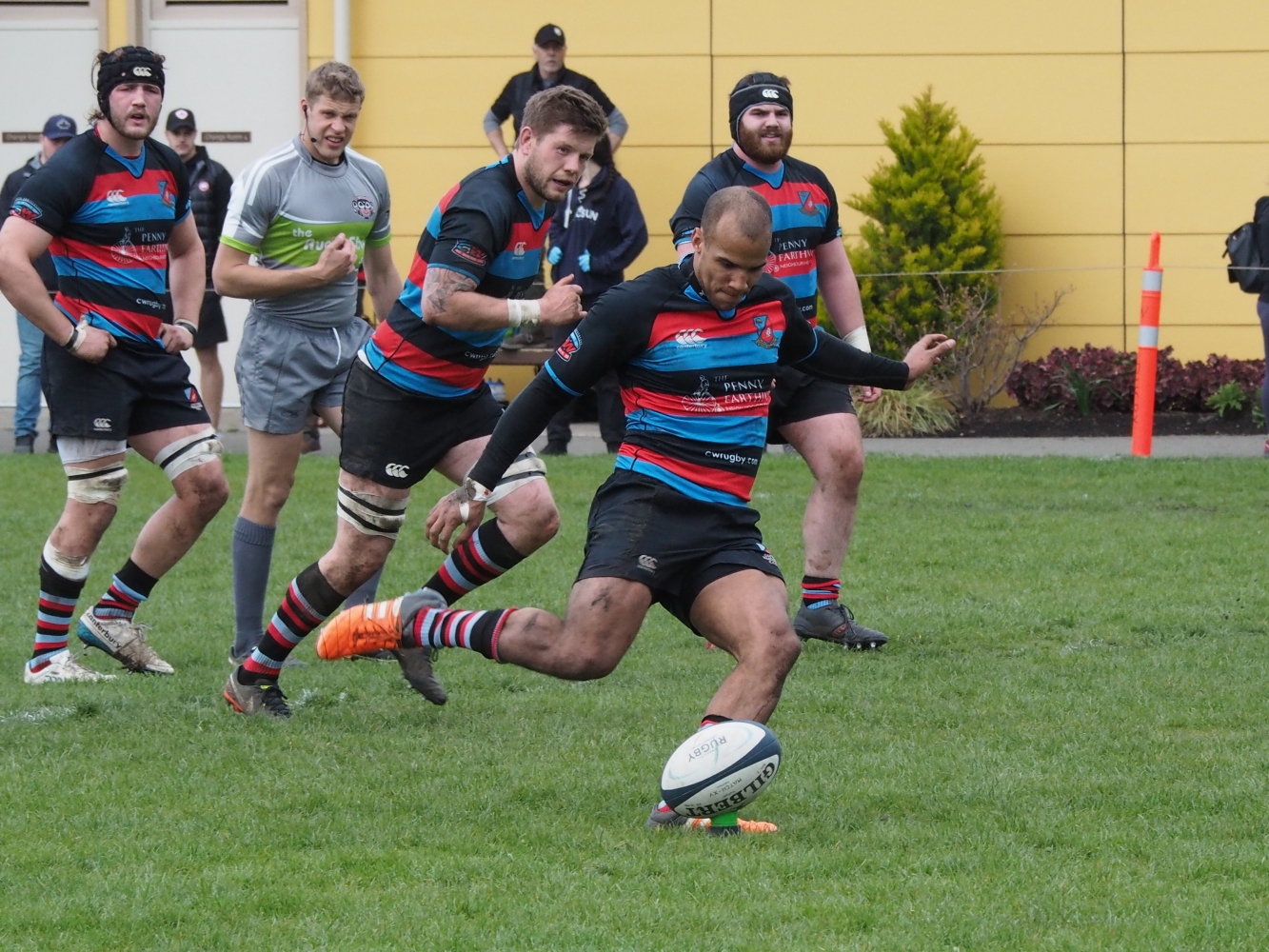 Mikey slots a trey!
We would be tragically remiss if we were not to honour the Humboldt Broncos players, family and friends with our deepest and sincerest condolences at this heart-breaking time. Our sadness must know no bounds and may you be strengthened by your support for each other and from those of us all across our land – a team of support. Our prayers go out to you.
Saturday was a great day for CW despite a narrow loss in Men's Premier where we were tested by the best and gained much confidence in a narrow loss. The day started with our "Divvies" (8 – 10) facing the Braves (15 – 3). On paper, a mammoth mismatch and daunting task yet it as to be a day when our lads finally realised and played to their potential. UBC opened the scoring and Gus Porter responded with yet another accurate kick. This lad is metronomic with his place-kicking skill. This was how it remained at the interval, 7 – 3. Who possibly could have predicted a second half of 26 -5 to CW?
Territorial advantages of the first half were continued and concluded with tallies in the second half. First it was Winser who alertly spotted room down the blind side and sent Goldstein scampering to gain the lead, 10 – 7. Next, Boyd-Porter sprung Moar, mercurially stretching his legs out of the hands of would-be tacklers for a 30m sprint and 17 – 7 lead. Then it was strong forward play from Hohert and Newhook, putting the Braves on the back foot and Keta celebrated with the Kenyan "conga" after crossing in the corner to beat the rapidly-closing cross-cover. Porter converted from the sideline, 24 – 7. The Braves were not done and with almost ten minutes on the clock, a rampaging Carson (I think Frank but it may have Donald!) halved it at 12 – 24. The score failed to generate any further energy and it seemed only fitting that it ended with an unstoppable blind side burst from Winser, 29 – 12, final.
It was difficult to differentiate the efforts and the boys gave David Keta the hard hat. Having said that, I must single out Hohert, Newhook and Makaroff as absolutely tireless and tough in the forwards. The 'Little Master' (google that), Angus Boyd-Porter and hard running returnee, John Moar being the pick of the backs. Not sure that the victory guarantees a playoff spot however, a similar upset over the Norsemen next week certainly would! Go, you good things.
The main game started with an early score to the hosts. Adibe went blind, a deft pass to Pullin whose hands created the spring for The Magician and Anton was over! As mentioned pre-game, this man seems to thrive on the challenge of the students. Adibe converted from the sideline. UBC attacked and when a knock-on was snagged by DiNardo and moved quickly to Adibe, the counter was on and it was all hands on deck for the Birds. Di Nardo again, made a nifty break from ball produced, when tackled, Braddock fed Leask on a powerful line and he made useful yards before giving to Sponarski with work to do. Jack honoured the Front Row Fraternity for their first in a few games (and a side-step which may have embarrased the "tanks" but would have done credit to the late Don Burgess), showing clean heels over 10m and a 14 – 0 lead after ten minutes. Sauder opened the scoring for the visitors at 20min, 14 – 3. A Pullin to Ngongo feed, again looked dangerous and CW hung in the 22m area, aided by two penalties and eventually knocking the ball on over the try line. Coming away with no points from this flurry was a travesty. It was Ikeda who broke out for UBC and looked like he was away, only to be scragged by Schellie.
Then came the TSN Turning Point when Di Nardo was binned for what appeared like a high tackle. It is hard to picture this wee man doing this but the resultant collision and decision saw Schellie move from #15 to 9 and CW a man short. Four drives later from the scrum made it look pretty simple but it was hard work and James Carson crossed to bring the score to 14 – 10. Despite the numbers deficit, the boys worked their way back to the 22m area however, UBC held. The Birds sensed a momentum swing and breaks came again from Carson, Martinez and Keffer. As CW scrambled to plug the holes, Nanyak, going one way and the ball carrier, diagonally opposite, was met by a reflexive arm. No intent but it was "two down"! An experienced and hard-working pack sensed their chances and Martinez drove for the line and a 17 – 10 lead. From the k.o. it was Carson on the rampage, carried on by Ikeda and a "nameless" #20. CW appeared to have broken up the attack however a sleight of hand got the ball to Jubenvill (?) for the final try of the day and a half time lead of 22 – 14. It had all happened rather quickly with CW paying a costly price for detected indiscretions.
The second stanza saw some listless play, lacking the brilliance and "seriousness" of the five, first half tries. CW looked to be struggling to regain the "shape" they had early in the contest. It was about 15min before the first score came when an Adibe penalty edged it closer at 22 – 17. UBC came in waves only to be rejected and Leask and Ngongo looked dangerous for the hosts. Sauder added a UBC penalty, 25 – 17 and the scoring stopped there. Stewart made an exciting break and something looked to be "on" only for the ball to be knocked on and a UBC counter ensue. This pretty much summed up the action with teams sawing off evenly with territory and defence. Must add, another yellow card in the late going did not help the CW cause. This pundit, is sometimes accused of being one-eyed so I would be remiss not to comment that two similar rather high tackle infractions were committed, undetected, from the men in blue. Tough, but that's how she goes!
A very entertaining first half when the Birds took the chances on offer and a gripping, nail-biting second half. In summary, I suspect much was gleaned by CW from the encounter, not the least being confidence. Adibe is playing as well as any #10 in the league right now and Pullin is a deceptive, classy partner in crime. Morra and Ngongo were impressive. "The Little General", (aka Fraser) – barking out orders, was missing in the backs. Someone will need to step up to fill this role – a golden opportunity for personal growth. The work of the pack was tireless – in a word, committed, maybe with Stewart and Chisholm a smidge more noticeable than their mates but definitely, no shirkers on this day. To the winners, go the spoils. James Carson, M-o-M for my money was strongly supported by Ikeda, a very strong and dangerous runner and Martinez in the heavy going, a hard FRF member. Keffer was arguably, more than matched Di Nardo but it was Collett who set his backs afly, orchestrating some wily and marginally, obstructive decoy runners and feeding his outside speedsters.
With one game remaining, CW hosts a high-flying Vikes team, winning seven on the trot, including the scalps of Ravens, Burnaby and a two point loss to their counterparts at UBC – impressive! There is significance in the outcome as it will determine just who The Tricolours will face in the opening round.
The final game kicked off late and unfortunately, lost a number of viewers due to the hour and pending 7:00 Dinner. It was an epic, game of two halves with the hosts being up 31 – 10 at the interval. I did catch the first fifteen minutes with three tries scored. A Seattle 'flier' (#11), with wheels to burn, opened the fest. Seem to recall this lady bagging a Windsor 'hat-trick' last season. Einerson and Neilson replied and so the parade went on with CW's interpassing and tactical kicking being a strong point. It was reported that in the second half, Seattle actually went ahead late, 32 – 31 only to be deflated with a Neilson penalty for a final, 34 – 32 result. Phew! Heard Searle centers put on a good display as did the pack in the second half when CW made a maximum of subs. It's bouquets to the Sarries bouncing back from a heavy loss last time round and making their road trip commitment. CW will finish with Burnaby at home next week.
Thanks to the day's three officials – Horton who had another good game with the Reserves, Assmus and Van. No games without these men! Whilst with the thanks, shout out to Hugh on his penultimate day as scorekeeper – on his 82 year old feet for five hours, posting some 145 points on the day! The club is greatly indebted to its volunteers, not forgetting the Old Boys, led by 'evergreen' John Morley who set up the field and Shep who lines it, week in and week out.
FOOTNOTE - No details but it was an Islander, aided by a few Kiwi supplements, "W" over the Saxons.
---