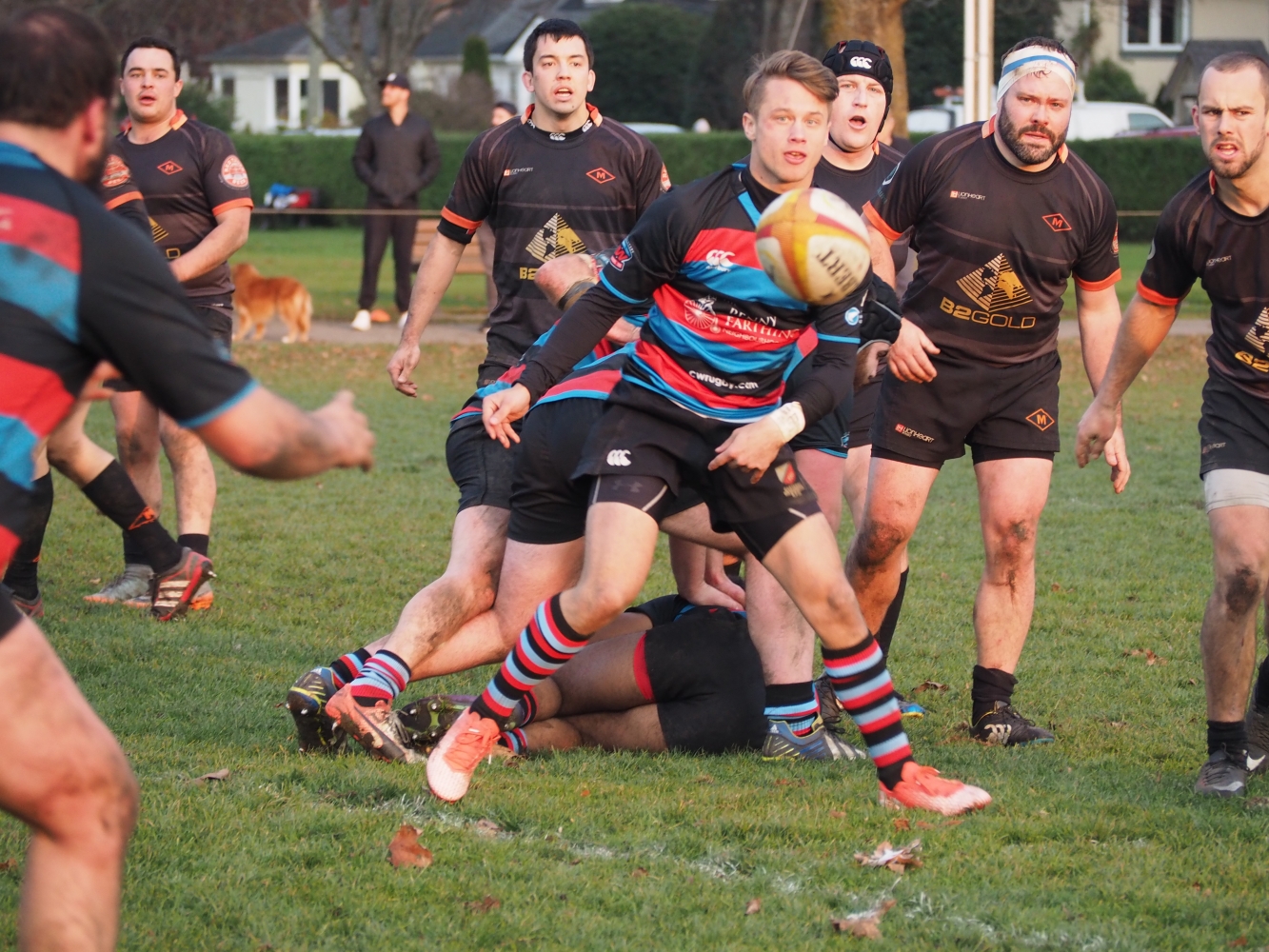 Weather last weekend made for some pretty rugged matches. CW's Premier Women took it on the chin at Carnarvon Park against a very good Burnaby side. One observer remarked the Burnaby women reminded him of their strong teams of some five seasons ago and they played a game that would have severely tested Westshore, denying CW ball from scrums and constantly forcing the pace under the miserable conditions. Burnaby notched a brace from their skipper Van Vugt and five other singles in their comprehensive win in these deplorable conditions. CW sit ensconced in the cellar with a sole win. Seattle visits Windsor next Saturday.
The Men were on the road and we asked The Sage for a few comments. "The Reserves started off well enough with some continuity however the Home team soon made in-roads with strong runners and smart off-loads, breaking the defence and opening a gap of 19 – 0 at the half. The second half was more of the same however Wade Lavalle, replacing an injured Newhook, scored a good individual tally and came close on a couple of other occasions. The Loma opened it up to 40 – 7 before CW rang the bell in the late going for a 40 – 14 final. Lomas are good value in the Reserves Comp and will use this group to build for their future. The CW FRF of Elliot, Freud and Hepp probably had the better of their opponents, with Mitch Elliot earning a M-o-M however the overall defence and continuity from Lomas made up for that in spades. Angus Boyd-Porter was the pick of the backs." This leaves CW at 7 – 7, still in the playoff mix but they face another strong opponent in Burnaby next Saturday.
The Sage commented just how good it was to be back at Connaught after a season or two and to recall the many memories forged on this pitch over the years. "The Meralomas showed without question that they are back and they belong. It was a tight match til about mid-way through the second half when the result started to appear inevitable. CW went out in front early only for Lomas to tie the affair at twelve. The Tricolour realised they were in a contest with all phases being tightly contested. A gap was opened again late in the half when first Captain, Stewart crossed, followed by 'Sudsy' Sutherland who had a very good outing, for a score line of CW 26 – Lomas 12.
Lomas added an early penalty and then crossed the line to get the match to within one score, 26 – 20. That was to be "all she wrote" for them as it was then a strong carry from Sponarski, feed to Braddock and Dala over the line, 33 – 20. Pullin sealed the deal, 40 - 10 and the bonus point W. Connor had a good day with his sure handling and strong running. The pick of the backs was Adibe who was voted as M-0-M with Yak Dala, his forward counterpart. Di Nardo was good value, in for Schellie, this is becoming a familiar combo. The Sage concludes that there was nothing easy about this W and Lomas may have been deemed unlucky not to have had a fourth try for their bonus." This was a pre-game prediction as Meralomas have proven they can score, it has just been a matter of not enough and "wearying" in the late stages. Thanks to M-i-M, Saro Turner and Brett Hay and BIG shout to Lomas for post-match food and comradery.
On the Home front, Saturday night continued with weather as miserable as it had been all day, yet a good crowd assembled at Westhills, Home for Rugby Canada, to take in the men's game. Of special interest for CW fans was the selection of the Ceedub Six – Barkwill, DJ Sears, Ilnicki, Dusty Dobravsky, Fraser and Cam Polson and they did not let down with Fraser, Sears-Duru and Barkwill scoring tries in a comfortable Canada win. We have to give DJ the nod for his try-line dive over Captain Friz's if only for the fact of its greater amplitude and him being the bigger man and besides, we see Fraser do it every week! Enough of the banter.
The win was based on forward domination. Luke Campbell was awarded the M-o-M but for my money, although Luke had a very good game, I preferred Rumball's work with Barkwill following closely. Jake sprung DJ for his try, one of a number of moments of dominance for the big man. Jake was lively enough and Bailie had his best outing in the Canadian jersey. Dobravsky did some hard work in the loose. It was great to see the forwards running hard. DTH was his customary, dangerous self and Fraser had a good debut. Mack had moments of brilliance, at the same time, along with some of the other backs, there were errors that would have been costly against a different opponent. Davis could have used more chances and the other backs mostly did their jobs.
This pundit is happy for the boys although perhaps, it could be added that Brazil did not provide a whole lot. It is to be hoped that the team is injury-free with no hyperthermia after effects, although DTH limping was not a good sign, as they head for Argentina and Chile. It was good value for those who made the effort to be in attendance. Well done, Canada.
---