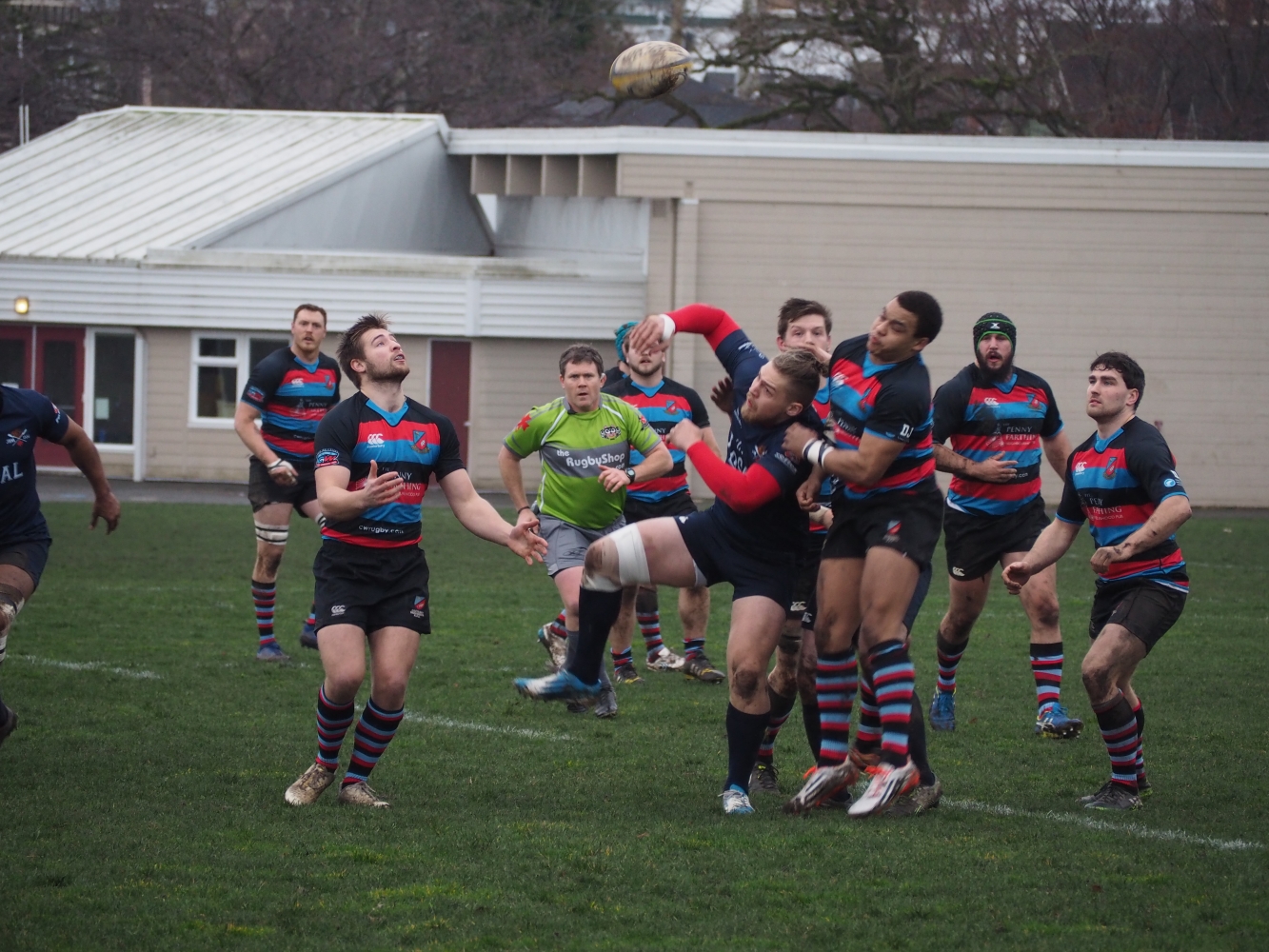 Local Derby – A Double to CW
It was a dismal afternoon that bore witness to Saturday's contests at MacDonald Park. CW's Reserves (Divvies) got the scoring underway early and the boys stretched it to 17 – 3 at the interval. This pundit picked up the action in the second stanza with CW getting some chances but failing to close with points. It was JBA, going "downhill", that was the next to score, reducing the gap to 17 – 8. This score spurred CW on to finish with two converted tries and a 31 – 8 bonus point win. M-o-M for CW was fullback, Boyd-Porter who notched a tally and was perfect with his boot for a total of sixteen points.
Again, it was the forwards who dominated the late going, inspirationally led by the efforts of Riley 'Coops' Turchet. The rest of the pack were willing contributors. The Goldstein/Tate link was money, once again. Ollie Winser and Mitch Newman were a threatening punch in the centers. Finally, what I observed of the defence was solid. Divvies were all smiles post-game, realising their potential in consecutive matches. Thanks to referee, Andrew Foster for a good display on a cruddy day. Next up, a roadie Vs a tough Meraloma Reserves, standing in a surprising but honest third place on the table.
The Premier match saw CW with a lively start with the slope "advantage" and forcing play to the red zone. James Bay managed to secure possession and thwart the early energy. This was to be not for long. CW earned a lineout and drove to the line. It was Chisholm, over for his first try as a Tricolour, 7 – 0. The hosts came back with energy and it was Mitrou who slotted a good penalty from 40m out and wide, 7 – 3. CW found themselves in hot water when Fraser received a yellow, the first of what was to be a preponderance of cards on this day and Mitrou slotted, 7 – 6. Play became testy and JB's van Heyningen was the next to "go", adding to the disruption. Penalties against JB saw CW threaten again. First it was Dala, "held up" and then despite hard work from Wakefield, Leask broke the defence, 14 – 6, CW. Mitrou was to keep it close around thirty minutes, 14 – 9. It was CW again who was able to grind the ball close and Chisholm ultimately bullocked over for his brace. Today was a much more workmanlike performance from the big man as he logged some extra minutes in his recovery. Plenty of penalties were issued to both sides, in what might have been assessed as a "control issue", in a game where both teams pushed the limits. A high tackle by CW, saw the half end at 21 – 12. With a mere nine point's deficit and the "slope" for an advantage, James Bay was well in the contest despite allowing three tries.
CW made a few adjustments at the interval and was early in the second stanza when ball was well secured in hand, given the conditions and a clever Di Nardo break saw him spin the ball to Dobravsky, on to Dala and finally, Fraser who was about to show some Captain's class. Doug had 25m to go and he offered a quick dummy inside, a quick dummy outside which was sufficient to freeze the defence, a dash and a dive over the line for the fourth and bonus point, try, 28 – 12. JB's Waldron showed some spirit with a couple of solid bursts, only to be nullified by an organised defence. It was around the thirty minute mark when the Bays looked their most dangerous in the match with a sweeping 50m attack by the backs, only to be thwarted by a solid Adibe tackle. More yellow cards were dished out as frustration from the men in blue was obvious. CW's Logan came close, catching the fullback in possession after his nifty kick and chase. The ball came CW's way and the first pick and drive almost saw Burger over, but it was on the ensuing drive that Finnemore broke through for the late-going try. Dala kept the kicking record for the day error-free, converting for the 35 – 12 win.
For James Bay, Captain, Shea Wakefield was tireless, playing with relentless vigour, tempered with discipline. Abdelmonem also stood out with his energy and play on the edge. Van Heyningen and Barker had their share of satisfying sets and loose play but became distracted by the niggle. Gallagher tried hard but more often than not, was presented with ball on the back foot.
For the Visitors, there was plenty to like. Finnemore deservedly, was awarded the Hard Hat by his team mates. I must single out Dala, Leask, Stewart and Dobravsky as well, a group of loosies who were relentless. Schellie left early under concussion protocol and Di Nardo was perfect. Povey was on cue this week, boot on the grass and precision pass, enabling Fraser and Pullin to strut some stuff on this inclement day. A good number of players came off the pines to earn minutes and valuable experience for the future. This game was probably not one of Kevin Smith's more memorable performances, with both teams appearing frustrated, regardless, thanks Kevin.
Around the league there were a couple of very interesting results. UBCOB moved to the top of the table with their "fully loaded" 14 – 10 win over BLRC and most surprisingly, Caps defeated UBC 36 – 26. Critics noting UBC were not at full strength, well that happens in this league and 'onya Caps, after your past two weeks of travel and close losses. Perhaps it is a season where the teams which make the fewest errors on the day will take the spoils, no matter what the selection. Keep in mind, it was Nanaimo who just a few weeks back, knocked off Caps! CW travels to Meralomas in two weeks and will also need to be at their best and very cautious at Connaught.
---