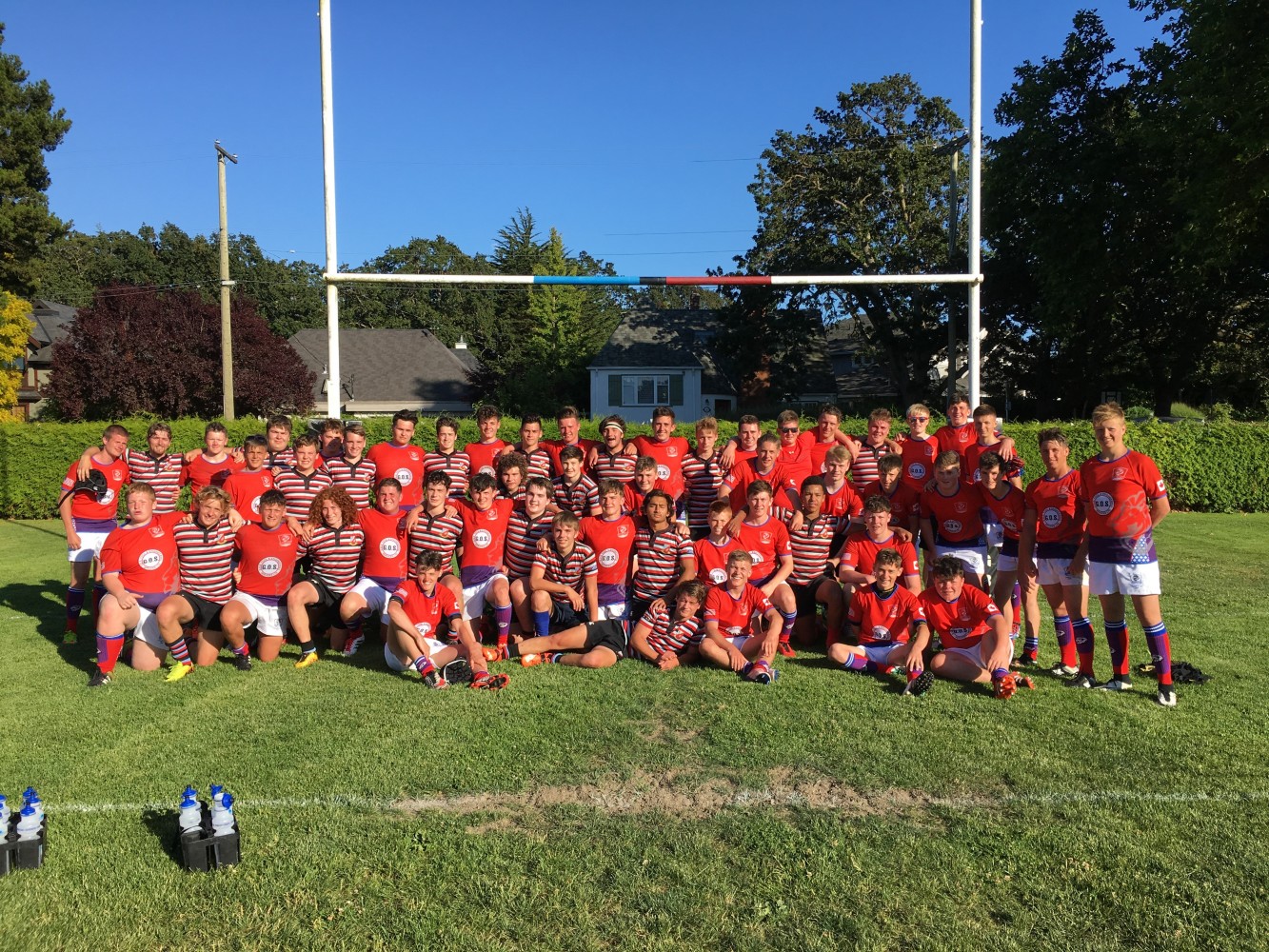 The Rugby Tour
Schools and clubs seem to have become ambitious again in recent years about touring. Education can be "topped up" and eyes widened by the months of fundraising and excitement leading up to the tour. Sometimes the most rewarding aspect of the tour is that once you have experienced the distant environment and clashed on the pitch, for all the differences in culture and surroundings you find so much attitudes, outlooks, affections, are the same as you know them. And so it was, that on Friday last, CW Juniors, with a mix of local H.S. players and a compliment of Westshore lads welcomed the West Mon H.S. team returning for their third visit from Wales.
President, Don Swainson reports; "Introductions were made quickly as players met new teammates. Coaches Roger Robinson, Nanyak Dala and Andrew Tiedemann got the lads organized and they faired remarkably against a well-drilled West Mon (Wales) High School team. (Third in Wales last year, 34 touring players). This was the third game for West Mon on their US Canada tour and by all accounts, their most challenging. Despite a final score of 31-7 for the visitors, the CW or rather the South Island all-stars wearing CW kit, gave the Welsh some real competition. Fly half Jonas Robinson, was West Mon's pick for MoM however strong performances were seen from all the host players, with special mention to Captain Schellenberger for his usual and consistent tackling and well-timed breaks, Scrumhalf Kahn for his great ball distribution and for the pack with strong tackling, and notable carries by Hayward, White, Freund and others.
Kudos to all, especially Anne Jones and the hosting (billet) families. CW "All Stars"; Robert Zastre, Tanner Haywood, Jacob Foster, Connor McNeil, Payne Jones, Max Freund, Gavin Dawdy, Carter White, Hyoga Onda, Sam Kahn, Jonas Robinson, Tom Eason, Jon Makaroff, Josh Mitchell, Mac Barclay, Will Tarrant, Brandon Schellenberger, Evan Boothroyd and Rahul Roy.
Congrats to West Mon on their win and thanks to the referee, coaches, hosts and players who made this match possible. Tours are a big part of the rugby culture and CW having toured recently needs to continue this tradition of hosting well, as we have done in this case...again, special mention to Anne and Jason Jones."
On the Home front, or close enough, the B.C. Junior Bears continue with their winning ways in the CRC Junior National Championships in Ontario. CW's Gav Kratz and Anton Ngongo are members of the team that had wins over The Rock, 36 – 15, Nova Scotia, 25 – 15 and Ontario, 19 – 10, Anton, bagging a total of three tallies. The Men play Prairie Wolf Pack in the semis tomorrow. Good luck to all. Go, B.C.
---