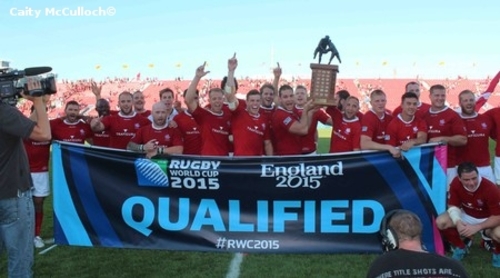 Apart from those countries which qualified from NZ in 2011, Canada has become the FIRST country to qualify for the next RWC to be held in England in 2015. The "return" match against The Eagles was certainly not pretty but as the header tells, the boys got the job done, winning 13 - 11 in Toronto.
Just prior to game time a third "juggle" occured with the pack, when Ardron was forced to withdraw and Phelan came into the lock position with Jab Sinclair moving to #6. The U.S. failed to take two very early penalty chances and backed themselves for the try, only to be thwarted by poor handling, poor decision making and rather spirited defence. However, the opening minutes continued to be all U.S. and at the nine minute mark, they appeared to be duly rewarded after some intense scrum pressure and good forward continuity. The Ref went to the TMO and Canada dodged a bullet when Hearn's robust tackle, saw him preventing the hooker from grounding for the try. This was the first of many good things that Hearn did on this afternoon.
For the next six minutes,Canada continued on the back foot with poor lineout throw ins, turnovers and missed tackles, certainly errors that were not part of their game last week. The U.S. was rewarded with the easiest of tallies after two missed tackles. A simple convert was missed and the start of a bad memory for 'Woeful' Wyles, whose performance really hurt the R,W & B over these two matches. At twenty minutes, Pritch notched a fifty meter penalty to emphasise the difference in this area between the teams. As the day wore on, ironically, it turned out to be one that the Parkes Boar will not easily forget either, as his effort with the boot was less than stellar. Two minutes later some quick ball from a set piece saw smooth transfer at pace and Hearn fend off his opposite man to pave the way for the game's second "easy" tally with Pritchard doing the honors. Chances went a-begging for The Maple Leaf as the half wore on. Jone's break at 32 minutes should have put it to bed but a handling error occured, next DTH was away and it came to nought, then Pritchard missed an "automatic" in front of the sticks and so when Wyles notched a trey on the buzzer, it was all tied at eight.
Dolezel started the second stanza for Tieds and the contest offered up much of the same as the first forty, at one point, Clever knocked on and a huge Canadian boot flailed at a fly hack.....like my golf swing - it was a "fresh airy"....basic stuff not seen in a good club contest. Twelve minutes in, Captain Carps crossed but Canada was called back for a penalty. The U.S. subbed at scrum half, a starting selection change from last match that had not really been favorable. Tweny minutes in Canada turned on the screws with some very good football, finger tip handling and play of International calibre, the ball was recycled, things done at pace and despite the extreme heat, with skill and the effort was rewarded with an almighty thrust from Marshall with two or three on his back for a 13 - 8 lead. Marshall was a deserved try scorer. His work rate for the match was commendable and his set scrummaging was very solid. As his experience increases, so to does the value of his contribution.
Dala had come on with twenty minutes left, did some very good stuff, being very involved with the lead up to the tally but then was binned, being the recipient of the referee's frustration with both teams but more so with what he saw as Canadian infractions. The standard of play, very hot weather and infractions caused frustration all round with players and the ref, who at one point retorted to a nameless Canadian; "Don't play me for a fool!" The tactical kicking went all wrong as well, with even Philly hoisting a thoughtless, tired looking punt that had all of his pack unable to retreat...and on came Whitey. One interesting aside was a call on Moonlight for a "no hands" dive tackle to stop a pick and drive. This was a very correct and technical call. One wonders why it is never called in Four Nations games as this infraction occurs on all pick and drives within the defender's Red Zone....... Wyles offered some hope for The Eagles with a penalty with about ten minutes remaining to bring it to 13 - 11 for the hosts. He had another relatively "easy" chance which would have won the Can Am Trophy with two minutes left. One could almost "back" the script as yet another miss resulted. When Hearn pinched the ball in a tackle soon after, that was when the lady sang and the Canadians booked their tickets!
In summary, loved the outcome, two champagne, Canadian tallies, Carpenter led by example as he always does in nail-biters; Marshall, Sinclair did far more than their bit. Other forwards did not shirk but the errors in lineout and sets took off any gloss. Dolezel looked useful at his job and kudos to all forwards for solid effort with defence. As for the backs, although Mack and Jones showed glimpses they were not the predicted threat. Hearn was money and Blevins almost made some breaks in the late going, DTH is a threat whenever he gets the pill and his ability to guilefully shuffle it back in the tackle is a skill he could teach some of the forwards. Pritch made four decisions to run and unusually, was caught every time, he looked tired and the "back three" a little uncoordinated. I only call it as I saw it. A good one one to have in the W column and congratulations to all. You good things!
---