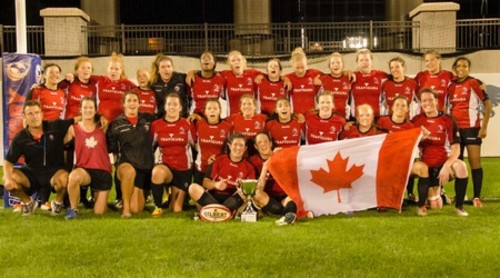 After watching Canada open the scoring within two minutes of the k.o. after a sixty meter scoot by Jessica Dovanne, evading some three or four English tacklers and convert.....the downstreaming left lots to be desired! Did manage to get "the lightning break" when players were forced to leave the field for their safety - a rather unique experience, after Canada had forged a 14 - 8 lead. This was the scoreline at the interval.
Canada had increased the gap to 20 - 8 with about twenty five minutes to play when England scored to get within seven points. The final score came from another long run from a Canadian speedster, Bianca Farella, Canada 27 England 13, a monumental victory. Evidently, the speed of the Sevens players was instrumental but also solid teamwork featured prominently. What a capper to a very successful U20, Sr 7's & XV's run of games, posting our National ladies within the top two or three nations. Un-bee-lieve-able, you beauties!!
BACK TO UBC and THE NAT FINALS.........Ontario defeated B.C. in U18 Women's play by a score of 25 to 5. In Pool play, Ontario won 27 - 0, so not much changed and that ladies and gentlemen, probably explains why our National and U20 Womens teams contain so many Ontario players! Good for Ontario, setting the bar at a high standard. In Women's U16 action, the boot was on the other coast, when B.C. Gold headed by the Ponytail Powerhouses from CW defeated Ontario by a score of 19 - 0 in the Final to win the gold. B.C. Blues, with five CW girls lost the Plate Final to Alberta but must have gained invaluable experience. The future looks bright for B.C. Women with clubs taking up the rallying cry with girl's and women's programs.
---