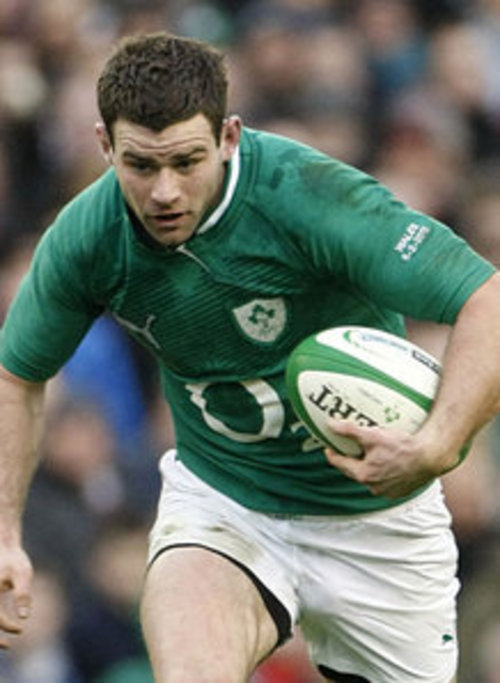 Ireland laid a 40 – 14 licking on Canada at Toronto's BMO field, not to mention CW's Temple, in front of a record Canadian rugby crowd of 20,400 yesterday. The six try to one final tally was probably representative of events, although as my wife said; "Our Canadian boys always seem to play so hard." And so it seemed
Experienced finishers on the wings, Trimble and Mc Fadden (hat trick) bagged four tries, a couple coming from cleverly placed chips from Madigan who had a solid game at #10. The score line may have been greater had not the ref called "held up" twice without the help of a TMO, contrary to these calls, was one from a touchie, early in the second half, when Canada had seemingly mustered momentum at a critical point of the match. He deemed Marshall to have made a late tackle on an Irish player. This was marginal at best and it was a gross oversight that the same touch judge seemed to miss a blatant "elbow fend" that decked Hearn as Toner rambled out of this "tackle" to start another try for the visitors. Perhaps green eyes might say that Canada managed to be allowed leeway at the breakdown, being off their feet on a number of occasions. Final comment on the adjudicating…….one wonders just how many times the Irish Captain, O'Mahony had to be told to "lead by example" before complying!
It was not the refereeing that decided the outcome. Ireland opened the try parade, rather early but it was Canada who responded with three Pritchard penalties to put them back in the lead. Pritch overtook Garth Rees's Canadian points total, for Canada to go into the break down 9 - 12. Ireland had maintained a 60 – 40 possession differential in the first half, only to increase it in the second half. At this point in the match, they had considerable structure although Canada's defensive effort was massive.
The second stanza saw Canada take the lead after about seven minutes of action when Captain Carpenter, who was sterling throughout, went blind side from a scrum and fed inside to Mack. Ardron broke from an ensuing ruck for a well deserved try. This man also had a very good game. At the thirteen minute mark came what could have arguably been the TSN Turning Point with Canada on the attack, the ref's whistle blew and players from both sides stopped bewildered as to why and the said touch judge decision occurred. Ireland scored a try almost directly from this segment of play and Canada seemed to lose any structure not to mention their possession became stifled and Ireland ran rampant for the final twenty minutes, as men in red were gassed after giving their all.
The dressing room saw guys absolutely gutted, as a brave Carpenter sought to put it in words; "It got a little away from us. It was unlucky for us but I thought we were in there until the end." The forward pack gave of their all, with Sinclair and Ardron being the most visible. Mack was good value at #9, Paris tried to create some opportunities and Jones battled to the bitter end. This man is a deceptively good player. As for the other backs, the cohesion of another "assembled" combination was not present and they were denied the time they have had in recent matches. So, it's off to Japan with a team of pretty battered bodies no doubt. All of these test matches are good for the coffers and viewing public but must be terribly hard on the players. The team that travels will be of interest, for the Sevens players must be given rest in preparation for RWC Sevens in Moscow in two weeks, keeping in mind it is the Sevens program that brings OTP funding. CW wishes the touring party all the best and a good effort yesterday from all the players.
---