GOOD DAY FOR CW MEN, NOT SO GOOD FOR WOMEN
---
---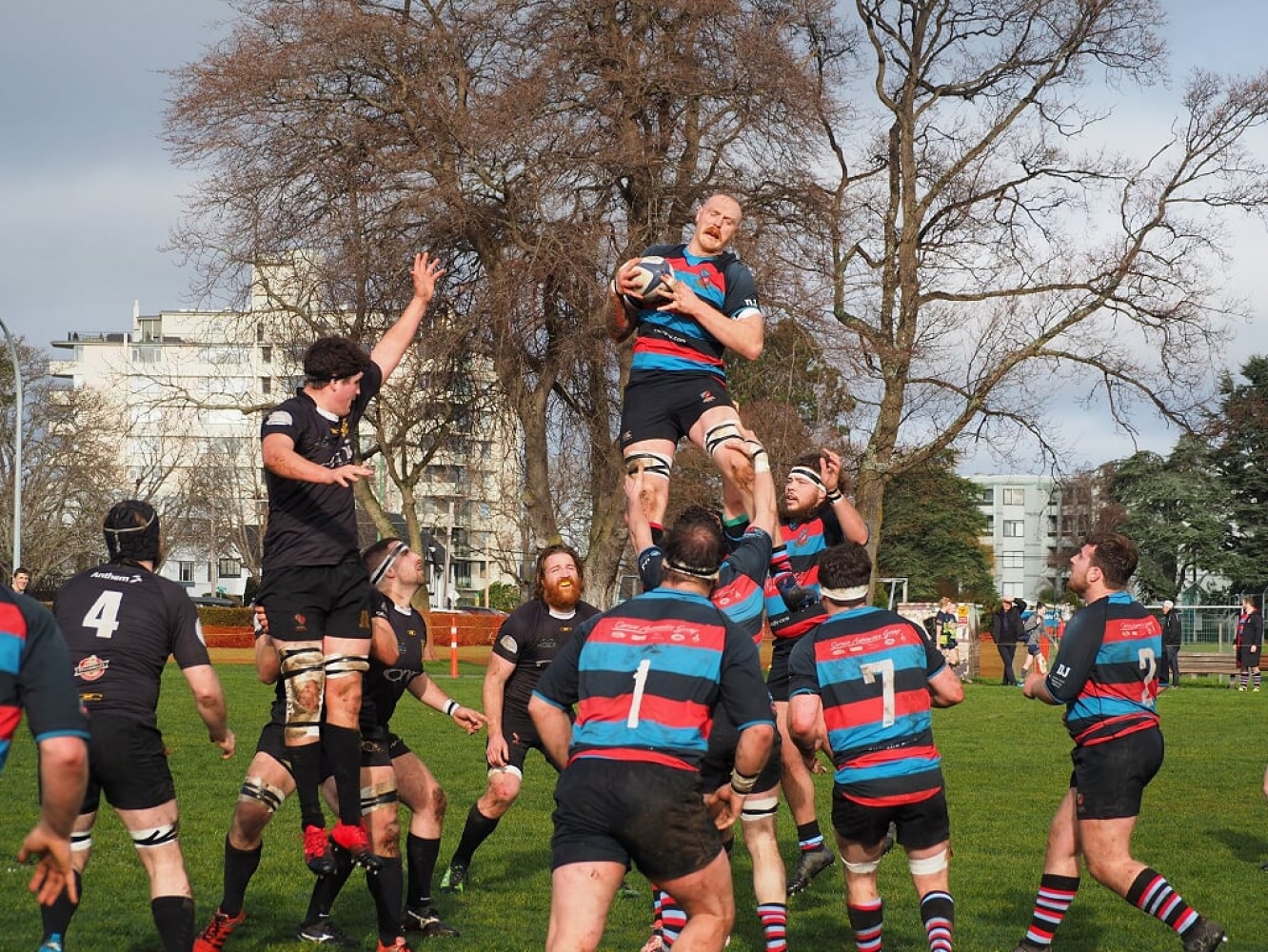 Chiz owned the air!
CW Reserves began their match against Capilanos, allowing a rather "soft" try in the early moments. CW threatened but were repelled however it was Kanty who notched the opener, 7 – 5, CW. A mere five minutes later, Gerhardt was rewarded for what has become his customary good efforts and the score moved along, 12 – 5. From the k.o., Jordan Henderson easily replied for Caps, 12 – 10. No doubt the two Caps tries will be viewed on the video with chagrin. Despite lapses and lack of urgency, CW was slowly putting their stamp on the affair. Towards the half, CW had an intense period; good hands, aided by a penalty or two, saw what must have been almost thirty recycles, only to go awry with a knock on! This was an incredible waste of effort but value to Caps defense. Any one of a number of more vigorous good lines would have resulted in a try. Was CW to rue the chances wasted?

Following the restart, the weather declined miserably and the play became somewhat commensurate. A lack of field vision, poor decision-making and a lack of positive attack was obvious from the locals but in fairness, there was no loss of desire from the boys. CW did have territorial advantage and around twenty minutes, Boyd-Porter notched a wonderful, long-range penalty, 15 – 10. Merely minutes later, he tacked on another, 18 – 10 and a 'three score' deficit. Given the conditions, this served to be too much. Caps added a final, bonus point penalty for the 18 – 13 score for the hosts in what was hardly a "thing of beauty".

For Caps, I thought McLennan at #10, did the most damage; Henderson tried hard in his return to Windsor and I liked Roberts and Kasha in the backrow. For The Tricolours, Montgomery and his loose forward mates, along with Fowler and flashes from Smith, were the basis for the win. The backline combination has lethal potential but today was not its day. Gus Boyd-Porter won the players' Hard hat, deservedly so, with a "two thumbs up" kicking exhibition. Thanks to match officials.


The Premier match was a critical game, dedicated to past Captain, Nate Stewart, safely settled in N.Z. Chiz took over the leadership seamlessly, leading by example in the thick of things all day long. The affair opened early and in apparent harmless fashion when McKinnon drove, rolled in a tackle for the ever alert Robinson, to pick up and dive over before anyone had settled down to take it in, all quite contra to Hoyle! CW seemed stunned but reacted well, working play dangerously towards the line. The hosts earned a five meter scrum and Pitblado fed the always energetic, 'Mercury Man', Morra, on the blind side for a try which was artistically converted from the sideline by Devillers and the 7 – 5 lead. The battle ebbed to and fro, not necessarily orchestrated by any brilliance from the M-i-M but players kept their poise. It was CW who struck again after Balucci had been denied, Chiz led the rampage with good yards and Horton with legs a-pumping, continued it. From the continuity, Hall grubbered a skilful stub for Balucci to gather at thirty minutes and move it along to 14 – 5. The hosts were good value for the margin but it was not to remain thus as almost at the bell, a dummy and grubber produced a well-earned try by, I believe, Le Leivre (??) and a 14 – 10 split.
The second stanza opened with Devillers going 3 for 3 and a 17 – 10 lead which was to hold up for some time. After Caps kicking deep, CW eventually worked it back to threaten. Herron broke from a maul and things looked dangerous, only for a knock on to be incurred. Then it was Horton again, with the offload to Hammond only to commit a penalty when knocking on the door. Caps, Kevin Leask, McKinnon and Tucker all showed energy. CW replacement, Hohert, was shown the gate and poise and patience were called upon.
In a desperate defensive situation, CW 'pinched' a lineout only to carry the ball dead. A scrum to Caps and a man down was not a good thing. Resistance was with valour however four set scrums and a subsequent four recycles saw Reid-Harvey give the visitors the lead, 19 – 17. Again, CW patience was commendable and after a Schelly break, Herron was desperately ankle-tapped into touch. With time marching on and a variety of substitutions, it was Dawe to Mallard (back on the field) and finally, the pumping of the legs of Humphries saw him cross out wide and the lead regained, 22 – 19. Caps kicked long and a rare CW kicking error on the day saw them fail to find touch to alleviate and with Caps on the move it was repeat heroics from Humphries with a thunderous tackle that jolted the ball and halted the flow. With a mere two minutes remaining, CW was penalised and a Caps lineout saw a thirty metre drive, only to be quashed and an ensuing penalty issued. The ball was banged to the tennis courts and the victors were jubilant!
This was a game that was almost a classic and very enthralling. Either team could have won and an objective spectator would have commented on a fair result and good game. Both teams deserve compliments on their composure in what was a pressure cooker and there was the need to get around what appeared to be some confusing decisions. That said, it's still a "thank you" to Shanda Mosher, the outcome not being effected by the adjudicating. Apart from their two tries, Caps appeared to somewhat lack energy and were often deprived of possession. Courtney caused some set piece havoc, Tucker was active, Leask showed throughout and Reid-Harvey was duly rewarded. McKinnon, although busy enough, looked jaded and did not provide the game-changing antics we have seen from him in days of yore. This man has played many years of great rugby. Who knows what's left? I give #9, Robinson my M-o-M – as always an energetic and enterprising performance. Others had their moments but mostly the attack was snuffed with committed and sure defense.
There were many who answered the call for the home team. Let's start with 'Mercury Man', Morra who made the most of his scheduled minutes. Chisholm's game was almost without peer but Herron was everywhere and in my book, Johnny Humphries was M-o-M with unquestionably, his game of the season. The boys gave the Hard Hat to Dawes, so the pack in general was good! Devillers in the backs also had his season's best with all others contributing worthily and this was all without Thornber, Finnemore and Bradley. Nice job, boys. Next week's rivals, James Bay, served notice of their intent with a quality upset over Ravens at Jericho. The boys pulled up pretty healthy after today and this promises to be epic.
Todays' efforts from the women at home were enthusiastic but resulted in significant differentials, Firsts, losing to a good Burnaby outfit and Prems getting a clinic from Seattle with a couple of 'Nats' on board. The presence on the sidelines at Carnarvon of many supporters led by Karen Paquin, could not stem the tide! Despite the disparity, the post-match enthusiasm was not lacking. "Onward and upward.
Fuli "gives back"!
---