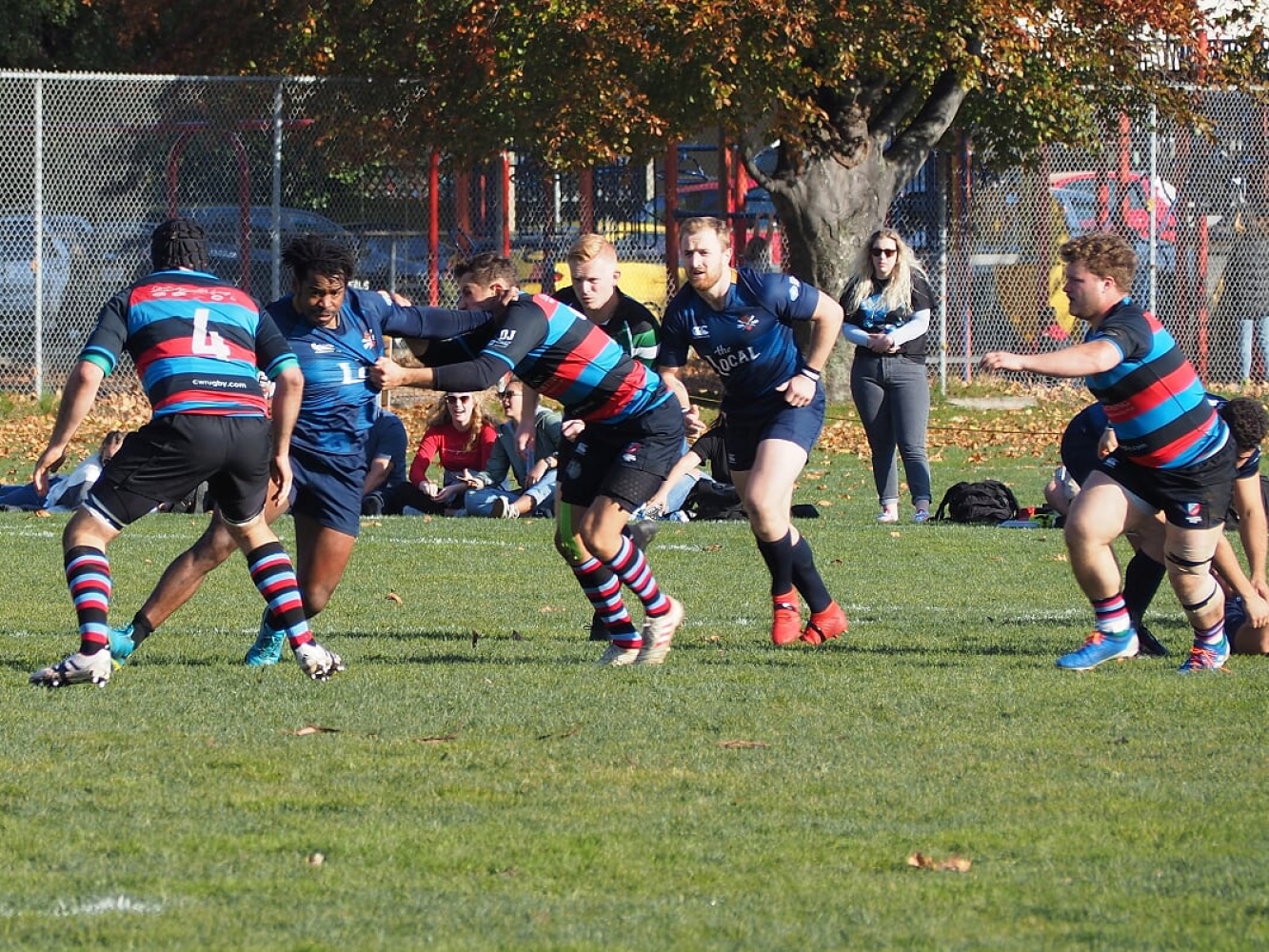 The writer's M-o-M, Tomas Eton, proves hard to pull down.

(Credit- Wendy Norman)
Despite CW being the first and last on the score board, there was a deluge of a torrent of eight James Bay tries across the line in between! The header describes the day.
It was very difficult to follow up the intense rivalry, vying for the World Cup of Rugby and the discipline of forty players at the highest level, with this local derby. This site's pre-game write up mentioned the competition between the two clubs bringing out the best and sometimes the worst. Unfortunately, Saturday produced the later, interspersed with at least five cards, including one red. It was so what rugby is not about that it is almost an embarrassment to try to report on it.
Play began with CW encamped "downhill" in enemy territory. Herron was initially "held up" however, given a second shot, he crossed for first blood at fifteen minutes. James Bay did not waste time responding and shortly after, Nieuwenhuysen crossed for the equaliser after a number of good JBAA surges. This was the start of a good day for this player. Around the thirty minute mark, James Bay pressed with #6, Eton being very visible and he deservedly crossed for a 12 – 7 lead after a lineout "overthrow" by CW.
From the re-start, this man asked questions again after a CW turnover and resultant "yellow" for a high tackle, proving to be very difficult to put to deck. A James Bay driving maul and a threatening break by Gregory was repelled, with the visitors "coming away". Having field position, a penalty was incurred and James Bay obliged with a sixty metre breakout, ending with a lovely dummy and side step by #15, Pine; for the 19 – 7 lead. CW showed some resistance and 'go ahead', only to commit a poor kick which allowed James Bay's commitment and structure to put the visitors at 6's and 7's and (??) crossed for an easy score and a 24 – 7 half time lead for the Bay. It had been a one-sided half with James Bay full credit and CW lack-lustre.
JB's Sora (#10), who had a good day, opened the scoring early, 31 – 7. CW stiffened somewhat however this soon proved to be very porous, with defensive lines over running the ball carrier and a real lack of commitment in the tackle. Next followed a lost lineout by CW and Eton went sixty metres breaking feeble tackles; a couple of drives later and Slobodian was in, 36 – 7 after a mere ten minutes. It was becoming difficult to note any positives for The Tricolours who offered little resistance and a compendium of errors, the word "inept" came to mind. Another CW card saw James Bay flow with their attack with good support and running angles. At the midway mark, big lock, O'Sullivan crossed for 43 – 7. Not to be outdone, his engine room mate, DeGoede crossed mere minutes later to close out JBAA scoring at 50 – 7.
Ceedub with poor kicking from penalty chances and under another yellow went against the grain with Stewart diving over after a series of 'pick and goes', 12 - 50. Back at full strength, Keta broke dangerously and finally, some good retention saw Ilnicki over for 17 – 50 score line. Next it was both teams having a FRF "turfed" after all hell broke loose, exacerbated by CW frustration, with JBAA being a willing respondent, rightly or wrongly and some accelerant chirping from the sidelines. The mess was not over as CW took another card for a no arms tackle. As the bad blood curdled a ridiculous melee broke out with not much time left, earning a JBAA miscreant a red card, probably started by CW frustration and ill-discipline, all of it being the very worst of what rugby has to offer.
No doubt, referee Pedrick was happy to blow his whistle on the affair, with an arguable opinion of some fans and players from both teams being that the causal factors may have been somewhat of his own doing. I simply report, not judge. It was a position no person giving up their Saturday afternoon to adjudicate a rugby game would have wanted to find them self in – however, we do volunteer! As a spectator, it was good to see the conclusion of this debacle, with JBAA serving notice they are not to be taken lightly.
For James Bay, a number of players stood out with Eton getting my M-o-M. Specifically, it was a cadre of Canada U20 players led by Eton, #9, Gregory and #15 Pyne, of particular note, that caused much of the damage. I liked the work of O'Sullivan, marred by a "yellow" and #14 McAuley was a constant threat, looking for work. Nieuwenhuysen, in the backs was a close second to Eton. For CW there were only a handful that left with their rep unscathed. Sawyer Herron again was full on and Stewart, looking short of a trot, tried hard. Wooly off the pines shored things up in the late going and Schelly, in the backs gets a nod. Best of the bunch was former captain, Riley Ilnicki, earning the Player's Hard Hat. Hopefully, this was just a "stinker" that teams can have and not something endemic. It will take a lot of hard work during the week to rise above this effort or lack thereof with Westshore being the perfect opponent next Saturday to test to test the week's efforts.
Credit - John Richardson
With all due respect, this writer asks, how come a man of Riley's ilk in the game and tribulations earns the respect of his far younger and what should be more motivated peers, after a match such as today? Hopefully, the word "respect" in all of its forms comes to mind. 'onya, Riley, Hard Hat Earner.


In the curtain-raiser, James Bay, capably assisted by the New Zealand Navy and under the guidance of Tony Healy, showed why they are well in the mix in the Reserve Comp this season. Off to an quick 5 – 0 lead after a try in the corner, JB carried the early play and it was not until the thirty minute mark when CW tracked "uphill", retained possession and Adibe broke to get close to the line with Gerhardt finishing the job and 7 – 5 lead. This proved to be the one bright spark for the Visitors for the half. JBAA went to 12 – 7 with a hard run from #7, evidently a Kiwi loosie who knew what he was doing and probably M-o-M in this game. Right on the half, courtesy of four missed CW tackle attempts this man added his brace for the 19 – 7 lead.


James Bay was "gifted" with yet another soft tally early in the second stanza and 26 – 7 gap. CW failed to handle with much efficiency even when they had the ball and around the twenty-five minute mark after a series of "handbags", JB added a further trey, 29 – 7. Finally, with about six or seven minutes remaining, Winser found himself at the end of six pairs of hands, after an initial, sixty meter Boyd-Porter break, for a 14 – 29 deficit. From the re-start Adibe showed his class with an elusive break, on to Logan and inside to Olsson and that was as close as she got, 29 – 21 final. Thanks to referee, Rewi for his work. The Divvies now at 2 – 5 and five points in arrears of "top six".

The curtain-raiser to the curtain-raiser, saw the James Bay First Div team handily beat their CW counterparts to start the day's Trifecta.


Best til last! Finally, to report a win on the day! CW Premier Women went up to Herd Rd., always a tough venue and came home with a 38 – 36 victory in their re-match of a four point loss to Cowichan at Windsor last week. This was a solid win as the women continue to play "exhibition" games in the fall. My reporter mentioned the fact that Cowichan was loaded with both Tyson Beukeboom and Laura Russell on hand. For CW, Danica Pedrick had a hat-trick and Alex King chipped in a brace and four converts. Go, you good things. It was noted that the ladies hustled on down to the Mac after their post-game at the Pig Pen to support the lads.



Speaking of good shows, we include this invitation to all volunteers for our club at all levels, in case you have not received the word;


---