Dame Fortune Smiles on Reserves
---
---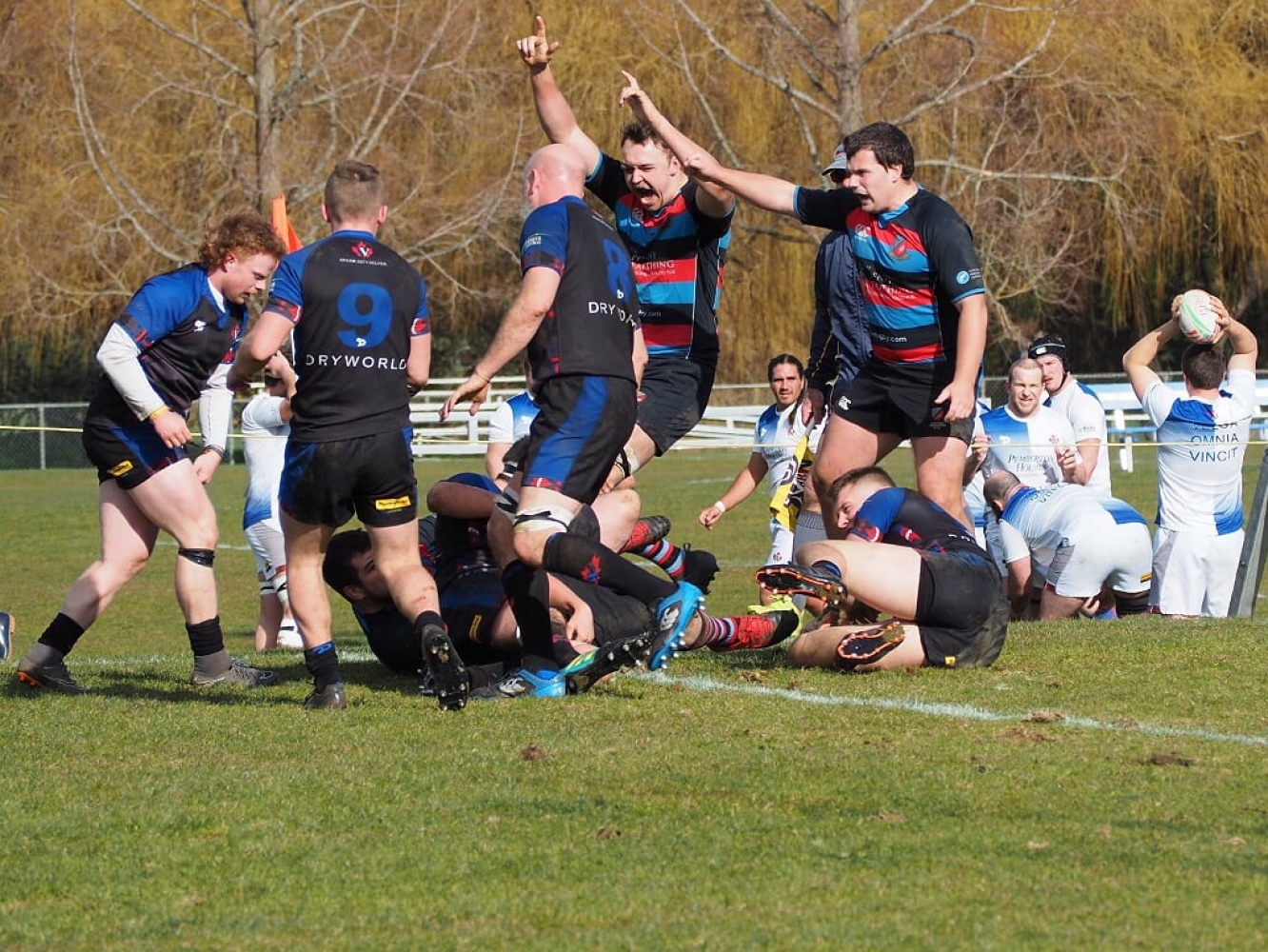 Cometh the Hour, Cometh 'The Queen'!



Scoring commenced early in this one with CW crossing on their first foray into Westshore territory. The hosts responded with some hard running and testing of tacklers and easily tied the affair. About mid-half, Kanty scored after a deft little dummy and shimmy, 14 – 7, CW. The contest was well fought and pretty even. CW did manage a good five minute period of attack only to offer up ball from a poor pass and the Double V forced play back into CW territory and play ebbed and flowed with neither side gaining ascendancy. With CW continuing with a path of unforced errors and Westshore gaining field position, a careless lack of attention saw a Westshore attacker grubber loose ball from a ruck, over the line and dot down untouched, to tie the score at the half.
Westshore opened the second half with an early score off yet another CW unforced error and were fair value for their 21 – 14 lead. CW looked good for a spell only to knock on and as one wag said it's a wonder they can walk they have so many holes in their feet! It looked bad when short ball from Westshore's Frisby to a centre for a forty metre break had all hands on deck and a try-saving tackle was made. Somehow The Tricolors inched their way up field with some phases and the issue became testy and two players received their marching orders for fisticuffs. Somehow, CW fashioned the equaliser, 21 – 21.
From the restart, CW looked soft, giving up yards to a man whose number was not visible, cleverly disguised in a black or was it blue meld, between number and jersey? This forward, minus his socks, was a huge threat to the visitors all day long and deserved to be named as the Westshore M-o-M. CW repelled a couple of thrusts in their red zone but eventually Frisby made a well-placed diagonal for a score for the winger and very good convert for the 28 – 21 lead. Tails up and clock ticking! Somehow resolve was gathered from the tip of the boots and some determined running and finally, good ball retention saw the matching try but too wide out, 28 – 26. It was sheer determination and guts that the ball was well caught and play, inch by inch, driven towards the host's line. This pressure produced a penalty in front of the sticks and for some reason, Dame Fortune smiled and deservedly, cometh the moment, cometh 'The Queen', Gerhardt for three and the victory, 29 – 28.
The win gives a small measure of breathing room now from Westshore but it was not completed with same élan that has been witnessed for the past two weeks. For example, two easy tries given up from re-starts cannot be the case going forward. On the other hand, credit must be given for defensive efforts in the open play. Congratulations to both teams for offering up a rather intriguing match, well handled by referee, Van. It's a week of "rest" and preparation for a road trip to Connaught Park. Lomas Reserves are also very close in the standings at 8 – 4 and two games in hand and a team that has been a thorn in the CW side in recent seasons. It would not be a good time to stumble as playoff time looms ever closer and momentum is essential, not to mention the possibility of hosting a 'home' game.
The weather turned rather ugly as the afternoon unfolded, with hail pellets falling from grey skies at Premier kickoff. CW asked some early questions with good handling and hard running, Bradley being noticeable. Once in the red zone the screws were tightened and it was Pitblado who was able to easily open the scoring. (This man is making a habit of this trick; maybe it's time for a First Scorer's Raffle?) Westshore banged it deep from the re-start and Hall, playing very confidently, backed himself with a searing burst of pace. Fifty meters in jig time and a memorable off-load to Bradley saw this man cross for #2, 12 – 0. It was then Westshore's lock, Groenewold who made a determined run, one of many on the day, on to Marriner, then Berg and finally at full burst, to flanker Billingham for a good try around mid-point of the half. Westshore was energized however attacking tackles saw the ball jolt free into Josiah's hands, a dance or two over 10m and off-load to Captain Chisholm on a good line. Big Chiz showed clean heels over 40m for a 19 – 5 score line. Westshore stuck to their guns, applying pressure and from a five metre scrum, big unit, fullback, MacGuire "filled" and scored. CW was not done and showing lineout dominance, resultant pressure presented them with two penalties, more lineout wins and eventually it was Mallard, notching his 'first' as a Tricolor and 24 – 12 split at the interval.
The start of something BIG!

Immediately upon resumption the ball bounced fortuitously for Hammond, it was a jink and beautiful dummy/sidestep around MacGuire and 40m gallop; also, for his first in the CW uni. (Ed – we gave him incorrect credit for a Herron tally last week!) This was really quite magical, so we won't reverse the report this week! At 31 – 12 the scrum came up big. The win on this day was really predicated by the tight five, in particular, the FRF of Braddock, Mallard and Horton. The splintered scrum of the hosts gave a tight head to CW and the pressure was on. So happened there were a number of sets at this stage some three, resulting in either a tight head or penalty for CW, keeping Westshore pinned deep in their territory but no blood was drawn. Shane Dagg from the wing provided some inspiration for the home team but it was for naught as the defense held. A series of kicks were exchanged and thence Bradley, Horton and Mallard had good runs with no points forthcoming, although the last pass was knocked on twice with the line begging. The dam did break and it was from another scrum penalty. An alert tap was taken and Kegode was in, 38 – 12. From the re-start, CW kept coming only to leave a fourth try off the board with a knock on.

It was at this stage where Westshore, like the veritable Phoenix won the scrum at their own 5m, some good handling and determined running saw them out of their own half. They worked three or four good recycles and found themselves over the line. The scorer was no stranger to CW. One, no less than, Sipili Molia! Sipi had already had a good trot out with the Reserves and put in this late cameo with the Prems. 'onya, Sipi! To prove this was no fluke, they came again from the re-start, some eighty meters, and six pairs of hands for center, Van Thiel to finish it off, arguably the best try of the match and end their scoring at 24, somewhat akin to their output last week against Ravens. Play became a little scrappy, both teams committing turnovers and on the third of such foibles, in an effort to spring a man for another try, CW's wily Frenchman, Devillers, alertly picked off a pass and went 40m to end the total at 45.

It was a good win for CW and credit must be given to Westshore's resistance and chances taken, the whole affair being very suitably adjudicated by referee, Horton. The season is at a stage where every match is absolutely critical and it is no time for form to go out the window. On this day, CW's form was retained and the win well taken.


FRF in action - away from the scrum
Credit:
Erich Eichhorn
, Island Sports News
The curtain-raiser to the men's matches was between "Cowshore" and CW First Divvies ladies. Cowshore is an amalgamation to assure that that the two clubs can have ladies playing. With the likes of Laura Russell and Tyson Beukeboom, this was a rather strong combination verses the fledgling visitors. The score board reflected that difference, although the result did not change the league standings. Despite the heavy losses the enthusiasm is being maintained and the CW ladies took heart in some second half points. A further contest to the contests saw the Saxons of UVic post some points Vs. Isles (CW not Carlin), but all was not totally lost, CW did get on the scoreboard. Seems like we don't do well, early in the day – try to negotiate a later start, Don!
Rugby elsewhere was highlighted by Men's 7's event at L.A. For Canada it was a good lead-up to what looks like another major challenge to make the Championship Round, this coming weekend in Vancouver. First up in L.A. was Ireland and our boys dipped out 12 – 17 and a subsequent separation at #10 overall, was the outcome. Formerly these teams had been tied. Day #2 saw much improved performances by the boys, winning well over both Spain and Scotland and being debatably, "stiffed" by an iffy call or two in the late going and dropping one to Argentina, 12 – 19 in 'overtime', with ninth place at stake. First up in Vancouver is a tough, #4 placed and consistent performer, France and it will be a must to be quick out of the gate, for this is the match that must be won if the team wishes to make to Championship Round. Fiji will be next up and they always seem to turn it on at B.C. Place and last up, Wales. For Canada, Connor Trainer showed well in his return to the program and Justin Douglas was electric with every touch but for me, it was the old guard of Hiriyama and Jones who are amazing and like a good vintage drop, just seem to get better. The fans will be served well in Vancouver, a definite highlight on the circuit. Go, you beauties.
---