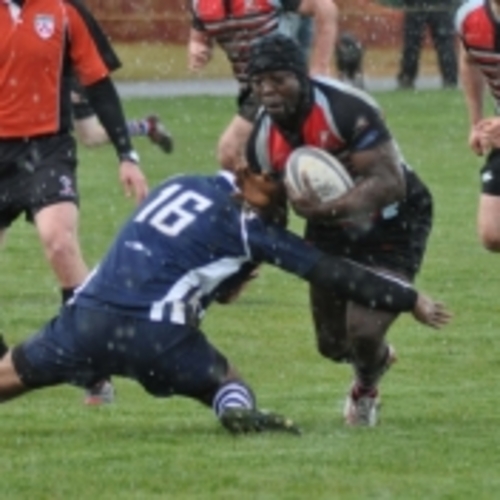 There is a good CW presence in Canada's Sevens Team recently announced to do battle at the RWC 7's Competition in Moscow, starting on June 28th. Captain Nanyak Dala is joined by Ciaran Hearn, Mike Fuailefau and Lucas Hammond. Other members are James Bay's John Moonlight who has been a rock in Rugbyland Canada this whole year and a fair prediction would be that John is close to being contracted to play somewhere, and Ty De Goede; UVic contributes, Sean Duke, Nate Hiarayama and Phil Mack; Justin Douglas, Harry Jones and Taylor Paris round out the squad.
This squad is arguably, not the strongest that could be taking the field with players such as Ardron, Trainor, Hassler and DTH unavailable. Dala, Hearn and Mack appeared in the 2009 RWC for Canada. Canada plays in a Pool with N.Z., U.S.A. & Georgia.
This coming weekend sees Provincial Regional Championship action @UBC. The inaugural year of the TrueBlue U15 boys provincial program saw Lower Mainland and Island teams host a touring All Star side from Northern California. This year will see the introduction of the first ever B2Gold U15 Boy's Provincial Regional Championships. Similar to the U16 PRCs, this event will introduce many of BC's younger players to representative rugby, competing on select sides. The PRC's weekend will be used to select a TrueBlue U15 Boy's provincial team, who will then go on to compete two weeks later in the U16 B2Gold Provincial Regional Championships. The U15 boys, South Island Crimson Tide team has thirteen CW Juniors on the roster; Myles Duncan, Jonah Hall, Connor King, Gavin Kratz, Sasha Lanine, Callum Masterton, Jim Newman, Brennig Prevost, Jonas Robinson, Branden Schellenberger, Will Tarrant, Brayden Tate and Carter White.
CW's newly founded Girl's Rugby Program, not to outdone, has provided six players to the Island Rep U16 team to play this weekend as well; Cachelin Hall, Allie Bos, Miranda Llewellyn, Sophie DeGoede, Caroline Crossley, Camille Irvine. In addition, Adrienne Graham was listed as a non-travelling reserve.
So, GO ALL YOU GOOD THINGS, GO!

---