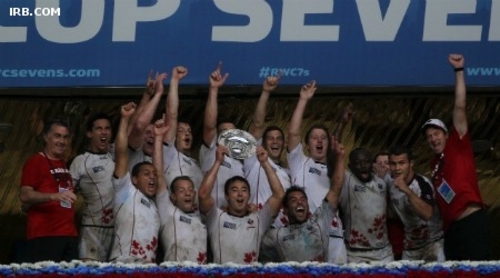 Are these boys happy or are they wot?!?? Canada's Men knew they were in tough being in a Pool with the Kiwis and unfortunately, the campaign did not start as well as the group had hoped, with Coach John, stating the opening stanza being about as poorly as the group had performed on the circuit this year! Tell me this group did not dig deep. They got the second half to 12 - 24 before succumbing 12 - 31. They came back on Day #2 with a tense 15 - 14 win over arch rivals, U.S. and a 26 - 19 win over an ever improving Georgia side.
We were all gobsmacked to read of their performances on Day #3 (and a Ruggernut's thanks to Doug Crosse for interesting reports on the site of our National RFU). Firstly, 26 - 0 over Tonga, led by a brace from CW's Hearn, this must have been a very satisfying win for the boys. They then defeated Scotland, 21 - 7 in a match that featured a Canadian yellow card, meaning an almost a death knell in the sevens game. .....and so it was Samoa in the Plate Final. The Skipper, Nate Hirayama, led the way with a hatrick of tallies and Canada took the silverware with a hard fought 19 - 12 win. Day #3 Coach John went with tried and tested, Hirayama, Duke, Mack, Moonlight, Hearn, Dala, Jones, De Goede, as his starters.
One can sense the loudest barrackers were Ardon, Trainor, Hassler, O'Toole and DTH....not to mention team mates from the XV's program. We do hope these players collectively get the sense of pride they offer us all with their achievements. Canada really digs the sevens game. It is a game where we can compete and defeat the "best". We don't need the piano movers that many of us watched grunt and groan through an abundance of set pieces in Melbourne over the weekend, not to deprive the purists their game. These men have toiled amazingly between XV's & VII's over this past month. They must be playing with injuries and they have pushed their endurance to the max. Just what motivates a high performance athlete when money is not involved, boggles the mind. CW hopes you can all get some deserved rest on this Canada Day. Congratulations and thank you.
---