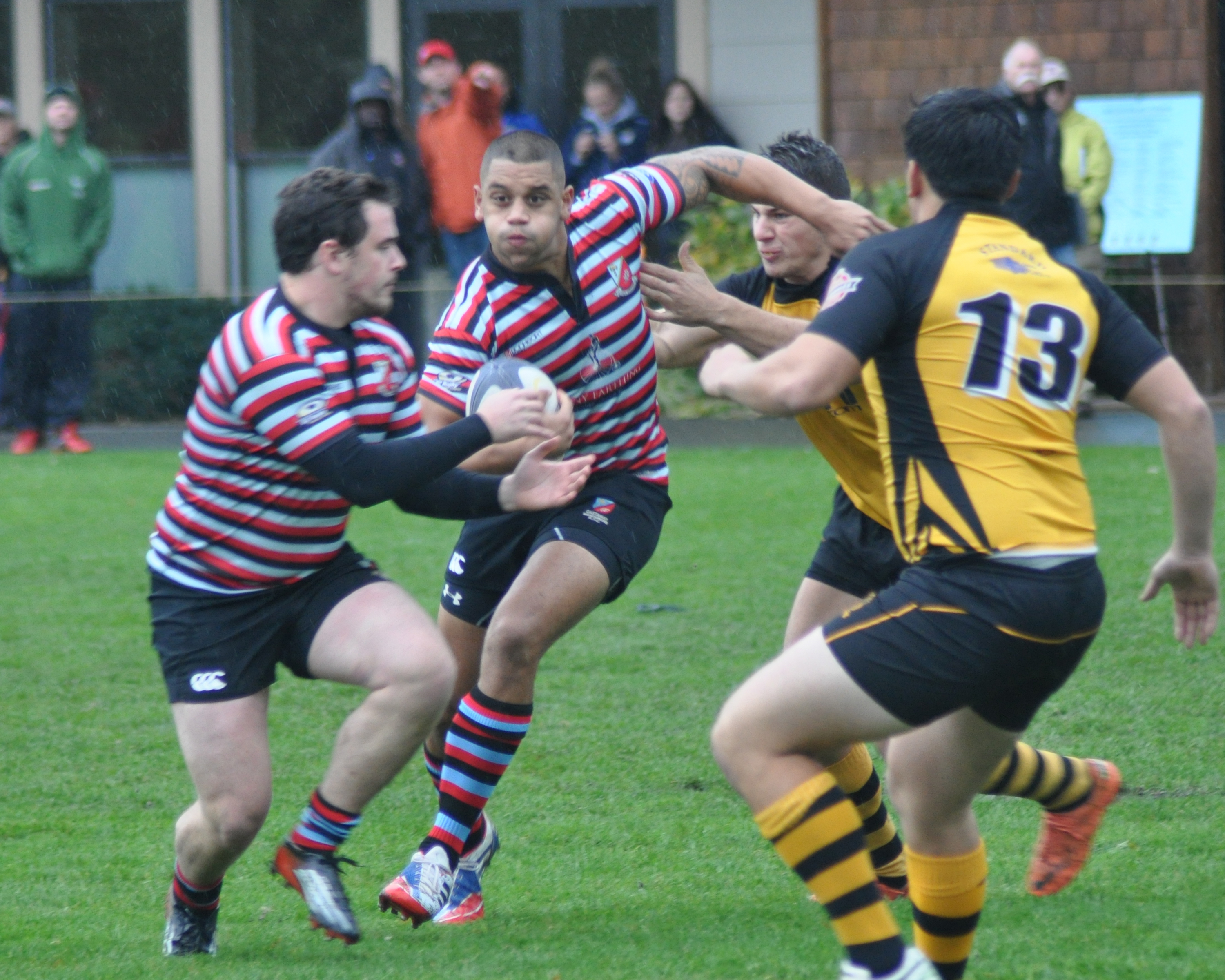 Over the past decade, these two storied clubs have fought many a close battle and there is always due respect from each club with the on-field performance and again, this weekend it was no different. Both clubs have done yeoman's work developing mini and junior rugby programs but, given the number of teams that Caps perennially field, their retention rate is far superior to that of Ceedub, providing them with solid depth.
The curtain-raiser certainly maintained the interest of spectators and the 29 – 0 score line treated the hosts a little unfairly. Caps had to work hard for a 21 – 0 lead at the half, despite a preponderance of possession. Dalsin and cohorts were good value with a concerted defensive effort. The second stanza, a one try affair, again, was a credit to both squads as play ebbed and flowed with commitment. Credit to Capilano's cohesion being the difference at the end of the day.
For the locals, there were a number of new faces and if this group can be kept together, the results and the rugby, will be very satisfying. This fan enjoyed Joel Bratten, Juliet Carnet and Sam Bishop playing at this level although they have more than punched their weight with the Prems these past three weeks and will no doubt, be called upon to do so again. Newcomer, Nathan Thomas was also good value. Conway and Dalsin could develop into a good combo, although the kicking needs work. It seemed a waste to have Haight on the wing but he is the kind of club guy, akin to Crawford who plays where needed, the fabric that will re-build our Ones program. Good to see Lemay off the bench and he made his presence noted. So, good 'onya, Ones – let's keep this ball rolling!



By K.O. time for the main game, the weather had become quite inclement, a precursor for a close battle. CW started with plenty of steam, taking the game to the Caps with go ahead pressure and steady scrums. Quick ball from MacPherson enabled Morris to try to spring Henderson and Co. It was ten minutes before Caps saw CW territory. As they slowly wended toward the red zone, CW succumbed to a number of penalties and it was on the third such infraction that Robinson, alertly, although clearly not through the mark, tapped and deked over from fifteen meters out. As it transpired, despite McKinnon's assertions that "it's just that easy, guys", it was this mere five points that separated the teams until fifteen minutes into the second stanza.
From the try, Fuailefau came back with a good break and Thornber was a threat, getting his hands on the ball often. Richardson was again in the news, receiving a yellow card for what appeared to be "feeding the scrum" and if so, perhaps it was rather a pedantic decision. CW remained positive and attacked and retained field position but failed to score, despite a second card being issued to Caps for what appeared as "stomping". This spell was perhaps the TSN Turning Point. With the half looming, the ball came to Kehoe and as he planted, his knee visibly twisted. He was down and the half ended. Franklin was the replacement.
CW opened the second spell with a forty meter break form Morris, only for the final pass to go to ground with the try line agape. The diminutive but extremely active, Oliver, was next to have a go, then Morris with another break but the greasy ball was proving elusive for the hosts. Ten minutes in, Morris wrenched his knee after a tackle on Zaruba. He was replaced by Dala. Despite a Robinson penalty minutes later and a much reshuffled combination, CW was still full value although one had a sense that there was little rub of the green for their purpose. Noted efforts came from Fuli, Henderson, Daume, Panga, Dala, Rocher and Braddock. As the tide visibly turned, extended periods of defense were required, a task not shirked by any. Apart from a lively run from Dala (halted by Hamilton) and another mid field break from Fuli, chances became limited. With mere ticks on the clock remaining and some good retention, Robinson fed McKinnon blindside, for him to slip to Marshall for the easiest of tallies. Final score, 13 – 0, Capilanos.
For Caps, I give my MoM to Glen McKinnon. He is a take on the Eveready Bunny! Charlie Jones "came on" late in the game and although Zaruba was kept off the scoreboard he did some damage, despite almost being the cause of a much needed CW try! The Capilano forwards all deserve mention as once again, their blue collar grinding play and absolute faith in their combination showed.
For CW, it was noted, another step in improvement from last week and there was really not that much in it apart from finding that little bit of magic required to "turn the corner", e.g. "tight" hands, luck, half a step – whatever. There was no lack of desire or effort on this day. CW is in a state of transition and it is tough sledding to work through. Week in and week out, the play of Oliver, Rocher, MacPherson, Horton, Ilnicki, Daum, Grdic, led by Braddock and now, Henderson has been steady and overall improvement noted. This team will surprise soon and once on track, will be a good challenge to the front runners. In the interim, it must be hard for the boys to just put it down to character-building!
Thanks and congrats to Caps for a good, fair and hard game and for joining us in post-game hospitality at The Temple and to the officials on the day, good job.
---