Canada Women Torch England (Again!)
---
---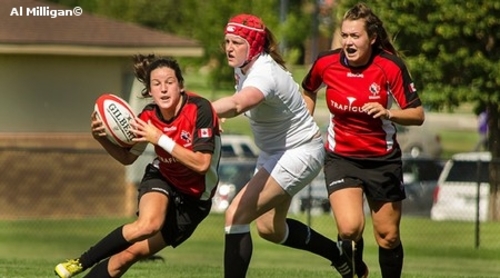 Canada's National Women's Team yesyerday defeated Englnd 29 - 25 at the Nations Cup being held in Colorado. The victory featured four good tallies.
This is a four country event similar to that featuring U20 teams last month. The national squads of U.S.A., South Africa and England are in competition. The squads may not be quite at full strength as coaching staff of all four countries are developing players for the RWC of 2015. England have just come off a three test series against world champs, New Zealand, losing all three tests. This event will be a good barometer for John Tait and his staff to test the progress of the Langford based program.
England's acting Head Coach Graham Smith commented: "We came up against a very strong Canadian team that played as well as we have ever seen them play during my time with England - they had a powerful game with impressive offload support play throughout the game."

Following the game, Canada's Back's Coach Collette McAuley presented ten new caps to players making their first appearance for the National Senior Women's Team.

It seems the present and the future of women's rugby in Canada is looking very bright indeed. The ladies next take on South Africa.
Meanwhile, in Cali, Colombia, the mens Maple Leafs Sevens opened their campaign at the World Games with wins over Hong Kong and Colombia. This group includes CW's Lucas Hammond and Mike Scholz. The team is a strong group, coached by Morgan Williams and Shane Thompson, Sevens experts. A number of the players have been on the Sevens circuit or are "knocking on the door for selection". We await results of their final game on Day #1 Vs. South Africa. All the best from Ceedub.
p.s. Bummer in game #3 - 17 - 19 loss to South Africa after being up 17 - 12......as the lyrics say, "we'll see what tomorrow brings"!
---