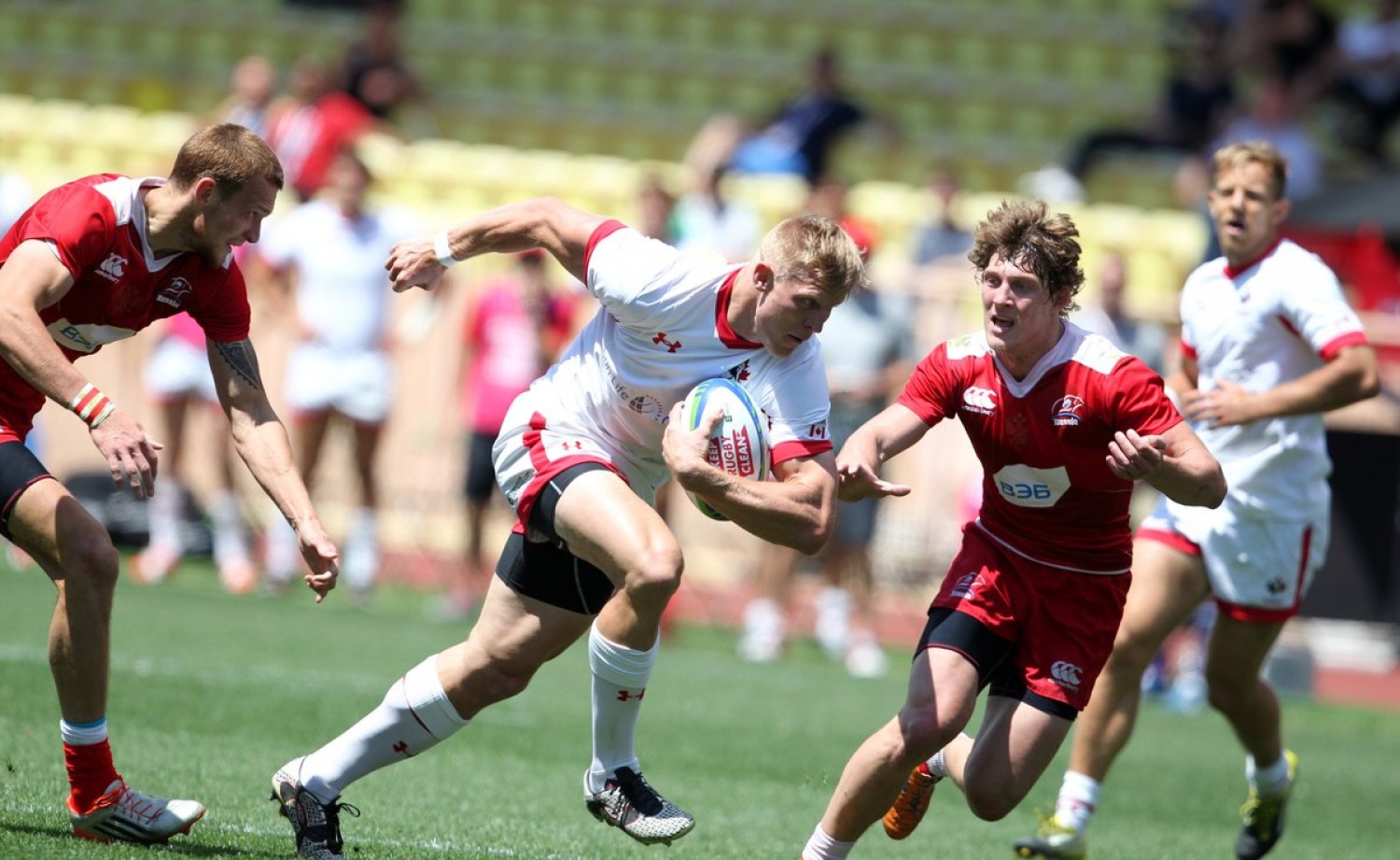 Thanks, John.
Spain, a country that failed to qualify for the RWC Sevens circuit for the 2016/17 season and in fact has not been a regular member of "the show" for two years, has won the Repecharge and will be off to the Rio Olympics. Arguably, the slightly better side in the Final, they nipped Samoa with no ticks on the clock, 22 – 19. Canada had already finished their day, ending up fifth after two bitter losses to Germany, 19 – 21 and Russia, 12 – 14. There is really not much one can add but the most sincere condolences and sadness for the players. To Moonlight and Mack especially who have given the campaign their all, Jones and Hirayama who may be around for another crack or a run at some XV's and all of the team, CW's tears are with you at this time. On behalf of all Canadian rugby fans, our THANKS for your efforts and you have left a proud legacy to pass the torch on for the future.
On the XV's front, Canada easily handled a lack-lustre Russian side in front of an excellent crowd in Calgary, 46 – 22. In fact, with about twenty minutes remaining it was 43 – 7. McRorie responded to some doubt, scoring 26 points and taking his chances well. Much fun was had by all and DJ Sears again showed considerable talent in the loose and a much higher work rate all round than perhaps observed on prior occasions. Captain Cudmore was very good and Barkwill and Ilnicki put in a good afternoon. Hats off to Olmstead who toiled for 77 minutes and Carpenter who continues to give Canadian rugby stellar service. In the backs, Paris was very visible and it is to be hoped he will be fit for next weekend's encounter, although Wilson-Ross wasted no time in showing he wants to be part of the picture. I thought Zac Samson was the pick of the rest, although Evans was a handful when he had the chance. So, all in all, a good show. Next up is #14, Italy in Toronto next weekend. The Azurri nipped the U.S.A., 24 – 20 yesterday.
Now for the rest of the Summer Series and "how did you do?". England won a historic victory over Australia to record their first ever away series test win, 23 – 7. Australia had plenty of possession and position but with a massive fifteen handling errors, despite 70% possession and some 220 tackles later, they succumbed to a steel trapdoor defence. The win vaults England into #2 ranking on the world XV chart (prediction -). Across the Tasman, N.Z. again outlasted and outplayed a pesky Welsh side, 36 – 22 (prediction +). In the Republic, Ireland let one slip away and RSA squeaked out a 32 – 26 win, after trailing for most of the game by as much as sixteen points (prediction -). Canada walloped Russia (prediction -). Italy nipped U.S.A., 24 – 20 (prediction +). Fiji d. Samoa, 26 – 16, (prediction -). Georgia d. Tonga, 17 – 10 (prediction +). Finally, Argentina 30 d. France 19, (prediction -). Well, marginally better than last week but no way to make a living!
---