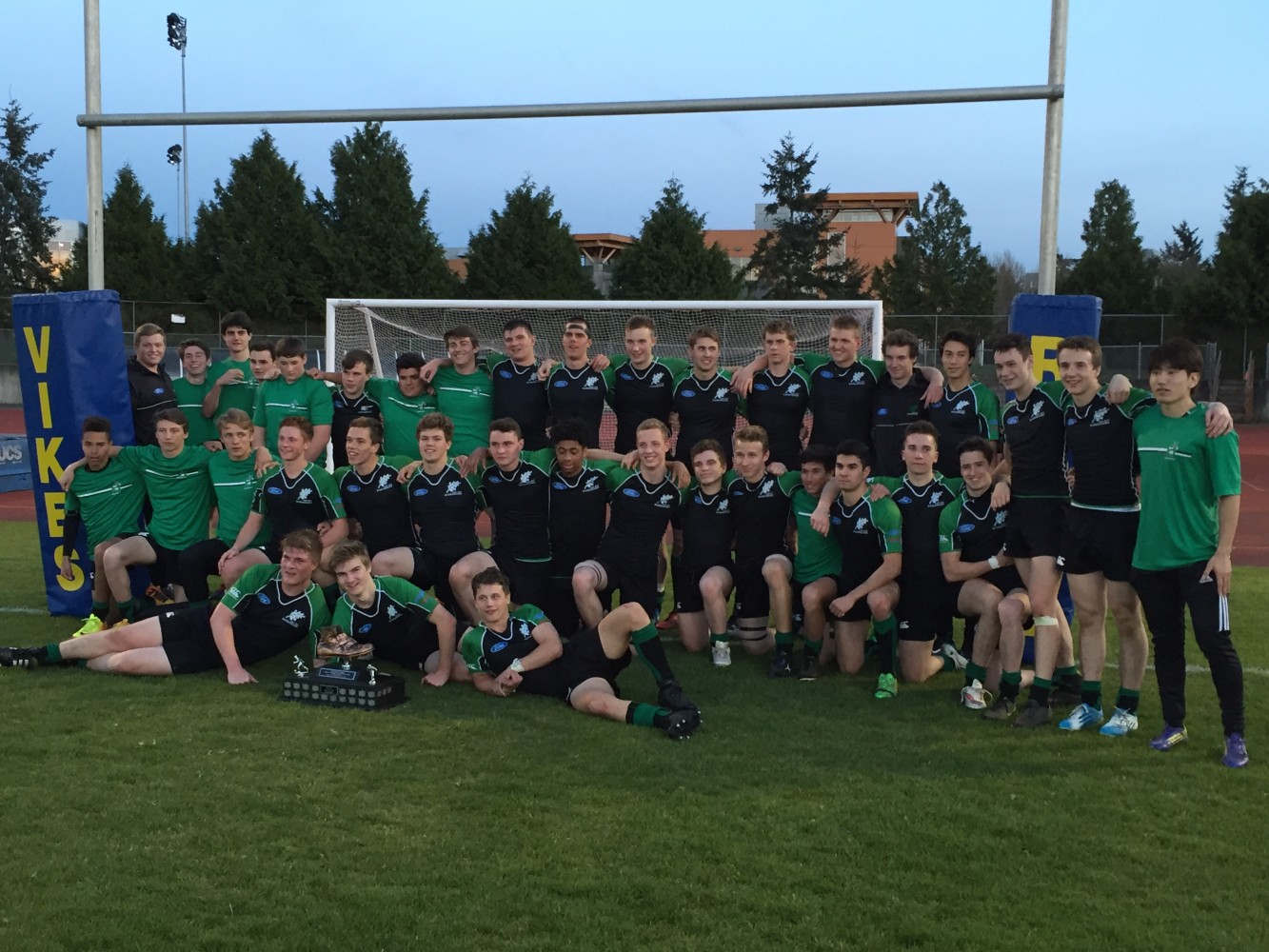 It was a veritable Who's Who of CW mini and age grade "grads" on show at U.Vic's Centennial Stadium last night. A tip of The Ruggernut's cap to the winners, Oak Bay Barbs for their solid victory and overall lead in the series, over SMUS, 31 – 10. A very good partisan crowd was assembled to enjoy the fast, competitive and open play. SMUS opened with a try from B.C. Rep, Lucas De Vries and when Robinson added a trey, they had a nice lead, 10 – 0. Oak Bay threatened with a break out burst from Jonah Hall for some fifty meters and Braydon Tate responded with a penalty after some hard yards from the forwards, Carter White being noticeable. SMUS came back with the pedal down, only to turn over the ball into the hands of winger, Barclay who showed "clean heels" over sixty meters and the score was tied. Thus endeth the first half.
The second stanza was only minutes' old when Barbs pressure saw Connor King take an opportune gap at pace and cross for the lead. About fifteen minutes in, Barbs moved quick ball to the other winger, I think, Will Tarrant, who outpaced the chasers over 45 meters and a 24 – 10 lead. Mere minutes later and 6/7 recycles produced ball for the final try, 31 – 10. SMUS tried in vain, to be denied by solid defense and errors occurred. Congrats to all players on a good game. The outstanding efforts from CW players was very noticeable. This pundit liked Connor King, MVP in my book for the winners, closely pushed by the efforts of Brandon Schellenberger. Mike Makaroff and Dave Carson as flankers, Carter White and Gavin Kratz in the FRF were notable workers and Braydon Tate contributed a perfect record from the boot with eleven points. For SMUS, it was the best forty-minute effort I have seen from big prop, Aiden Cole and Jonas Robinson tried to probe and distributed well enough. Standout for me was Sam Kahn, Grade 11, #9. This writer's bias is shown here however, all of these players either started playing mini rugby at Windsor some 8/9 years ago or joined age grade – a true credit to their coaches at club and school, along the way.
NSMT SEVENS LOSE HEART- BREAKER
With about sixty ticks left on the clock, Canada led Fiji yesterday at the Opener in Hong Kong, 17 – 5. They suffered the ire of the M-i-M, although there have been aspersions cast as to the absolute validity of the decisions, from a number of quarters. Two players were binned and Fiji, scraped by 19 – 17. Once again, Sevens proved that anything can happen and this was a good opener for the underdogs. Hopefully today will see this close result turned into victories over Wales and South Korea. In the pre-game words of CW's, Mike Fuli, "we have to keep the differentials close." They have paid attention to that in the opener and now they must get over the hump against close competitors, Wales. Other near upsets occurred when NZ squeaked by France, 19 – 17. England scored the major upset by beating RSA, so anything goes. Good luck to the boys today.
WOMENS SEVENS
Counterparts, NSWT, won their Opener over Russia, in Atlanta, after a tight first half. The ladies kicked it up a notch in the second stanza to win, 26 – 7. Canada will play France and Ireland today. Go, girls.
CANADA NSWT U18 Canada lost an opening test match last weekend to the English Girls, 41 – 17. CW's Sophie De Goede was part of that team, playing #8. Shaye Tudor had been announced as the Captain but heart-breakingly, she was injured in a lead-up practise. The girls go at it again this weekend. Last week's game was the first time Canadian age grade women had played at a level such as this and perhaps, the English girls were more used to the intense competition. No doubt, that experience will enable Canada to kick it up a notch, having experienced the pace and intensity at this level, so we look forward to good things.


The Skipper Takes on the Thunderbird!


Locally, at the House of Windsor tomorrow – Women Vs Westshore, 11:30 a.m.

The Ones Vs Braves, 1:00 p.m. Prems Vs Thunderbirds 2:45 p.m
---